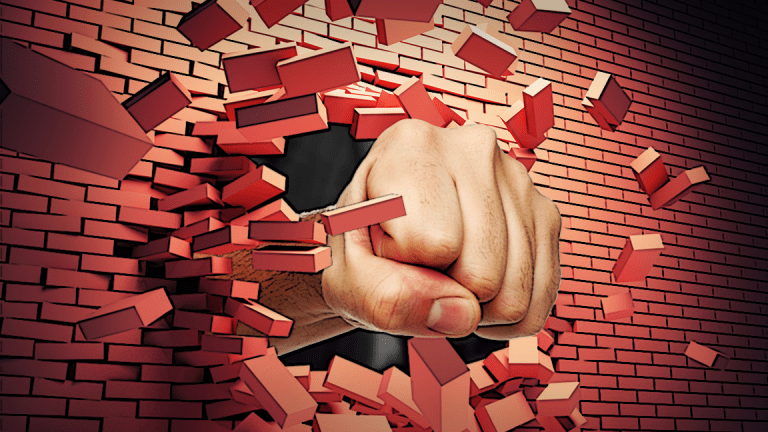 Stocks Could Finally Make a Long-Awaited Decisive Move This Week
The market is setup to finally break out of its trading range in the coming week. It's unclear though right now who will gain the upper hand, bulls or bears.
The market is setup to finally break out of its trading range in the coming week. It's unclear though right now who will gain the upper hand, bulls or bears.
Strap yourself in, this week in the markets could be a rollercoaster ride. 
With a forthcoming economic data dump on the way and trading volumes thin as Wall Street's heavy hitters extend their Memorial Day weekend vacays, May's sideways trading markets stand to make a decisive move one way or another. Dow Jones Industrial Average I:DJI futures tanked 153 points on Tuesday as of 6:29 a.m. EST, S&P 500 I:GSPC futures fell 17 points and Nasdaq Composite I:IXIC futures dropped 28 points. 
Here's what's on tap for investors in the week ahead. 
Oil Price Rout Could Continue 
The great oil price rally of 2018 could be coming to an end. 
Oil prices have been hit by two developments. One is news that the Organization of Petroleum Exporting Countries (OPEC) may be pumping more oil to make up for the collapsing Venezuelan market and the proposed sanctions by the U.S. against Iran. The second is the announcement that the U.S. has more oil inventory than expected. 
Goldman Sachs' sustained bullishness on oil is now in question. 
Top oil-related stocks to watch: Transocean (RIG) - Get Report ; General Electric (GE) - Get Report ; Chevron (CVX) - Get Report , ExxonMobil (XOM) - Get Report ; Action Alerts PLUS holding Anadarko (APC) - Get Report , Action Alerts PLUS holding Schlumberger (SLB) - Get Report
All Eyes Are on the Calendar
It's a major week for data, that much is for sure. 
At 10 a.m. ET on Tuesday, May 29, the Conference Board will release its May consumer confidence index reading. FactSet economists expect the measure of the public's confidence in the economy's health to read 128, down slightly from the previous month's 128.7.
On Wednesday, May 30, at 8:15 a.m., Automatic Data Processing will release its private sector employment statistics for the month as a precursor to heavyweight nonfarm payroll numbers expected later in the week. Analysts expect ADP's national employment report to show the economy added 182,500 jobs in May, down from 204,100 added in April.
Real gross domestic product for the first quarter is expected at 8:30 a.m. on Wednesday. Economists expect GDP to come in at 2.3%, in line with the previous quarter.
Thursday, May 31, the U.S. Bureau of Economic Analysis will release monthly personal income figures for April at 8:30 a.m., which are expected to stay in line with the previous month at 0.3% growth.
Then it's Friday, June 1. This is the most important calendar day of the week, with highly anticipated jobs statistics expected Friday at 8:30 a.m. Economists expect the U.S. added 190,000 nonfarm jobs in May, up from 164,000 in the previous month. The unemployment rate is forecast to stay at 3.9% again in May, sticking beneath a 17-year low. Hourly earnings are anticipated to grow 0.3% from last month, topping the 0.1% increase tallied in April.
One person closely watching the May employment report is Minneapolis Federal Reserve President Neel Kashkari. In a new interview with TheStreet, Kashkari voiced surprise that wage growth continues to be lackluster. 
If the jobs report comes in hot, look for retail stocks to catch a bid. Retailers sounded an upbeat note on consumer demand on recently completed first quarter earnings calls. 
Top retail stocks to watch: Action Alerts PLUS holdings Nordstrom (JWN) - Get Report , Kohl's (KSS) - Get Report and Amazon (AMZN) - Get Report ; Walmart (WMT) - Get Report ; Macy's (M) - Get Report
Wait, What's Going On in North Korea?
After President Donald Trump announced that a previously planned and very highly anticipated summit with North Korea would not be happening, markets took a dive into the red. But fear not, gains inspired by Kim Jong Un still stand a chance.
North Korean Vice Foreign Minister Kim Kye Gwan told reporters his country remains opened to solving its issues with Washington and is willing to meet at any time, a statement Trump called "warm and productive." Trump then said Friday that he, too, remains open to a meeting and that one could happen still on the previously planned date of June 12 in Singapore.
"We'll see what happens. It could even be on the 12th. We're talking to them now. They very much want to do it. We'd like to do it," Trump told reporters. Now the clock is ticking. The groundbreaking summit between Trump and Kim could be as little as two-and-a-half weeks away.
Keep an eye on defense stocks such as Action Alerts PLUS holding Raytheon (RTN) - Get Report , points out TheStreet's Kinsey Grant in her latest "Dumbest Things on Wall Street" column. 
Starbucks' Next Test
Get your macchiato early on Tuesday, May 29. Starbucks Corp. (SBUX) - Get Report will close 8,000 stores that afternoon for four hours to complete unconscious bias training after facing significant criticism for its response to discrimination issues in recent weeks.
The massive coffee chain first came under fire after two black men were arrested for trespassing in a Philadelphia Starbucks in April. A Starbucks employee called police after the men didn't order anything, but the men say they were waiting for a third person to join their party.
The training is set to be the first bit of a months-long campaign to breed better views on identity, class, gender, race, politics and citizenship, Starbucks management said. The activities will include pre-produced video guides and small group discussions, plus video appearances from CEO Kevin Johnson and the musician Common.
Hurricane Season Begins June 1
Don't forget to batten down the hatches, even if the sun is shining now.
Atlantic hurricane season begins June 1 and will last through Nov. 30. The National Oceanic and Atmospheric Administration (NOAA) released its predictions for this hurricane season and forecasts a near normal or above normal season with a 70% likelihood of 10 to 16 named storms forming. Of those, NOAA predicted five to nine could become hurricanes and one to four could become major hurricanes.
While peak hurricane season isn't until mid-August through early October, already subtropical storm Alberto hit the Florida Panhandle just east of Pensacola Monday evening. Winds were clocked up to 45 mph to go along with drenching rain.
Put storm stocks such as Home Depot (HD) - Get Report , Lowe's (LOW) - Get Report , Owens Corning (OC) - Get Report , and Generac (GNRC) - Get Report on your trading list.