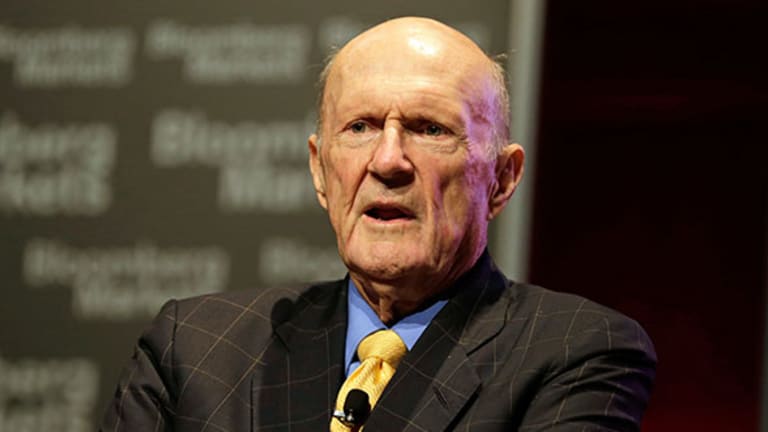 Stocks Are in a Bubble and This Is How They Will Explode: Tiger's Robertson
The market's crazy valuation is the Fed's fault.
Stocks are in a bubble and the market's historically high valuation is the Federal Reserve's fault, said billionaire investor and Tiger Management CEO Julian Robertson at CNBC and Institutional Investor's Delivering Alpha conference in New York earlier this week.
"The market as a whole is quite high on a historic basis ... interest rates are so low that there's no real competition for the money other than art and real estate," Robertson said.
Robertson said equities are in a bubble, but markets will see an effect when the Fed increases rates, leading bonds to become more attractive investments.
"It's the Federal Reserve's fault, and the Federal Reserves all over the world," Robertson added, citing the weakness of the U.S. dollar. The Trump administration, Robertson noted, hasn't worked to strengthen the dollar. "Trump has made it fairly obvious that he is not a proponent of a strong dollar," Robertson said, due in part to the fact that the majority of those who voted him into the White House don't want a strong dollar.
Even in his criticism of the Fed under chairwoman Janet Yellen's leadership, Robertson sees Yellen staying at the helm of the governing body for another term. "I think she'll probably be asked to stay on for a while," Robertson said.
Despite the bubble Robertson pointed out, 'FANG' stocks are still a solid bet. Facebook (FB) , Apple Inc. (AAPL) , Netflix (NFLX) and Alphabet Inc. (GOOGL) are valued incredibly high, but Robertson they still aren't as expensive as they could be in today's equities environment.
"Does anybody really not like Netflix? That's like saying you hate Santa Claus," Robertson added, saying even he falls into streaming binges. 
Robertson said Alibaba (BABA) is also a solid investment that's "clicking on all burners." For ecommerce giant Alibaba, investors aren't talking about small growth rates, but rather unbelievable growth, especially for a company so massive.
Alibaba reported strong fiscal first quarter results last month, highlighting a 56% surge in revenue driven by online commerce growth in China. The bottom line was also boosted by Alibaba's cloud growth, which was up 96% in the three months ended June 30.
Tax reform took center stage for several speakers at the event, too. Robertson was no exception.
"This country needs a lower corporate tax rate and tax reform so that we can get our profits that we've made overseas back into the country without a heavy penalty," Robertson commented. 
Facebook, Apple and Alphabet are holdings in Jim Cramer's Action Alerts PLUS Charitable Trust Portfolio. Want to be alerted before Cramer buys or sells FB, AAPL and GOOGL? Learn more now.
Shark Tank Star Kevin O'Leary Is Trying to Solve America's Retirement Crisis
More of What's Trending on TheStreet:
The Stunning Apple iPhone X Screen Will Trigger a Global Problem in This Market