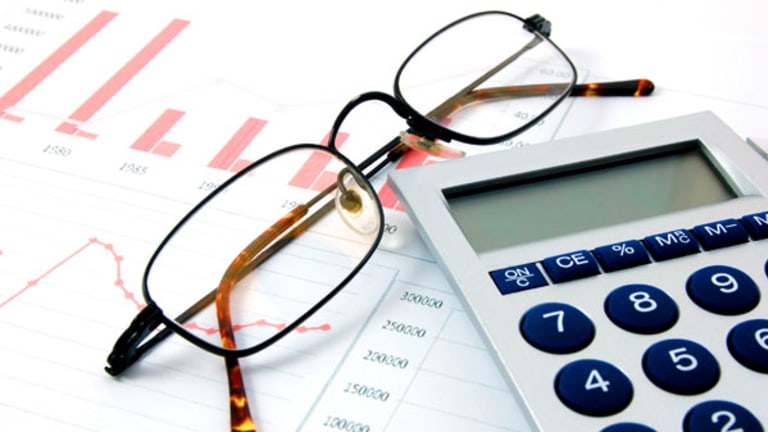 Stocks Approaching Flash-Crash Lows
In the case of another flash crash of even some heavy technical selling, a number of stocks are at risk of trading back toward their flash crash lows.
By Roberto Pedone
WINDERMERE, Florida (
) -- The term "flash crash," evokes fear in the minds of many investors. We all remember May 6, when the entire U.S. stock market experienced that dreadful flash crash. That day was scary, to say the least, with the
Dow Jones Industrial Average
plunging 600 points only to recover those losses in 10 minutes. It was the second largest point swing, 1,010.14 points, and the biggest one-day point decline, 998.5 points, on an intraday basis in the Dow Jones Industrial Average history.
Congress and the
Securities and Exchange Commission
still haven't figured out what exactly caused the crash. Market participants have speculated about a number of likely theories, such as a fat finger trader error or abuses from high-frequency traders. High-frequency trading, also known as algo trading, black-box trading or robo trading, uses computers to make elaborate decisions to initiate orders based on information that is received electronically, before human traders are capable of processing the information they observe.
The high-frequency traders seem to be the most likely culprits. One theory is that a large number of HFTs decided to pull their orders off the market, creating a transaction vacuum in which liquidity was removed. And since the HFTs now make up over 70% of the daily market volume, this theory makes a lot of sense. Once all the HFTs pulled their orders, it made it very easy for some fast hedge fund traders to simply blast the market with bearish bets on futures, EFTs and equities.
Considering how much the U.S. stock market has been weakening of late, could another major flash crash be right around the corner?
This became an even more likely possibility after the market was hit with a small flash crash in shares of
Intel
(INTC) - Get Intel Corporation Report
this past Friday. The stock was halted for a news release in which the company announced it was lowering its third-quarter revenue and gross-margin guidance. Once the stock resumed trading, shares plunged down to $16.55, or 9% from its Thursday closing price. A subsequent trade happened seconds later that showed a print of $18.205, 10% above $16.55. This mini flash crash in Intel set off the circuit breakers, and the stock was halted again for around five minutes. The $16.55 trades were subsequently canceled.
Was the newest Intel flash crash a warning sign for the markets? I am not sure, but I will say that it definitely isn't a healthy sign when a blue-chip stock such as Intel can make such a sharp move in the matter of seconds.
>>>More on Intel: 10 Most Attractively Valued Dow Stocks
What would be even worse for the markets is if the
S&P 500
was to drop below its key support levels of 1040 and 1011. If you're going to see another flash crash, I think the probably of it happening would go up dramatically if the S&P 500 were to trade below those levels. The reason for this is because HFTs are surly programming their black boxes to trade or not to trade off of key technical levels in the markets. And when you consider that many hedge funds and large traders will hit the market with technical selling if those levels are breached, well then it's not farfetched to see a situation where the HFTs join them or just simply pull their orders again.
I think if either situation develops where we get another flash crash, or if just simply get heavy technical selling, a number of stocks are going to quickly trade back toward their flash crash lows.
Here 's a look at a number of stocks that could be setting up to trade back toward their
One stock that I think is very vulnerable to trade back toward its flash-crash lows is information technology company
IBM
(IBM) - Get International Business Machines Corporation Report
. Currently, IBM is trading around $123 a share, which is well off its 52-week high of $134.25. The stock is now trading below both the 50-day and 200-day moving averages and is approaching some previous support levels at around $122 to $120 a share. If the stock breaks below those support levels, I think it will set up to easily plunge back toward its flash crash low of $115.43.
>>>Also see: Top-Rated IT Services Stocks
Another name that could easily hit its flash-crash low is computer and gadget maker
Apple
(AAPL) - Get Apple Inc. Report
. Just this month, shares of Apple breached the 50-day moving average of $254.79, and now the stock is just a stone's throw away from the 200-day moving average of $232.05. With the stock currently trading at around $242 a share, a move toward the flash-crash lows would be a big 40-point drop down to $199.25.
Now, let me just note that from a fundamental perspective, Apple is doing an absolutely wonderful job. The company continues to take market share and release new products, such as its iPad, which is selling like hot cakes. But none of that will matter if the market wants to drop much lower and hedge funds and larger traders need to get liquid. They will sell Apple with impunity just as they did on May 6. I would start to get very concerned with Apple if the stock breaks below $231.35. I think a break of that level will set up a test of the flash-crash lows.
Data-storage giant
EMC
(EMC)
could easily test its flash-crash lows of $17 a share. Granted, that level is only about 1 point away from its current price of $18.27, so the risk to the downside might seem limited. But I will warn readers that EMC already tested its flash-crash low just a few weeks after the stock printed $17. A third test of that low could open up the flood gates for EMC to trade much lower, toward $16 or $15 a share.
Experienced traders know that EMC is a very liquid stock that trades on average around 26 million shares a day. The shares outstanding for EMC sit at around 2 billion, so it will be easy for the HFTs to move in and out of this stock, either providing or pulling liquidity if the market starts to push lower.
>>>Also see: 4 Alternative Smartphone Stocks
One final stock that risks testing its flash-crash lows is developer, owner and operator of casino resorts
Wynn Resorts
(WYNN) - Get Wynn Resorts Limited Report
. This stock recently broke its 50-day moving average of $84.56. The break of the 50-day now puts the stock squarely in the crosshairs of its flash-crash low of $70.58 a share. Currently, the stock is trading around $82 a share, so a move back to its flash-crash lows would be a pretty significant drop. Conformation of a move toward that level would probably be confirmed if Wynn trades below its 200-day moving average of $75.26 in the near term.
What concerns me most about Wynn is that more than 19% of the tradable float is sold short as of Aug. 13. The shorts and HFTs could really pile into this name if the selling momentum picks up and the bears seize complete control of this market.
>>>Also see: Summer 2010 Casino Stocks
There are some stocks that I don't think will return to their flash-crash lows, such as
Accenture
(ACN) - Get Accenture plc Class A (Ireland) Report
,
Exelon
(EXL)
and
Procter & Gamble
(PG) - Get Procter & Gamble Company (The) Report
. All of these stocks saw very extreme moves that were almost unthinkable for a stock that didn't have some type of major fundamentally changing news. For example, Accenture dropped to zero from $40 a share. This is the type of a move you would normally see in a stock that was about to file bankruptcy, or maybe was the next Enron. So given that these moves in Accenture and Procter & Gamble were overly extreme, I don't think their flash-crash lows are in danger of being tested, even in a bear market.
To see more stocks that could have substantial flash crash risk like
Express Scripts
(ESRX)
and
Joy Global
(JOYG)
, check out the
portfolio on Stockpickr.
-- Written by Roberto Pedone in Winderemere, Fla.
RELATED LINKS:
>>How to Play a Stock Market Crash
>>Stocks Tudor Investment Is Buying
>>M&A Stocks Have More Room to Rally
Follow Stockpickr on
and become a fan on
Facebook.
At the time of publication, author had no positions in stocks mentioned.
Roberto Pedone, based out of Windermere, Fla., is an independent trader who focuses on stocks, options, futures, commodities and currencies. He is also an outside contributor to Beconequity.com and maintains the website Maddmoney.net, which he sold to Blue Wave Advisors in 2008. Roberto studied International Business at The Milwaukee School of Engineering, and he spent a year overseas studying business in Lubeck, Germany.
Stockpickr is a wholly owned subsidiary of TheStreet.com.