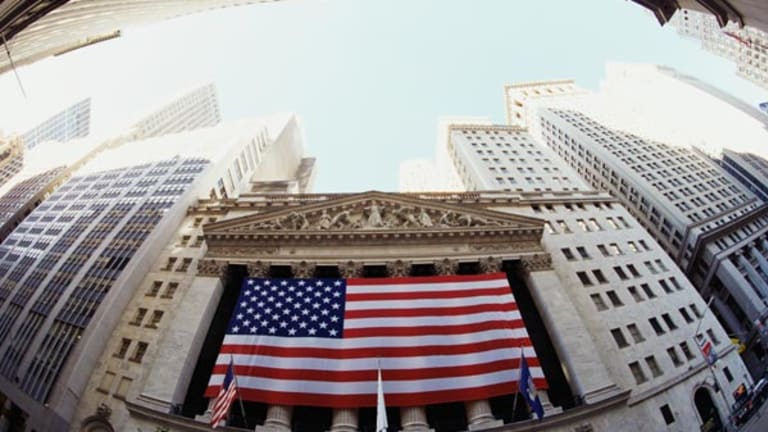 Stock Upgrades, Downgrades from TheStreet.com Ratings
Cogent , Retail Ventures and Aurizon Mines upgraded; Pool and CSK Auto downgraded.
Each weekday, TheStreet.com Ratings updates its ratings on the stocks it covers. The proprietary ratings model projects a stock's total return potential over a 12-month period, including both price appreciation and dividends. Buy, hold or sell ratings designate how the Ratings group expects these stocks to perform against a general benchmark of the equities market and interest rates.
While the ratings model is quantitative, it uses both subjective and objective elements. For instance, subjective elements include expected equities market returns, future interest rates, implied industry outlook and company earnings forecasts. Objective elements include volatility of past operating revenue, financial strength and company cash flows.
Cogent
(COGT)
, which makes automated fingerprint identification systems, has been upgraded to hold in the light of the company's strong financial performance. Cogent recently said second-quarter earnings almost tripled to $10.6 million, or 11 cents a share, while revenue totaled $31.3 million, up from $13.2 million a year ago. Management expects $120 million in revenue and 39 cents to 44 cents a share in 2007, for year-over-year increases of 18% and 25.8% to 41.9%, respectively.
Also, a new alliance with
Northrop
(NOC)
and a client relationship with Upek following two lawsuits could further strengthen the company's growth prospects. However, rising competition and customer concentration could pose significant challenges in the future. Cogent had been initiated with a sell rating in October 2005.
Pool
(POOL)
, a wholesale distributor of swimming pool supplies, equipment, and related leisure products, has been downgraded to hold. While the company has experienced revenue growth and notable return on equity, it has also seen deteriorating net income, generally poor debt management and disappointing stock performance.
Pool reported flat earnings per share in the most recent quarter and profit fell 7% from a year ago to $57.8 million. Revenue totaled $726.5 million, up from $705.7 million a year ago, but missed Wall Street's expectations.
The company also recently slashed its full-year outlook, and is now forecasting earnings of $1.45 to $1.55 a share, compared with its earlier guidance of $1.75 to $1.85 a share. The company blamed the weak housing market for slower swimming pool construction. Pool had been rated buy since May.
Retail Ventures
undefined
, which operates off-price department stores, has been upgraded to hold. The company has seen impressive growth in revenue, earnings per share, and net income. However, the stock's performance has been generally disappointing and debt management has been poor.
The company reported significant EPS improvement in the second quarter, swinging to a profit of $106.2, or $1.81 a share, compared with net loss of $16 million, or 36 cents a share, a year ago. Revenue increased 7% to $732.7 million. The company's current return on equity greatly increased from a year ago, a signal of significant strength.
Retail Ventures' stock price is down by 30.7% over the past year. Investors have so far failed to pay much attention to the earnings improvements the company has managed to achieve over the last quarter. The company had been rated sell since Sept. 12.
Aurizon Mines
(AZK)
, which operates gold properties in North America, has been upgraded to buy. The company enjoys a largely solid financial position, with robust growth in revenue and net income, good cash flow from operations, and a solid stock price performance.
While no company is perfect, TheStreet.Com Ratings does not see any major weaknesses which are likely to detract from the generally positive outlook. Aurizon's revenue growth greatly exceeded the industry average of 39.4%, and net income increased by 158.6% from a year ago to $6.98 million. Net operating cash flow has significantly increased by 246.54% to $4.71 million.
The company has also vastly surpassed the industry average cash flow growth rate of 129.08%. Despite currently having a low debt-to-equity ratio of 0.58, it is higher than that of the industry average. Aurizon Mines had been rated hold since May 2006.
CSK Auto
( CAO), a specialty retailer of automotive aftermarket parts and accessories, has been downgraded to sell. The company has experienced deteriorating net income, generally weak debt management, disappointing return on equity, weak operating cash flow and poor stock performance.
The company's debt-to-equity ratio is very high at 3.09 and currently above the industry average, implying very poor management of debt levels. Along with this, CSK Auto maintains a quick ratio of 0.14, which clearly demonstrates the inability to cover short-term cash needs. Return on equity has greatly decreased when compared to its ROE from the same quarter one year prior, a sign of major weakness.
The company recently said it would slash jobs and close stores in a plan that is expected to reduce expenses by $7 million this year and $34 million in 2008. CSK Auto had been rated hold since August.
Additional ratings changes are listed below.