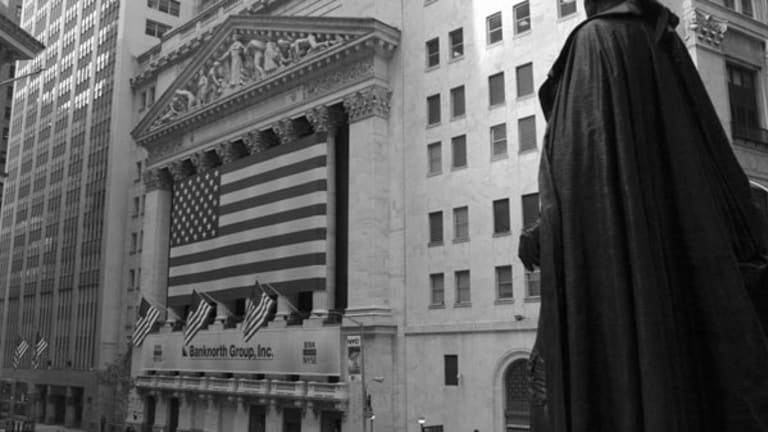 Stock Upgrades, Downgrades from TheStreet.com Ratings
First Niagara, Open Text, Trustmark and DealerTrack upgraded; NVR downgraded.
Each weekday, TheStreet.com Ratings updates its ratings on the stocks it covers. The proprietary ratings model projects a stock's total return potential over a 12-month period, including both price appreciation and dividends. Buy, hold or sell ratings designate how the Ratings group expects these stocks to perform against a general benchmark of the equities market and interest rates.
While the ratings model is quantitative, it uses both subjective and objective elements. For instance, subjective elements include expected equities market returns, future interest rates, implied industry outlook and company earnings forecasts. Objective elements include volatility of past operating revenue, financial strength and company cash flows.
First Niagara Financial Group
(FNFG)
, holding company for First Niagara Bank, has been upgraded to buy. The company's revenue growth and expanding profit margins are expected to outweigh its somewhat disappointing return on equity. The company recently reported second-quarter income of $16.6 million, or 16 cents per share, down from $24.8 million, or 23 cents a share, a year earlier.
The most recent quarter includes $7.5 million charge for an "improvement initiative," which reduced net income by 5 cents per share. Revenue growth greatly exceeded the industry average.
First Niagara's gross profit margin, while still high, decreased during the most recent reporting period. Nevertheless, its net profit margin of 12.20% compares favorably to the industry average. The company had been rated hold since June.
Homebuilder
NVR
(NVR) - Get Free Report
has been downgraded to hold. While the company enjoys a largely solid financial position, with reasonable debt levels, attractive valuation levels and notable return on equity, it also suffers from feeble EPS growth, deteriorating net income and poor profit margins.
The company recently reported that second-quarter profit fell 52% to $90.7 million, or $14.14 a share, missing Wall Street's expectations. Revenue slipped 25% to $1.32 billion. New orders decreased 11% to 3,745 units. NVR said new order units and gross profit margins were hurt by high levels of new and existing home inventories, affordability issues and declining home buyer confidence. NVR had been rated buy since December.
Open Text
(OTEX) - Get Free Report
, an enterprise software company, has been upgraded to buy. The company has seen robust revenue growth, solid stock price performance, reasonable valuation levels, good cash flow from operations and expanding profit margins.
Although the company may harbor some minor weaknesses, TheStreet.com Ratings does not believe they are likely to have a significant impact on results. Open Text recently reported fiscal year fourth-quarter earnings of 52 cents a share, before certain items, topping analysts' 40-cent estimate. Sales surged 67% to $175.2 million, exceeding the industry average of 56.1% and beating Wall Street's target of $165.6 million. Net operating cash flow has significantly increased by 84.46% to $28.46 million. Open Text had been rated hold since August.
Trustmark
(TRMK) - Get Free Report
, a financial services company, has been upgraded to buy, based on revenue growth, expanding profit margins, and other factors. These strengths are expected to outweigh stock's lackluster performance.
The company reported a 3% drop in second-quarter earnings from a year ago to $29.8 million, or 51 cents a share, beating Wall Street's estimates of 47 cents a share. Trustmark has reported somewhat volatile earnings recently and it is likely to report a decline in earnings in the coming year. Average total deposits increased $940.7 million, or 15.3% and net interest income expanded $4.1 million, or 5.7%. Net interest income expanded $4.1 million, or 5.7%. Net income from mortgage banking slipped about 38% to $1.8 million. Trustmark had been rated hold since June.
DealerTrack Holdings
(TRAK)
, which provides technology for the automotive retail industry, has been upgraded to hold. The company's stock price performance has been solid, and it has an impressive record of growth in earnings per share growth and compelling growth in net income.
However, the company's profit margins have been poor overall. DealerTrack recently said second-quarter income climbed 35% from a year ago to $6.3 million, or 15 cents a share. The company has demonstrated a pattern of positive EPS growth over the past year and that is expected to continue. Revenue climbed 35% to $58.5 million, boosted by a 42% increase in subscriptions. The company was initiated with a sell rating in January.
Additional ratings changes are listed below.