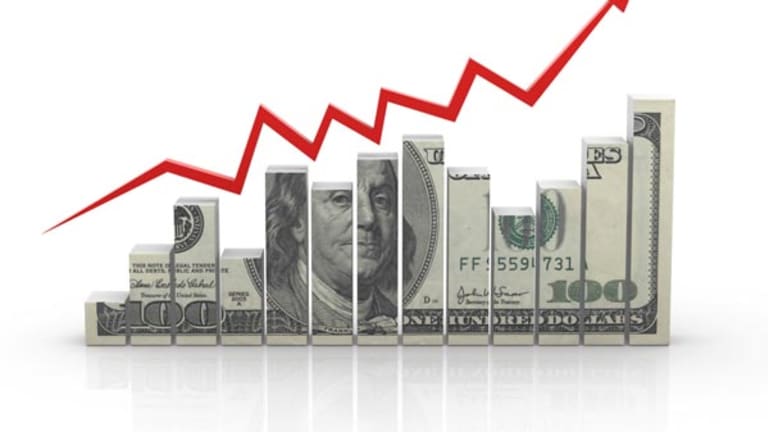 Stock Upgrades, Downgrades From TheStreet.com Ratings
Capital One, E-Trade, Ruby Tuesday and Tween Brands downgraded; Amerigroup upgraded.
Each weekday, TheStreet.com Ratings updates its ratings on the stocks it covers. The proprietary ratings model projects a stock's total return potential over a 12-month period, including both price appreciation and dividends. Buy, hold or sell ratings designate how the Ratings group expects these stocks to perform against a general benchmark of the equities market and interest rates.
While the ratings model is quantitative, it uses both subjective and objective elements. For instance, subjective elements include expected equities market returns, future interest rates, implied industry outlook and company earnings forecasts. Objective elements include volatility of past operating revenue, financial strength and company cash flows.
Financial services company
Capital One Financial
(COF) - Get Capital One Financial Corporation Report
has been downgraded to hold. While the company has reported robust revenue growth and increasing net income and is attractively valued, its stock performance and return on equity have been disappointing. Last month, Capital One reported a 36% jump in second-quarter income to $750.4 million, or $1.89 a share. Revenue totaled $3.57 billion, up from $2.91 billion a year ago. At that time, Capital One said there were several charges that reduced earnings. The company had been rated buy since August 2005.
E-Trade Financial
(ETFC) - Get E*TRADE Financial Corporation Report
, an online broker, has been downgraded to hold. The company has seen growth in revenue and earnings per share and valuation levels have been attractive. However, E-Trade's stock performance and debt management have been generally poor, and operating cash flow has been weak. In July, the company reported second-quarter income of $159 million, or 37 cents a share, up slightly from $156 million, or 36 cents a share a year ago. Excluding items, earnings were 42 cents a share. Revenue rose 9% to $664 million. The company had been rated buy since January.
Ruby Tuesday
(RT)
, a causal dining chain, has been downgraded to hold. While the company has seen notable return on equity and is reasonably valued, it has also suffered from feeble EPS growth, generally poor debt management and poor profit margins. In July, Ruby Tuesday said fiscal fourth-quarter earnings tumbled 22% to $24.7 million, or 46 cents a share. The company cited higher gas prices and increased competition as reasons for the shortfall. Revenue slipped 2% to $356.8 million. The company also said it expected first-quarter earnings to miss Wall Street's expectations. Ruby Tuesday had been rated hold since August 2006.
Tween Brands
(TWB)
, a specialty retailer, has been downgraded to hold. While the company is in a largely solid financial position with revenue growth, notable return on equity and reasonable debt levels, its net income growth had been unimpressive and the stock price performance has been generally disappointing. Earlier this week, Tween Brands said its income for the second quarter dropped to $2.1 million, or 7 cents a share, from $5.9 million, or 18 cents a share, a year earlier. The company also cut its outlook for the year. Sales rose to $213.7 million from $185.8 million last year, but same-store sales, or sales at stores open at least a year, fell 2%. Tween Brands had been rated buy since August 2005.
Amerigroup
(AGP)
, a managed health care company, has been upgraded to buy. The company enjoys a largely solid financial position, with attractive valuation levels and impressive growth in revenue, earnings per share and net income. The Street.com Ratings believes these strengths should outweigh the stock's lackluster performance. Amerigroup recently reported that second-quarter earnings more than doubled to $32.8 million, or 61 cents a share. Revenue totaled $1 billion, up from $642.4 million a year ago, greatly exceeding the average industry rate of 6%. The company also raised its full-year outlook. Amerigroup had been rated hold since June.