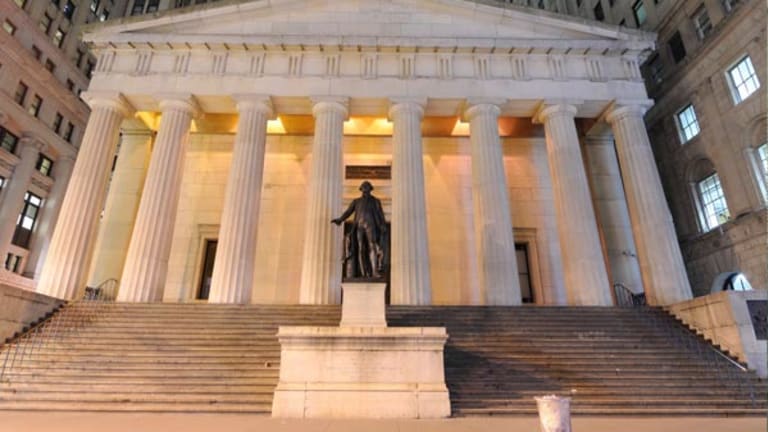 Stock Upgrades, Downgrades From TheStreet.com Ratings
BankAtlantic is downgraded; Cabot Microelectronics, Gerber Scientific, iGate and Ameriprise upgraded.
Each weekday, TheStreet.com Ratings updates its ratings on the stocks it covers. The proprietary ratings model projects a stock's total return potential over a 12-month period, including both price appreciation and dividends. Buy, hold or sell ratings designate how the Ratings group expects these stocks to perform against a general benchmark of the equities market and interest rates.
While the ratings model is quantitative, it uses both subjective and objective elements. For instance, subjective elements include expected equities market returns, future interest rates, implied industry outlook and company earnings forecasts. Objective elements include volatility of past operating revenue, financial strength and company cash flows.
BankAtlantic Bancorp
(BBX) - Get BBX Capital Corporation Class A Report
, which offers consumer and commercial banking services, has been downgraded to sell. The company has experienced a steep decline in earnings per share in the most recent quarter in comparison with its performance from the same quarter a year ago.
Earnings per share have declined over the last two years, and that is expected to continue in the coming year. The change in net income from the same quarter one year ago has significantly exceeded that of the thrifts and mortgage finance industry average. The company has been rated hold since February 2006.
Cabot Microelectronics
(CCMP) - Get Cabot Microelectronics Corporation Report
, which makes chip-manufacturing materials, has been upgraded to buy. The company has reported revenue growth higher than the industry average in the most recent quarter, and revenue has increased by 14.2% since a year ago.
It has a largely solid financial position with reasonable debt levels, reasonable valuation levels, solid stock price performance and expanding profit margins. TheStreet.com Ratings believes these strengths outweigh the company's subpar growth in net income. The debt-to-equity ratio is very low at 0.01 and is currently below the industry average, implying that there has been very successful management of debt levels. The company had been rated hold since June 6.
Gerber Scientific
( GRB), which makes equipment to create signs and specialty graphics, has been upgraded to buy. The company has an impressive record of earnings-per-share growth, compelling growth in net income and revenue, and a largely solid financial position with reasonable debt levels.
Net income increased by 41.1% over a year ago during the most recent quarter and has outperformed the electronic equipment and instruments industry average. Along with the favorable debt-to-equity ratio, the company maintains an adequate quick ratio (marketable securities and accounts receivable divided by current liabilities) of 1.01, which illustrates its ability to avoid short-term cash problems. The company had been rated hold since May 17.
iGate
(IGTE)
, an information technology company, has been upgraded to buy. The company has shown revenue growth, reasonable valuation levels, good cash flow from operations and solid stock-price performance. Even though iGate's debt-to-equity ratio shows mixed results, its quick ratio of 4.38 is very high and demonstrates very strong liquidity.
iGate's revenue growth has slightly outpaced the industry average of 7.7%. Revenue increased 11.2% during the most recent quarter over a year ago. This growth appears to have trickled down to the company's bottom line, improving the earnings per share. The company had been rated hold since May 2006.
Ameriprise Financial
(AMP) - Get Ameriprise Financial, Inc. Report
, which provides financial planning, asset-management and insurance services, has been upgraded to hold. The company's fund business and client base are expected to grow as it rolls out new financial products.
Ameriprise Financial and the other mutual fund businesses could benefit from the Pension Protection Act signed by President Bush last year. This law allows companies to automatically enroll in retirement plans. Currently, one-third of workers elect not to enroll in defined contribution plans. RiverSource, a subsidiary of the company, should be able to attract a reasonable share of the resulting increase in retirement investment that is directed to the stock market. Ameriprise had been rated sell since November 2006.
Additional ratings changes are listed below.