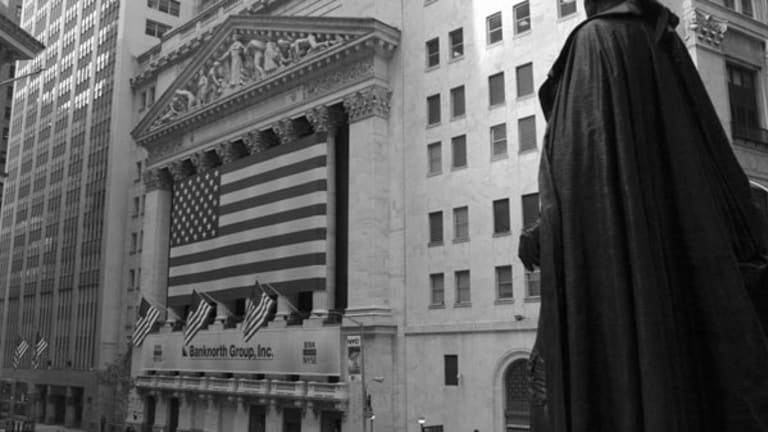 Stock Upgrades, Downgrades From TheStreet.com Ratings
Chico's and CNX are upgraded, Adobe downgraded and coverage initiated on Burger King and Ebarq.
Each weekday, TheStreet.com Ratings updates its ratings on the stocks it covers. The proprietary ratings model projects a stock's total return potential over a 12-month period, including price appreciation and dividends. Buy, hold or sell ratings designate how the Ratings group expects these stocks to perform against a general benchmark of the equities market and interest rates.
While the ratings model is quantitative, it uses both subjective and objective elements. For instance, subjective elements include expected equities market returns, future interest rates, implied industry outlook and company earnings forecasts. Objective elements include volatility of past operating revenue, financial strength and company cash flows.
Chico's FAS
(CHS) - Get Report
is a specialty retailer of women's casual-to-dressy clothing, intimates and non-clothing gift items. It has been upgraded to buy from hold. The rating is based in part on the company's strategy to offer items that complement its core products, including watches, leather goods and gift items, most of which are designed by Chico's.
During the first quarter of 2007, revenue increased 16.0% over the year-earlier period, driven by new store openings. The company plans to open between 134 and 145 net new stores in fiscal year 2007 and between 105 and 115 net new stores in fiscal year 2008. It had been rated a hold since August 2006.
CNX Gas
( CXG) explores for, develops and produces natural gas in the Appalachian Basin. It has been upgraded to hold from sell. The company's debt-to-equity ratio of 0.07 is currently below that of the industry average, implying that there has been very successful management of debt levels.
Along with this, the company maintains a quick ratio of 2.51, which demonstrates its ability to cover short-term cash needs. Its first-quarter profit margin of 69.2% was up over the year-earlier period. Although CNX's EPS declined 26.7% during the same quarter and the company earnings have been somewhat volatile lately, it is poised for EPS growth in the coming year. CNX Gas had been rated a sell since February 2007, when TheStreet.com Ratings initiated coverage.
Business and mobile software and services provider
Adobe Systems
(ADBE) - Get Report
has been downgraded to hold from buy. The company's EPS rose 25.0% in the second quarter of 2007 over the year-earlier period, although its earnings have been somewhat volatile lately.
The company's shares are up 46.5% over the past 12 months; the hold rating indicates that TheStreet.com Ratings does not recommend additional investment in this stock despite these gains. Adobe's second-quarter return on equity of 11.1% trails the industry average of 26.7%. The company had been rated a buy since March 2007.
TheStreet.com Ratings has initiated coverage of fast-food restaurant chain
Burger King
(BKC)
with a sell rating. The company's debt-to-equity ratio of 1.40 is relatively high when compared with the industry average, suggesting a need for better debt level management, and its quick ratio of 0.65 shows the company's inability to cover short-term liquidity needs. Burger King's teturn on equity of 15.16 in the third quarter of 2007 is lower than that of the same quarter one year ago, another sign of weakness in the company.
TheStreet.com Ratings has also initiated coverage of
Embarq
(EQ) - Get Report
, which provides telecommunications, Internet and satellite video services, with a sell rating. The company's EPS declined 26.1% in the first quarter of 2007 compared with the same period last year, and net income declined by 25.2% during the same period, falling to $160 million from $214.0 million. In addition, net operating cash flow decreased 20.7% during that quarter compared with the same quarter in 2006, to $480.0 million.
Additional ratings changes are detailed below.