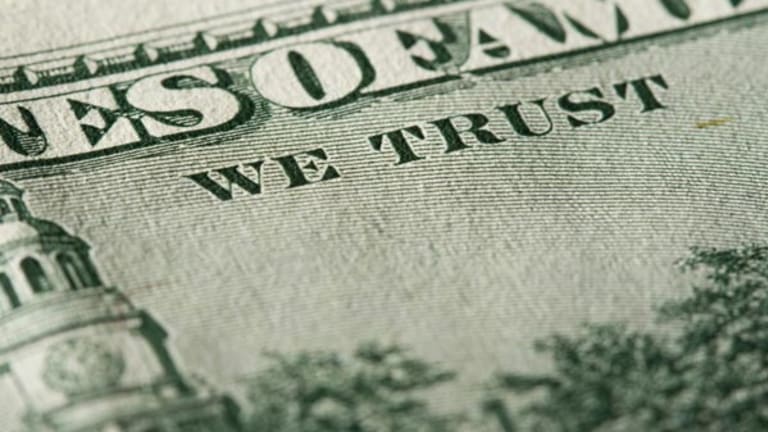 STOCK PICKS: Top Five Large-Cap Stocks for Sept. 24
Alcon, McDonald's, Union Pacific, Lockheed Martin and Procter & Gamble make the list.
Each business day, TheStreet.com Ratings compiles a list of the top five stocks in five categories -- fast-growth, all-around value, large-cap, mid-cap and small-cap.
This list is based on data from the close of the previous trading session. Today, large-cap stocks are in the spotlight. These are stocks of companies with market capitalizations of over $10 billion that rank near the top of all stocks rated by our proprietary quantitative model, which looks at more than 62 factors. In addition, the stocks must be followed by at least one financial analyst who posts estimates on the Institutional Brokers' Estimate System. The stocks are ordered by their potential to appreciate.
Note that no provision is made for off-balance-sheet assets such as unrealized appreciation/depreciation of investments, market value of real estate or contingent liabilities that might affect book value. This could be material for some companies with large underfunded pension plans.
Alcon
( ACL) is a research and development driven, global medical specialty company focused on eye care.
Alcon has been rated a buy since September 2004. Our rating is based on the company's solid revenue growth, strong sales growth from its key products and increasing earnings. A healthy cash position, new product launches and regulatory approvals further support the rating. For the second quarter of fiscal 2008, Alcon reported that its net earnings rose 26.3% year over year to $566.4 million. The increased earnings combined with strong volume growth to boost total sales by 17.9%, from $1.47 billion in the second quarter of fiscal 2007 to $1.74 billion in the most-recent quarter. Gross profit margin improved to 78.63% from $78.42%, while operating margin advanced 75 basis points to 37.21%. In addition, Alcon announced that it would build a fully functional pharmaceutical manufacturing plant in Singapore by 2012 in order to take advantage of growing demand in Asia. The company also received Food and Drug Administration approval for its Patanase nasal spray, which is used in the treatment of symptoms associated with allergic rhinitis.
Looking ahead to full year 2008, the company increased its sales guidance to a range of $6,460 million to $6,510 million, primarily due to a currency environment that remains more favorable than anticipated. The company also increased its guidance for diluted earnings per share to a range of $6.48 to $6.54. It is important to remember, however, that any regulatory denial of the company's new product developments and market penetrations could hamper its future revenue growth. In addition, the company's weak leverage level and disappointing returns on assets and equity may be a threat to its future rating.
McDonald's
(MCD) - Get McDonald's Corporation (MCD) Report
primarily operates and franchises McDonald's restaurants. In total, the corporation has more than 30,000 restaurants in more than 100 countries. More than 52 million people are served each day in McDonald's restaurants, according to the company. McDonald's also has quality assurance labs around the world.
We have rated McDonald's a buy since March 2004, based on strengths such as its solid stock price performance and impressive record of earnings per share growth. The company announced that its comparable sales and guest counts grew across all geographic segments in the second quarter of fiscal 2008. Profitability also increased during the second quarter. McDonald's revenue increased 4.0% year over year, contributing to a significant earnings per share (EPS) improvement from a loss of 59 cents in the second quarter of fiscal 2007 to $1.04 in the most-recent quarter. Net income surged 267.3% when compared with the same quarter a year ago. Additionally, the company experienced double-digit operating income growth in several geographic regions (Europe and Asia/Pacific, the Middle East, and Africa) and produced solid quarterly results in the U.S.
Looking ahead, management stated that it believes the company will continue to have momentum due to a collective focus on delivering quality products at good value. While the company may currently harbor some minor weaknesses, we do not expect them to have a significant impact on McDonald's future financial results.
Union Pacific
(UNP) - Get Union Pacific Corporation Report
provides rail transportation through its principal operating company, Union Pacific Railroad Company, which runs the largest railroad in North America. The railroad covers 23 states across the western two-thirds of the U.S., and ships products such as automobiles and automobile parts, agricultural products, coal, liquid and dry chemicals, plastics and liquid petroleum products.
Union Pacific has been rated a buy since February 2005 due to its record of earnings per share growth, improvements in revenue and net income, consistent cash flow from operations and solid stock price performance. During the second quarter of fiscal 2008, the company's earnings grew 19.1% year over year, boosted by higher shipments of coal, grain and fertilizer. Earnings were partially offset by rising fuel costs and the recent flooding in the Midwest. Net income rose to $531.00 million in the quarter from $446.00 million in the second quarter of fiscal 2007. Earnings per share also increased, rising 23.6% to $1.02 per share from 82 cents per share in the same quarter last year, while revenue has improved 12.9%. Additionally, net operating cash flow increased 32.93% when compared with the second quarter last year.
While the Midwest flooding earlier in the year caused a decrease in earnings for the second quarter, management was pleased with the resiliency that Union Pacific's network exhibited after the crisis, with a quick restoration of service allowing the company to finish the quarter strongly. The company anticipates challenges from high fuel prices and a soft economy going forward, but expects that it will be able to take advantage of the opportunities presented by a diverse business mix. However, any failure to counter these issues could affect the company's future prospects.
Lockheed Martin
(LMT) - Get Lockheed Martin Corporation (LMT) Report
is a global security company headquartered in Bethesda, Maryland. The company researches, designs, develops, manufactures, integrates, operates and sustains technology systems and products. It also provides a range of management, engineering , technical, scientific, logistic and information services.
We have rated Lockheed Martin a buy since May 2004. This rating is based on various strengths, such as the company's impressive record of earnings per share growth and increase in net income. For the second quarter of fiscal 2008, the company reported slight revenue growth of 3.6% year over year. The second quarter also brought EPS improvement of 18.1% when compared with the same quarter a year ago. Net income increased by 13.4% in the second quarter, rising from $778.00 million in the second quarter of fiscal 2007 to $882.00 million. In addition, net operating cash flow increased slightly by 6.19%.
Management reported that Lockheed Martin's second quarter results were in line with its expectations for the quarter. We feel that the company's strengths outweigh the fact that it shows low profit margins, and we believe that the stock should have good upside potential under most economic conditions.
Procter & Gamble
(PG) - Get Procter & Gamble Company Report
and its subsidiaries market more than 300 branded products in more than 160 countries. Popular brands include Pampers, Tide, Ariel, Pantene, Wella, Always, Crest, Bounty, Charmin, Olay, Pringles, Iams, Downy, Actonel, Folgers, and Head & Shoulders.
Procter & Gamble has been rated a buy since October 2002. Our recommendation is based on the company's revenue growth, improved operating margin, and increased earnings. These strengths are further supported by P&G's expanding returns and positive management outlook. For the fourth quarter of fiscal 2008, the company reported revenue growth of 10.3% year over year, driven by favorable exchange rates and 5.0% organic sales growth. A 4.0% increase in organic unit volume also contributed to revenue growth. Operating margin improved 41 basis points to 18.06%. Increased revenue and improved operating margin helped earnings grow 33.0% when compared with the same quarter last year, rising to $3.02 billion, or 92 cents per share. Returns on assets and equity also improved on the back of the increased fourth quarter earnings.
Looking ahead to the first quarter of fiscal 2009, Procter & Gamble expects earnings to be in the range of 98 cents to $1.00 per share, based on projected revenue growth of 7.0% to 10.0%. In addition, the company anticipates full fiscal year 2009 EPS in the range of $3.80 to $3.87 per share. However, the company faces risks from rising commodity and energy costs, as well as a significantly lower cash balance. These factors could negatively impact P&G's future financial results.
Our quantitative rating is based on a variety of historical fundamental and pricing data and represents our opinion of a stock's risk-adjusted performance relative to other stocks.
However, the rating does not incorporate all of the factors that can alter a stock's performance. For example, it doesn't always factor in recent corporate or industry events that could affect the stock price, nor does it include recent technology developments and competitive dynamics that may affect the company.
For those reasons, we believe a rating alone cannot tell the whole story and should be part of an investor's overall research.
This article was written by a staff member of TheStreet.com Ratings.