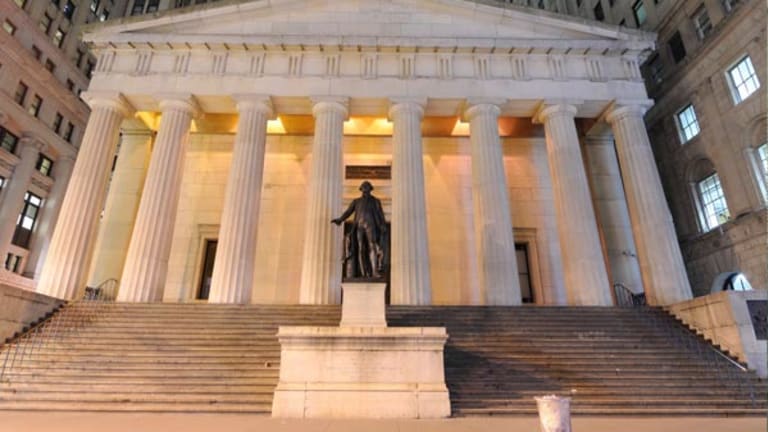 STOCK PICKS: Top Five Fast-Growth Stocks for Sept. 29
Balchem, II-VI Inc., FTI Consulting, Ansys and Amedisys make the list.
Each business day, TheStreet.com Ratings compiles a list of the top five stocks in five categories -- fast-growth, all-around value, large-cap, mid-cap and small-cap.
This list is based on data from the close of the previous trading session. Today, fast-growth stocks are in the spotlight. These are stocks of companies that are projected to increase revenue and profit by at least 12% in the coming year and rank near the top all stocks rated by our proprietary quantitative model, which looks at over 60 factors.
In addition, the stocks must be followed by at least one financial analyst who posts estimates on the Institutional Brokers' Estimate System. Please note that definitions of revenue vary by industry, and this screen does not make adjustments for acquisitions, which can materially affect posted results. Likewise, earnings-per-share growth may be affected by accounting charges, share repurchases and other one-time items.
Note that no provision is made for off-balance-sheet assets such as unrealized appreciation/depreciation of investments, market value of real estate or contingent liabilities that might affect book value. This could be material for some companies with large underfunded pension plans.
Balchem
(BCPC) - Get Balchem Corporation Report
develops, manufactures and markets specialty performance ingredients and products for the food, feed and mechanical sterilization industries. Balchem produces choline products for both human and animal consumption. Choline, a vitamin-B complex, plays a vital role in the metabolism of fat and the building and maintaining of cell structures.
Our buy rating for Balchem has not changed since June 2003. The company again reported record quarterly results in net sales for the second quarter of fiscal 2008, achieving a 41.8% increase year over year due to both organic and acquisition growth. Balchem also reported record net earnings, which increased 16.2% when compared with the second quarter of fiscal 2007. As a result, the company's net earnings per diluted common share increased 13.6% to 25 cents per share from 22 cents per share in the second quarter of fiscal 2007. Additionally, Balchem reported that its balance sheet ratios and cash flow continued to be strong in the second quarter.
Management was pleased with the company's record results in the second quarter despite a difficult business environment. The company has worked to increase its global presence, and overseas demand has helped offset the challenges of the U.S. market. Balchem expects rising raw material costs to continue affecting its financial results in the near term, but management stated that appropriate steps would be taken to minimize the impact on operating margins and cash flow. Bear in mind, however, that global economic issues could still affect the company's results.
II-VI Inc.
(IIVI)
develops, manufactures and markets high technology materials and derivative products for precision use in industrial, medical, military, security and aerospace applications.
Our rating for II-VI has been in place since October 2006. The company's strengths can be seen in multiple areas, such as its robust revenue growth, largely solid financial position with reasonable debt levels by most measures, notable return on equity, reasonable valuation levels and solid stock price performance. For the fourth quarter of fiscal 2008, the company reported revenue growth of 31.4% year over year. This growth helped boost earnings per share from 37 cents in the fourth quarter of fiscal 2007 to 50 cents in the most-recent quarter. II-VI has a low debt-to-equity ratio of 0.01, indicating very successful management of debt levels. Along with this, the company demonstrates the ability to cover its short-term cash needs, based on a quick ratio of 2.77.
Powered by its strong earnings growth of 35.13% and other important driving factors, this stock has surged by 26.09% over the past year. We feel that the company's strengths outweigh the fact that it shows weak operating cash flow.
FTI Consulting
(FCN) - Get FTI Consulting, Inc. Report
provides consulting services to organizations confronting legal, financial and reputational issues.
FTI Consulting has been rated a buy since May 2004. Our recommendation is based on the company's strong revenue growth, expanding operating margin, and increasing bottom-line. The company's solid cash position and notable returns also strengthen its position. For the second quarter of fiscal 2008, FTI reported that its revenue grew 40.9% year over year, driven by strong segmental performance. Earnings per share also improved, rising from 53 cents in the second quarter of fiscal 2007 to 66 cents in the most-recent quarter. The company's cash position improved during the quarter, as reflected by a $30.26 million surge in cash and cash equivalents. Return on assets and return on equity also expanded, improving 220 and 185 basis points, respectively. Operating margin improved 169 basis points when compared to the same quarter a year ago, rising to 19.92%. In addition, the company recently completed the acquisition of Attenex Corp. and Kinesis Marketing.
Looking forward, the company reaffirmed its full fiscal year EPS guidance for a range of $2.50 to $2.63 per share on revenue of $1.30 billion to $1.38 billion. However, the company's deteriorating gross profit margin, failure to retain and hire qualified professionals, and lower merger and acquisition activities are potential risks to consider. These challenges, along with the unfavorable change in economic conditions, could restrict future profitability.
Ansys
(ANSS) - Get ANSYS, Inc. Report
develops and markets engineering simulation software and technologies used by engineers across a broad spectrum of industries.
Our buy rating for Ansys has been in place since November 2006. Our recommendation is based on the company's strong revenue growth, improving operating margin, and widening net income. The company's strong cash position, notable returns, and positive management outlook also enhance the rating. Ansys's revenue surged 20.6% year over year in the second quarter of fiscal 2008, driven by higher software license and maintenance revenue. Foreign currency rates also aided revenue growth. Earnings per share also increased, rising from 23 cents in the second quarter of fiscal 2007 to 34 cents in the most-recent quarter. Despite a declining gross profit margin, the company's operating and net income also increased during the quarter. Operating margin improved 646 basis points to 39.42% from 32.96% a year ago, while net income increased 54.1% to $28.13 million. During the second quarter, Ansys's cash and equivalents rose 46.4% to $202.04 million. Returns on assets and equity also improved as a result of the improved quarterly earnings.
Management reported that the second quarter's results were the result of a variety of company strengths, including its diversified global reach and technical innovations. Looking ahead to the third quarter, Ansys expects its GAAP earnings to be in the range of 19 cents to 24 cents per share on revenue of $115.00 million to $121.00 million. For the full year, the company raised its revenue forecast to the range of $476.00 million to $486.00 million from its earlier guidance of $448.00 million to $452.00 million. However, integration challenges from the recent acquisition of Ansoft Corp. could affect future performance, as could a highly competitive software and license market and fluctuations in currency rates. The company also faces challenges from deteriorating gross profit margin and declining revenue from services.
Amedisys
(AMED) - Get Amedisys, Inc. Report
provides home health and hospice services in the southern and southeastern U.S. The company provides a wide variety of health care services, including skilled monitoring by registered nurses, occupational and physical therapy, assessments and patient education.
We have rated Amedisys a buy since January 2005. On July 29, the company reported record financial results for the second quarter of fiscal 2008. Net earnings for the quarter surged 35.6% year over year due to coverage expansion from the buyout of TLC Healthcare Services. Net income increased to $20.38 million from $14.92 million in the second quarter of fiscal 2007. Diluted earnings per share rose 43.9% year over year to 82 cents per share. Helped by acquisition revenue, an increase in re-certifications, growth in average revenue per episode, and a rise in admissions, the company's net services revenue climbed 84.5% to $312.67 million. Additionally, the number of home health agencies increased to 454 from 296, while hospice agencies rose to 44 from 17 in the prior year's quarter. During the second quarter, Amedisys acquired five home health locations from Health Management Associates, which should add around $4.00 million to its annualized revenue.
Management announced that it was pleased with its second quarter results and the progress of the post-acquisition integration of TLC. Looking ahead to full year 2008, Amedisys included the anticipated impact of recent acquisitions in raising its net service revenue guidance to a range of $1.10 billion to $1.15 billion. The company also raised its EPS guidance to a range of $3.00 to $3.10 per share from the previous guidance of $2.70 to $2.80 per share. Bear in mind, however, that the company's revenue and earnings could be affected by any adverse changes in Medicare rates and reimbursement methodologies or any challenges related to the integrations of recent acquisitions.
Our quantitative rating is based on a variety of historical fundamental and pricing data and represents our opinion of a stock's risk-adjusted performance relative to other stocks.
However, the rating does not incorporate all of the factors that can alter a stock's performance. For example, it doesn't always factor in recent corporate or industry events that could affect the stock price, nor does it include recent technology developments and competitive dynamics that may affect the company.
For those reasons, we believe that a rating alone cannot tell the whole story and that it should be part of an investor's overall research.
This article was written by a staff member of TheStreet.com Ratings.