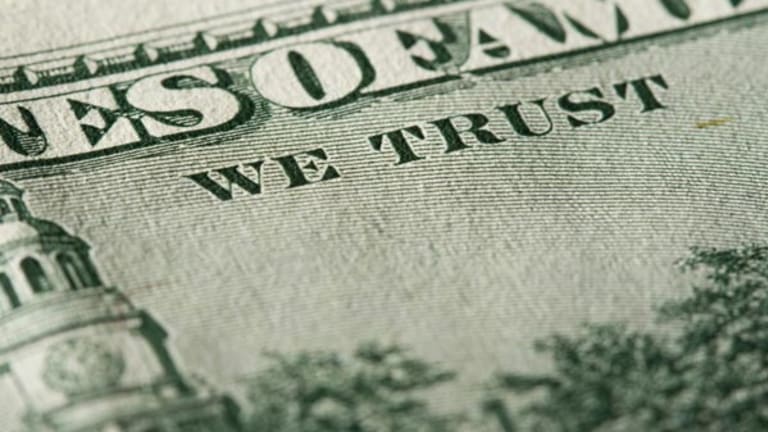 STOCK PICKS: Top 5 Small-Caps for July 18
Integral Systems, National Research, Stepan, Exponent and Quaker Chemical all make this list for July 18.
Integral Systems, National Research, Stepan, Exponent and Quaker Chemical all make this list for July 18.
Each business day, TheStreet.com Ratings compiles a list of the top five stocks in five categories -- fast-growth, all-around value, large-cap, mid-cap and small-cap -- and publishes these lists in the Ratings section of our Web site.
This list is based on data from the close of the previous trading session. Today, small-cap stocks are in the spotlight. These are stocks of companies that have market capitalizations of between $50 million and $500 million that rank near the top of all stocks rated by our proprietary quantitative model, which looks at more than 60 factors.
The stocks must also be followed by at least one financial analyst who posts estimates on the Institutional Brokers' Estimate System. They are ordered by their potential to appreciate.
Note that no provision is made for off-balance-sheet assets such as unrealized appreciation/depreciation of investments, market value of real estate or contingent liabilities that might affect book value. This could be material for some companies with large underfunded pension plans.
Integral Systems
( ISYS) builds satellite ground systems and equipment for command and control, integration and testing, data processing and simulation. Founded in 1982, the company supports satellite missions for communications, science, meteorological and earth resource applications. Most of Integral Systems' sales involve a combination of commercial-off-the-shelf software and hardware products together with development services. The company's wholly-owned subsidiary, SAT Corporation, offers a range of software products and turnkey systems for communications signal monitoring. Another wholly-owned subsidiary, Newpoint Technologies, offers an integrated suite of products targeted at commercial users, including communication satellite operators and users and general-purpose telecommunication companies.
Integral Systems has been rated a buy since March 2005. This rating is supported by the company's growth in revenue and net income, largely solid financial position, and impressive record of earnings per share (EPS) growth. For the second quarter of fiscal 2008, the company's revenues leaped 54.6% year-over-year, which in turn helped boost its EPS from 19 cents per share in the second quarter of fiscal 2007 to 44 cents per share in the most recent quarter. Net income increased 85.5% when compared to the same quarter one year prior. The company experienced strong financial results and growth in all three of its operating segments. Additionally, Integral Systems has no debt to speak of, which we consider to be a relatively favorable sign, and appears to be able to cover short-term liquidity needs.
Management announced that the company anticipates another year of record revenue and earnings, given that all three of the operating segments are performing better than expected. Fiscal 2008 EPS is now estimated at $1.90 per share. While the company currently shows relatively low profit margins, we feel that its strengths should help its stock price move higher despite having already experienced a very nice gain of 75.4% over the past year.
National Research
( NRCI) assists the health care industry in the U.S. and Canada track performance at a variety of levels. The company provides survey-based performance management, analysis, tracking, and improvement and educational services and develops tools that enable healthcare organizations to obtain performance measurement information necessary to comply with industry and regulatory standards and to improve their business practices. The company uses a dynamic data-collection process to create a personalized questionnaire that evaluates service issues specific to each respondent's healthcare experience. The flexibility of this data collection process allows healthcare organizations to add timely, market-driven questions relevant to matters such as industry performance mandates, employer performance guarantees and internal quality improvement initiatives.
We have rated National Research a buy since November 2006. Our rating is based on a variety of strengths, including the company's revenue growth, its impressive record of earnings per share (EPS) growth, and its compelling growth in net income. For the first quarter of fiscal 2008, revenue rose by 10.2% year-over-year. This growth appears to have trickled down to the bottom line, as EPS improved by 26.1% during the first quarter. In fact, National Research's EPS has demonstrated a pattern of positive earnings per share growth over the past two years. Additionally, net income increased by 25.6% when compared to the same quarter one year prior, rising from $1.59 million to $2.00 million.
Spurred by the company's strong earnings growth, National Research's stock price has risen over the past year to a level that is relatively expensive compared to its peers. However, we feel that the company's strengths justify these higher price levels.
Stepan
(SCL) - Get Report
is a global manufacturer that produces specialty and intermediate chemicals. These products are sold to other manufacturers to be made into a variety of end products. The company operates in three business segments: surfactants, polymers and specialty products. Surfactants are the key products in consumer and industrial cleaning products, creating the foaming and cleaning properties of products such as toothpastes, detergents, and shampoos. Polymers such as phthalic anhydride and polyols are used in plastics, building materials, and refrigeration systems, as well as in coating, adhesive, sealant and elastomer applications. Stepan also produces custom-made specialty products to meet the individual needs of clients. These chemicals include food flavorings and other products used in the food and pharmaceutical industries.
We have rated Stepan a buy since May 2007, based on strengths such as its robust revenue growth, solid stock price performance and compelling growth in net income. For the first quarter of fiscal 2008, Stepan's revenues rose by 21.9% year-over-year. This in turn appears to have helped boost earnings per share, which increased from $0.56 in the first quarter of fiscal 2007 to 85 cents in the most recent quarter. Net income grew 53.8% when compared to the same quarter a year ago, rising from $5.69 million to $8.75 million. Stepan also reported that its gross profit increased 32% due to a significant improvement in earnings from its surfactants business.
Management announced that it was pleased with the company's progress in the first quarter as efforts to improve the customer and product mix contributed to the increased profitability of Stepan's global surfactant business. Looking forward, management anticipates continued profit growth compared to last year, despite their concerns about the potential impacts of a recession.
Exponent
(EXPO) - Get Report
is a science and engineering consulting firm whose multidisciplinary team of scientists, physicians, engineers and business and regulatory consultants brings together more than 70 different technical disciplines to solve complicated issues facing industries and businesses. Its professional staff can perform in-depth scientific research and analysis or very rapid-response evaluations to provide clients with the critical information they need.
Exponent has been rated a buy since November 2001. For the second quarter of fiscal 2008, the company reported on July 16 that its total revenues increased 9% year-over-year. Net income improved 16% to $5.8 million, or $0.36 per diluted share, compared to $5.0 million, or $0.30 per diluted share, in the same quarter of fiscal 2007. The biomechanics, human factors, defense technology development, and mechanics and materials practices performed well, as did Exponent's health group. During the second quarter, Exponent continued its share repurchase program by repurchasing $11.2 million of common stock. The company has now repurchased $16 million of common stock in the first half of the fiscal year, with $35 million still available for future repurchases.
Management reported that the company continued to capitalize on strategic market opportunities during the second quarter. Looking ahead, management reiterated its belief that the company will post high single-digit to low double-digit growth in revenue before reimbursements for the full fiscal year, while continuing to selectively hire important talent. Exponent will also focus on capturing new growth opportunities in the quarter ahead. However, Exponent's future results could be negatively impacted by any disruptive changes in both general and industry-specific economic conditions and the effects of tort reform and government regulation of the company's business.
Quaker Chemical
(KWR) - Get Report
develops, produces and markets a broad range of formulated chemical specialty products for carious heavy industrial and manufacturing applications. In addition, the company offers and markets chemical management services. Quaker serves the automotive, steel finishing, heavy equipment, aerospace, tube and pipe and bearing manufacturing industries worldwide. Additionally, the company serves other industries that make products from metal and require machining and grinding, rolling and forming and associated cleaning and corrosion prevention processes. The company is headquartered in Pennsylvania.
We have rated Quaker Chemical a buy since May 2007 because of strengths such as robust revenue growth, an impressive record of earnings per share growth and a largely solid financial position. For the first quarter of fiscal 2008, the company reported record quarterly sales and revenue growth of 18.3% year-over-year. Earnings per share (EPS) improved 42.9% compared to the same quarter a year ago, rising from 35 cents to 50 cents per share. Quaker's current debt-to-equity ratio is somewhat low at 0.67, although it is high compared to the industry average. Despite rising material costs, Quaker had a 6% improvement in operating income as a percentage of sales for the first quarter.
Management stated that it remains confident about the company's long-term future and the potential for improved earnings in fiscal 2008. Bear in mind, however, that overall customer demand for products greatly impacts Quaker's financial performance, so any downturn in its customers' businesses could negatively impact results, as could any unexpected shutdown in customer production. Increases in the costs of raw materials and overall economic and market conditions worldwide could also affect Quaker's future performance.
Our quantitative rating is based on a variety of historical fundamental and pricing data and represents our opinion of a stock's risk-adjusted performance relative to other stocks.
However, the rating does not incorporate all of the factors that can alter a stock's performance. For example, it doesn't always factor in recent corporate or industry events that could affect the stock price, nor does it include recent technology developments and competitive dynamics that may affect the company.
For those reasons, we believe that a rating alone cannot tell the whole story and that it should be part of an investor's overall research.
This article was written by a staff member of TheStreet.com Ratings.