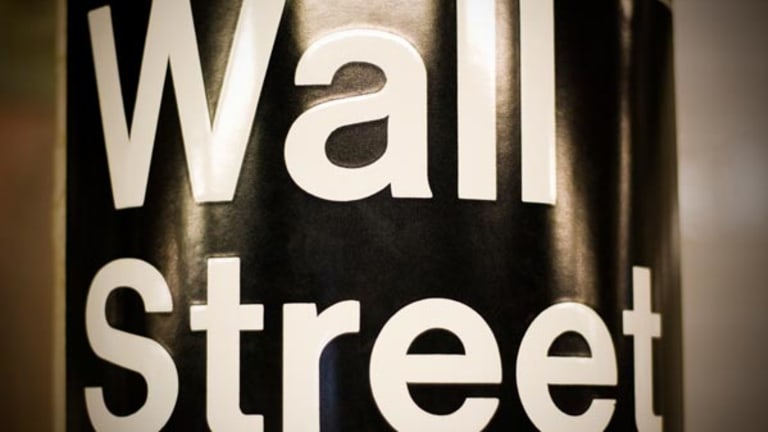 STOCK PICKS: Top 5 Small-Caps, Aug. 1
Balchem, Integral Systems, National Research, Quaker Chemical, American Physicians Services Group and Peerless Manufacturing make the list.
Each business day, TheStreet.com Ratings compiles a list of the top five stocks in five categories -- fast-growth, all-around value, large-cap, mid-cap and small-cap -- and publishes these lists in the Ratings section of our Web site.
This list is based on data from the close of the previous trading session. Today, small-cap stocks are in the spotlight. These are stocks of companies that have market capitalizations of between $50 million and $500 million that rank near the top of all stocks rated by our proprietary quantitative model, which looks at more than 60 factors.
The stocks must also be followed by at least one financial analyst who posts estimates on the Institutional Brokers' Estimate System. They are ordered by their potential to appreciate.
Note that no provision is made for off-balance-sheet assets such as unrealized appreciation/depreciation of investments, market value of real estate or contingent liabilities that might affect book value. This could be material for some companies with large underfunded pension plans.
Balchem
(BCPC) - Get Balchem Corporation Report
develops, manufactures and markets specialty performance ingredients and products for the food, feed and mechanical sterilization industries. Balchem produces Choline products for both human and animal consumption.
Our buy rating for Balchem has not changed since June 2003. The company again reported record quarterly results in net sales for the second quarter of fiscal 2008, achieving a 41.8% increase year over year due to both organic and acquisition growth. Balchem also reported record net earnings, which increased 16.2% when compared with the second quarter of fiscal 2007. As a result, the company's net earnings per diluted common share increased 13.6% to 25 cents per share from 22 cents per share in the second quarter of fiscal 2007. Additionally, Balchem reported that its balance sheet ratios and cash flow continued to be strong in the second quarter.
Management said it was pleased with the company's record results in the second quarter despite a difficult business environment. The company has worked to increase its global presence, and overseas demand has helped offset the challenges of the U.S. market. Balchem expects rising raw-material costs to continue affecting its financial results in the near term, but management stated that appropriate steps would be taken to minimize the impact on operating margins and cash flow. Bear in mind, however, that global economic issues could still affect the company's results.
Integral Systems
( ISYS) builds satellite ground systems and equipment for command and control, integration and testing, data processing and simulation. Founded in 1982, the company supports satellite missions for communications, science, meteorological and earth-resource applications.
Integral Systems has been rated a buy since March 2005. For the third quarter of fiscal 2008, revenue improved 16.5% year over year, climbing to $41.8 million. Income from operations was reported as $7.1 million for the third quarter, compared with $5.3 million in the same quarter last year. The company also reported net income of $4.7 million, or 55 cents per diluted share, an increase from $3.8 million, or 34 cents per diluted share, reported in the third quarter of fiscal 2007.
During the third quarter, both gross profit and operating income grew significantly in the space communications systems and government ground systems segments. The company has experienced a 34.2% increase in its year-to-date revenue when compared with the same period last year.
Management feels that the third quarter results reflect a solid financial performance and growth in the above-mentioned segments. Significant momentum and financial resources are expected to allow the company to focus on strategic growth initiatives going into the fourth quarter and the start of the next fiscal year. The company expects that such initiatives will continue to drive value for its shareholders. Earnings projections for fiscal 2008 were raised to about $2.15 per share.
National Research
( NRCI) assists the health care industry in the U.S. and Canada track performance at a variety of levels. The company provides survey-based performance management, analysis, tracking, and improvement and educational services, and develops tools that enable health care organizations to obtain performance measurement information necessary to comply with industry and regulatory standards and to improve their business practices.
We have rated National Research a buy since November 2006. Our rating is based on a variety of strengths, including the company's revenue growth, its impressive record of earnings per share (EPS) growth, and its compelling growth in net income. For the first quarter of fiscal 2008, revenue rose by 10.2% year over year. This growth appears to have trickled down to the bottom line, as EPS improved by 26.1% during the first quarter. In fact, National Research's EPS has demonstrated a pattern of positive earnings per share growth over the past two years. Additionally, net income increased by 25.6% when compared with the same quarter one year prior, rising from $1.59 million to $2 million.
Spurred by the company's strong earnings growth, National Research's stock price has risen over the past year to a level that is relatively expensive compared to its peers. However, we feel that the company's strengths justify these higher price levels.
Quaker Chemical Corporation
(KWR) - Get Quaker Houghton Report
develops, produces and markets a broad range of formulated chemical specialty products for carious heavy industrial and manufacturing applications. In addition, the company offers and markets chemical management services. Quaker serves the automotive, steel finishing, heavy equipment, aerospace, tube and pipe, and bearing manufacturing industries worldwide. The company is headquartered in Pennsylvania.
We have rated Quaker Chemical a buy since May 2007. On July 30, 2008, the company announced record net sales and net income for the second quarter of fiscal 2008. Net sales increased 15.0% year over year, primarily because of higher sales prices and favorable foreign exchange translations, while net income increased 4%. At 41 cents per share, earnings per diluted share were equal to that of the second quarter of fiscal 2007. Operating cash flow increased $14.3 million from a year ago, which led to a decrease in the company's net debt-to-total-capital ratio from 32% at the end of fiscal 2007 to 28% at the end of the most recent quarter.
Management stated that Quaker Chemical should experience a solid growth year overall, despite the rising cost of raw materials. The company remains committed to making investments in key growth initiatives going forward. Bear in mind, however, that overall customer demand for products greatly affects Quaker's financial performance, so any downturn in its customers' businesses could negatively impact results, as could any unexpected shutdown in customer production. Continued increases in the costs of raw materials and overall economic conditions worldwide could also affect Quaker's future performance.
American Physicians Service Group
(AMPH) - Get Amphastar Pharmaceuticals Inc Report
is an insurance and financial services firm. Its subsidiaries and affiliates provide medical malpractice insurance, as well as brokerage and investment services to institutions and high net worth individuals.
Because of such strengths as its robust revenue growth, largely solid financial position, strong net income growth and solid stock price performance, American Physicians Service has been rated a buy since May 2003. For the first quarter of fiscal 2008, revenue surged 120.9% year over year, rising from $8.9 million in the first quarter of fiscal 2007 to $19.6 million in the most-recent quarter. Earnings per share rose from a loss of 3 cents per share a year ago to a gain of 46 cents per share in the first quarter. Net income also rose drastically, as the company reported a 3,657.9% increase.
In the first quarter of fiscal 2007, the company reported a net loss of $95,000 compared with a net income of $3.38 million in the most-recently reported quarter. The first quarter results were driven by last year's acquisition of American Physicians Insurance Company and the company's steady growth in book value per share. A very low debt-to-equity ratio of 0.07 implies that the company has successfully managed its debt levels. Additionally, the company repurchased a little more than one percent of its shares during the first quarter.
The company feels that it has the ability to pursue expansion opportunities due to its cash flow levels and un-leveraged balance sheet. While the company was not immune to volatile market conditions in the first quarter, it remained optimistic in its recruiting efforts and continued to expand its producer base. Management feels that these actions will serve the company well in the long term. Although the company may harbor some minor weaknesses, we feel that they are unlikely to have a significant impact on future financial results.
Peerless Mfg.
(PMFG)
designs, manufactures and supplies a range of separation filtration equipment and environmental systems designed to reduce air pollution. The majority of Peerless' products are custom designed based on customer requirements or specifications.
Peerless has been rated a buy since February 2007. Its strengths can be seen in multiple areas, such as its strong revenue growth, sound financial position, notable return on equity (ROE), solid stock price performance and impressive record of earnings per share growth. For the third quarter of fiscal 2008, the company's revenues leaped 60.7% year over year. Earnings per share also grew, moving from 15 cents a year ago to 43 cents in the most-recent quarter.
ROE also increased greatly year over year, rising from 9.94% to 31.47%. We are encouraged by the fact that Peerless has no debt to speak of and has an adequate quick ratio of 1.39, which indicates that it should be able to avoid any short-term cash problems. Additionally, the company's stock price has surged 124.32% over the past year, driven by factors like earnings growth.
On April 30, the company closed a deal to acquire
Nitram Energy
. This acquisition is expected to benefit shareholders. While the stock is currently trading at a premium valuation, we feel that its strengths justify the higher price level.
Our quantitative rating is based on a variety of historical fundamental and pricing data and represents our opinion of a stock's risk-adjusted performance relative to other stocks.
However, the rating does not incorporate all of the factors that can alter a stock's performance. For example, it doesn't always factor in recent corporate or industry events that could affect the stock price, nor does it include recent technology developments and competitive dynamics that may affect the company.
For those reasons, we believe that a rating alone cannot tell the whole story and that it should be part of an investor's overall research.
This article was written by a staff member of TheStreet.com Ratings.