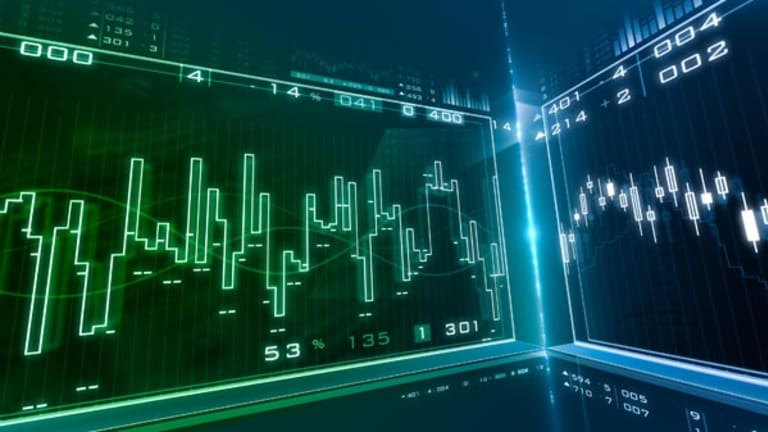 STOCK PICKS: Top 5 Mid-Caps for Sept. 18
Balchem, Airgas, American Ecology, Circor International and Woodward Governor make the list.
Each business day, TheStreet.com Ratings compiles a list of the top five stocks in five categories -- fast-growth, all-around value, large-cap, mid-cap and small-cap -- and publishes these lists in the Ratings section of our Web site.
This list is based on data from the close of the previous trading session. Today we focus on mid-caps. These are stocks of companies that have market capitalizations of between $500 million and $10 billion that rank near the top of all stocks rated by our proprietary quantitative model, which looks at more than 60 factors.
The stocks must also be followed by at least one financial analyst who posts estimates on the Institutional Brokers' Estimate System. They are ordered by their potential to appreciate.
Note that no provision is made for off-balance-sheet assets such as unrealized appreciation/depreciation of investments, market value of real estate or contingent liabilities that might affect book value. This could be material for some companies with large underfunded pension plans.
Balchem
(BCPC) - Get Free Report
develops, manufactures and markets specialty performance ingredients and products for the food, feed and mechanical sterilization industries. Balchem produces choline products for both human and animal consumption. Choline, a vitamin-B complex, plays a vital role in the metabolism of fat and the building and maintaining of cell structures.
Our buy rating for Balchem has not changed since June 2003. The company again reported record quarterly results in net sales for the second quarter of fiscal 2008, achieving a 41.8% increase year over year due to both organic and acquisition growth. Balchem also reported record net earnings, which increased 16.2% when compared with the second quarter of fiscal 2007. As a result, the company's net earnings per diluted common share increased 13.6% to 25 cents per share from 22 cents per share in the second quarter of fiscal 2007. Additionally, Balchem reported that its balance sheet ratios and cash flow continued to be strong in the second quarter.
Management was pleased with the company's record results in the second quarter despite a difficult business environment. The company has worked to increase its global presence, and overseas demand has helped offset the challenges of the U.S. market. Balchem expects rising raw material costs to continue affecting its financial results in the near term, but management stated that appropriate steps would be taken to minimize the impact on operating margins and cash flow. Bear in mind, however, that global economic issues could still affect the company's results.
Airgas
(ARG)
distributes industrial, medical and specialty gases (delivered in packaged or cylinder form) and welding, safety and related products (hardgoods). Airgas is the largest producer of nitrous oxide in the U.S., a producer and supplier of dry ice and a supplier of liquid carbon dioxide in the southeastern U.S.
We have rated Airgas a buy since May 2006 based on several positive investment measures, such as the company's robust revenue growth, solid stock price performance, impressive record of earnings per share growth, compelling growth in net income and reasonable valuation levels. On July 23, the company reported that its net earnings in the first quarter of fiscal year 2009 surged 33.2%, driven by acquisition and organic growth in its key end-markets. Net income rose to $68.88 million or 81 cents per share in the quarter from $51.72 million or 63 cents per share in the same quarter last year. During the first quarter, revenue ascended 22.0% to $1.12 billion from $915.10 million a year ago, helped by a 15.0% contribution from acquisitions, and 7.0% growth in same-store sales. Moreover, ARG's strategic product categories, which contribute 40.0% of total revenue, grew 10.0% organically. Segment-wise, revenue from gas and rent rose 21.1% to $656.91 million from $542.25 million; while revenue from hardgoods increased 23.3% to $459.79 million from $372.85 million in prior-year's quarter. During the quarter under review, Airgas completed the acquisition of the packaged gas operations of
Linde Gas USA LLC
for $310.00 million. As per the deal, the acquisition involved 130 locations, including branches, warehouses, packaged gas fill plants, and other operations involved in distributing packaged industrial and specialty gases and related equipment.
Looking ahead to the second quarter of fiscal year 2009, Airgas anticipates its earnings to range from 82 cents to 84 cents a share. For the full fiscal year 2009, the company raised the lower end of its EPS forecast to a range of $3.30 to $3.40 from its previous guidance of $3.24 to $3.40. While the company has a high leverage level, we feel its strengths outweigh the fact that it has had generally poor debt management on most measures that we evaluated.
American Ecology
(ECOL) - Get Free Report
is one of the nation's oldest providers of radioactive, hazardous and industrial waste management services. The company's customers are commercial and government entities, such as nuclear power plants, medical and academic institutions, steel mills, refineries and chemical production facilities.
We have rated American Ecology a buy since October 2005. The company reported record operating results for the second quarter of fiscal 2008, as operating income rose 20% year over year to $9.8 million. Net income also climbed 20%, reaching $6.1 million compared to $5.1 million in the same quarter one year prior, due to strong growth in disposal service revenue as the Idaho, Nevada, and Texas waste facilities increased the amount of waste disposed by 18% year over year. However, lower transportation revenue partially offset the increase in disposal service revenue. American Ecology also reported a 17% increase in gross profit for the second quarter, and the company had no debt at quarter end. In addition, the company declared a quarterly dividend of 18 cents per common share, which was a 20% increase from the prior-quarterly dividend of 15 cents per common share.
Looking ahead, the company announced that it expects to reach or possibly surpass its previously announced fiscal 2008 earnings guidance of $1.17 to $1.23 per diluted share. Management cautioned that the company will require a strong second half contribution from the thermal desorption recycling service that was initiated in late June, along with solid even business results if it is to exceed its guidance range.
Circor International
(CIR) - Get Free Report
has been manufacturing an array of valves since the early 1900s. Valves range in application from generic products for heating and cooling to more specialized steam catapult valves on nuclear-powered aircraft carriers and cryogenic valves used in the space shuttle.
Circor has been rated a buy since November 2004. The company's strengths can be seen in multiple areas, such as its impressive record of earnings per share growth, compelling growth in net income, revenue growth and solid stock price performance. Earnings per share grew 68.9% for the first quarter of fiscal year 2008 when compared with the same quarter of fiscal 2007, which brought its three year average EPS growth rate to a solid 47.7%. The company reported 9.5% growth in its revenue over the same period, which trailed its industry average but allowed it to boost net income, which grew 74.1% for the interim. In addition, as of the market's close on May 20, 2008, Circor's share price has jumped 38.8% compared with its closing price of one year prior. The stock currently trades at a valuation level that is in line with its peer average and a discount to the S&P 500 average.
We feel that the company's strengths outweigh the fact that Circor sports a relatively low operating profit margin, at 11.1% for the quarter just ended. In its release reporting first quarter results, the company indicated that its orders grew 27% year over year on the back of strength in its naval, aerospace and energy markets. Its backlog jumped 45% from the year-ago quarter. Management is guiding investors to expect EPS for the second quarter in the range of 74 cents to 83 cents, excluding special charges. This compares to 60 cents earned for the second quarter of fiscal 2007.
Woodward Governor
( WGOV) designs, manufactures and services energy control systems and components for aircraft and industrial engines, turbines, and other power equipment.
We have rated Woodward a buy since November 2004 based on strengths such as the company's robust revenue growth, solid stock price performance and impressive record of earnings per share growth. For the third quarter of fiscal 2008, revenue rose 22.6% year over year. This appears to have helped boost the company's EPS, which improved 38.2% when compared with the same quarter of fiscal 2007. Net income increased 35.2% from $23.97 million in the third quarter of fiscal 2007 to $32.41 million in the most-recent quarter. Woodward has a very low debt-to-equity ratio of 0.08, implying that the company has successfully managed its debt levels. The company also appears to be able to cover its short-term liquidity needs. Additionally, Woodward's stock price has surged 34.53% over the past year, thanks in part to strong earnings growth of 38.23%.
Management believes that its third quarter results reflect Woodward's effective positioning within its markets and its efforts to improve global design and production processes. While the company shows low profit margins, we feel that its various strengths outweigh this potential weakness.
Our quantitative rating is based on a variety of historical fundamental and pricing data and represents our opinion of a stock's risk-adjusted performance relative to other stocks.
However, the rating does not incorporate all of the factors that can alter a stock's performance. For example, it doesn't always factor in recent corporate or industry events that could affect the stock price, nor does it include recent technology developments and competitive dynamics that may affect the company.
For those reasons, we believe a rating alone cannot tell the whole story and should be part of an investor's overall research.
This article was written by a staff member of TheStreet.com Ratings.