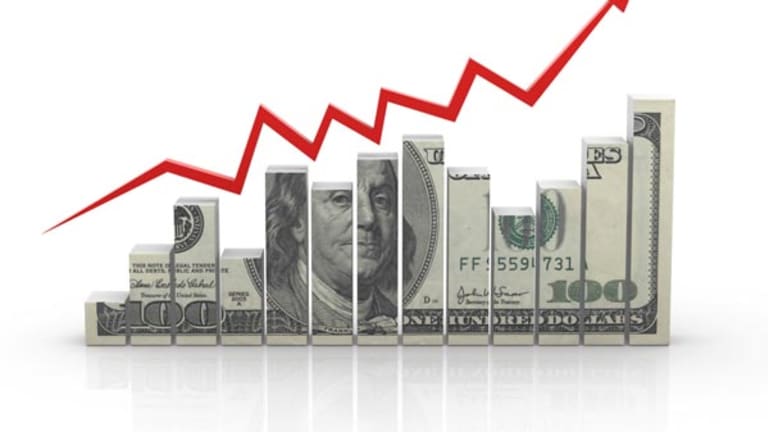 STOCK PICKS: Top 5 Large-Caps for Oct. 22
General Mills and Charles Schwab make the list.
Each business day, TheStreet.com Ratings compiles a list of the top five stocks in one of five categories -- fast-growth, all-around value, large-cap, mid-cap and small-cap -- based on data from the close of the previous trading session. Today, large-cap stocks are in the spotlight.
These are stocks of companies with market capitalizations of over $10 billion that rank near the top of all stocks rated by our proprietary quantitative model, which looks at more than 62 factors. In addition, the stocks must be followed by at least one financial analyst who posts estimates on the Institutional Brokers' Estimate System. The stocks are ordered by their potential to appreciate.
Note that no provision is made for off-balance-sheet assets such as unrealized appreciation/depreciation of investments, market value of real estate or contingent liabilities that might affect book value. This could be material for some companies with large underfunded pension plans.
General Mills
(GIS) - Get General Mills, Inc. (GIS) Report
is the world's sixth-largest food company, producing packaged consumer foods that are marketed in more than 100 countries. We have rated General Mills a buy since November 2004.
For the first quarter of fiscal 2009, the company reported that it achieved strong results, primarily due to strong consumer demand in worldwide markets. First-quarter revenue rose 13.8% year over year, but this revenue does not appear to have trickled down to the company's bottom line, as General Mills displayed a decline in EPS for the quarter. However, we feel that the company is poised for EPS growth in the coming year, despite reporting somewhat volatile earnings recently. Net sales grew 14.0% from $3.07 billion in the first quarter of fiscal 2008 to $3.5 billion in the most recent quarter. Net operating cash flow also increased significantly, rising 1,007.35% when compared to the same quarter last year. In addition, we consider the company's 37.30% gross profit margin to be strong.
Management was pleased with what it considered to be a great start to fiscal 2009, as sales and profit results for the first quarter exceeded management's expectations. General Mills increased its earnings guidance for fiscal 2009 to a range of $3.81 to $3.85 per share, up from its previously released forecast of $3.78 to $3.83 per share. The company also expects fiscal 2009 net sales to grow at a mid single-digit rate. Although the company's growth in net income has been subpar, we feel that its strengths outweigh any weaknesses it may display. Even the best stocks can fall in an overall down market, but in any other environment, we believe that this stock still has good upside potential despite the fact that it has already risen in the past year.
Rohm & Haas
( ROH) is a global producer of specialty materials chemicals. Rohm & Haas has been rated a buy since November 2003, supported by the company's revenue growth, notable return on equity and increased cash flow from operations.
For the second quarter of fiscal 2008, the company reported that its revenue grew 17.2% year over year due to a rise in volume, higher selling prices, and favorable foreign currency translations. The company reported adjusted EPS of 82 cents, an 8% increase over the prior year period. This excluded restructuring, asset impairments and the impact of the divestiture of the company's stake in UP Chemical Company. Net sales increased 17% over a year ago, with strong performances from Electronic Materials and the chemical businesses outside of North America. Return on equity increased 110 basis points to 18.74% due to a decline in shareholders' equity. Additionally, a quick ratio of 1.24 reflects the company's ability to cover its short-term cash requirements.
Management suggested that the company has the potential to be a stronger, faster growing, and more profitable company in the future, especially given the announcement of a definitive merger agreement with The Dow Chemical Company. However, a falling cash position, declining profit margins, and rising leverage could hinder Rohm & Haas' future financial performance.
Abbot Laboratories
(ABT) - Get Abbott Laboratories Report
is a global, broad-based healthcare company that discovers, develops, manufactures and sells a diversified line of products that range from nutritional products and laboratory diagnostics to medical devices and pharmaceutical therapies. We have rated Abbott a buy since April 2007, based on the company's growth in revenue and net income, impressive record of EPS growth and expanding profit margins.
For the third quarter of fiscal 2008, the company reported revenue growth of 17.6% year over year, with strong international results leading an overall strong performance across the company's diverse mix of global businesses. Revenue growth appears to have helped boost EPS, which improved to 69 cents from 46 cents in the third quarter of fiscal 2007. Net income increased 51.3% when compared with the same quarter a year ago. Gross profit margin is rather high at 57.5%, but it has managed to decrease from the same period last year.
With all of its businesses performing well, Abbott raised its fiscal 2008 EPS guidance based on its third quarter results and its outlook for the remainder of the year. Full-year EPS guidance was changed to $3.31 to $3.33 from $3.24 to $3.28. We do not currently see any significant weaknesses that are likely to detract from the generally positive outlook for this company, but keep in mind that the pharmaceuticals industry as a whole is vulnerable to patent expirations and legislative threats to pricing power.
Charles Schwab
(SCHW) - Get Charles Schwab Corporation Report
and its subsidiaries provide securities brokerage, banking, and related financial services to individual and institutional investors. We have rated Schwab a buy since January 2005.
For the third quarter of fiscal 2008, the company's results were helped by its success in building client relationships, as net interest and trading revenues rose 3% and 16%, respectively. Schwab also reported that its income from continuing operations also increased, improving 13% from the prior year's quarter. Additionally, the number of active brokerage accounts and retirement plan participants increased 5% and 14%, respectively. Total net new assets grew to $24 billion during the third quarter, helped by solid retail and advisor client activity. Reported earnings of 26-cent-per-share beat the most recent consensus estimate of 24 cents per share.
Management acknowledged that the company's financial results were hurt by the challenging market environment. However, the company believes that its ability to help its clients manage their investments has never been more important, as evidenced by heavy use of all service channels during the very volatile month of September. In fact, Schwab experienced five of the ten highest volume trading days in its history during that month. Management remained confident that all of Schwab's businesses remain well-positioned to serve their clients.
Anheuser-Busch
(BUD) - Get Anheuser-Busch InBev SA/NV Sponsored ADR Report
produces and distributes beer in the U.S. and internationally. We have rated Anheuser-Busch a buy since July 2006 based on the company's solid stock price performance, expanding profit margins, and growth in EPS, revenue and net income.
For the second quarter of fiscal 2008, the company reported that its revenue increased slightly by 4.6% year over year. While this growth was lower than the industry average, it appears to have trickled down to the bottom line, helping to boost EPS by 8% compared with the same quarter a year ago. Net income also increased, rising 1.8%. In addition, the company stated that it had solid sales growth of 4.6% compared to the second quarter of fiscal 2007, with U.S. beer shipments and wholesaler sales-to-retailers increasing in the quarter over last year. This increase was led by the launch of the new Bud Light Lime product, along with improved performance from other core brands.
In July, management's outlook for the remainder of its summer selling season was optimistic. Price increases on the majority of the company's U.S. beer volume were planned for September and October at that time, covering approximately 85% of the company's domestic volume. Due to these pricing measures, the company announced that it expects to achieve 4% growth in revenue per barrel for full-year fiscal 2008. Cost reduction and operating efficiency measures are also expected to contribute to future profit growth. The company shows generally poor debt management on most measures that we evaluated, but we feel that its strengths outweigh any weakness at this time.
Our quantitative rating is based on a variety of historical fundamental and pricing data and represents our opinion of a stock's risk-adjusted performance relative to other stocks. However, the rating does not incorporate all of the factors that can alter a stock's performance. For example, it doesn't always factor in recent corporate or industry events that could affect the stock price, nor does it include recent technology developments and competitive dynamics that may affect the company. For those reasons, we believe a rating alone cannot tell the whole story and should be part of an investor's overall research.
This article was written by a staff member of TheStreet.com Ratings.