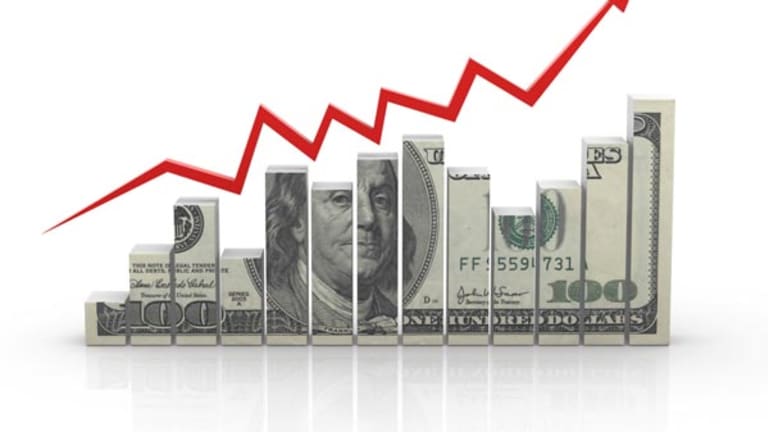 STOCK PICKS: Top 5 Large-Cap for Oct. 8
Abbott, Wal-Mart and General Mills make the list.
Each business day, TheStreet.com Ratings compiles a list of the top five stocks in five categories -- fast-growth, all-around value, large-cap, mid-cap and small-cap.
This list is based on data from the close of the previous trading session. Today, large-cap stocks are in the spotlight. These are stocks of companies with market capitalizations of over $10 billion that rank near the top of all stocks rated by our proprietary quantitative model, which looks at more than 62 factors. In addition, the stocks must be followed by at least one financial analyst who posts estimates on the Institutional Brokers' Estimate System. The stocks are ordered by their potential to appreciate.
Note that no provision is made for off-balance-sheet assets such as unrealized appreciation/depreciation of investments, market value of real estate or contingent liabilities that might affect book value. This could be material for some companies with large underfunded pension plans.
Abbott Laboratories
(ABT) - Get Report
is a global, broad-based healthcare company that discovers, develops, manufactures, and sells a diversified line of products that range from nutritional products and laboratory diagnostics to medical devices and pharmaceutical therapies.
We have rated Abbott a buy since April 2007, based on a variety of strengths such as the company's revenue growth, impressive record of earnings per share growth, and notable return on equity. For the second quarter of fiscal 2008, the company reported revenue growth of 14.8% year over year, with strong international results leading an overall strong performance across the company's diverse mix of global businesses.
Revenue growth appears to have helped boost earnings per share, which improved 34.9% when compared with the second quarter of fiscal 2007. Net income increased 33.7%. Abbott's return on equity increased from 12.56% a year ago to 22.05% in the most-recent quarter, which we take to be a clear sign of strength within the company. In addition, net operating cash flow increased by 9.69% over the last year.
Looking ahead, Abbott raised its fiscal 2008 sales growth and EPS guidance based on its first-half results and its outlook for the remainder of the year. Full-year EPS guidance was changed from $3.20 - $3.25 to $3.24 - $3.28, while its sales guidance was increased to mid-teens growth for the full fiscal year. EPS guidance for the third quarter of fiscal 2008 was given as 76 cents to 78 cents per share. We do not currently see any significant weaknesses that are likely to detract from the generally positive outlook for this company, but keep in mind that the pharmaceuticals industry as a whole is vulnerable to patent expirations and legislative threats to pricing power.
General Mills
(GIS) - Get Report
is the world's sixth-largest food company, producing packaged consumer foods that are marketed in more than 100 countries.
We have rated General Mills a buy since November 2004. For the first quarter of fiscal 2009, the company reported that it achieved strong results, primarily due to strong consumer demand in worldwide markets. First-quarter revenue rose 13.8% year over year, but this revenue does not appear to have trickled down to the company's bottom line, as General Mills displayed a decline in earnings per share for the quarter. However, we feel that the company is poised for EPS growth in the coming year, despite reporting somewhat volatile earnings recently. Net sales grew 14.0% from $3.07 billion in the first quarter of fiscal 2008 to $3.5 billion in the most recent quarter. Net operating cash flow also increased significantly, rising 1,007.35% when compared with the same quarter last year. In addition, we consider the company's 37.30% gross profit margin to be strong.
Management was pleased with what it considered to be a great start to fiscal 2009, as sales and profit results for the first quarter exceeded management's expectations. General Mills increased its earnings guidance for fiscal 2009 to a range of $3.81 to $3.85 per share, up from its previously released forecast of $3.78 to $3.83 per share. The company also expects fiscal 2009 net sales to grow at a mid single-digit rate. Although the company's growth in net income has been sub par, we feel that its strengths outweigh any weaknesses it may display. Even the best stocks can fall in an overall down market, but in any other environment, we believe that this stock still has good upside potential despite the fact that it has already risen in the past year.
Baxter International
(BAX) - Get Report
is a medical-products and services company that manufactures products in 28 countries and sells them in over 100 countries, with more than 50% of its revenue generated outside the United States.
Baxter has been rated a buy since May 2005, based on such positive investment measures as earnings per share growth, revenue growth, solid stock price performance and notable return on equity. For the second quarter of fiscal 2008, the company reported revenue growth of 12.7% year-over-year. While this growth was less than the industry average of 14.3%, Baxter's revenue growth appears to have helped boost earnings per share, which improved 30.8% when compared with the same quarter of fiscal 2007.
The company has demonstrated a pattern of positive earnings per share growth over the past two years, and we feel that this trend is likely to continue. Net income rose from $4.31 billion in the second quarter of fiscal 2007 to $5.44 billion in the most recent quarter, an increase of 26%. In addition, Baxter's return on equity improved slightly from 24.53% to 24.57%. The company credited continued gross margin expansion due to enhanced business, product and geographic mix for its second-quarter results.
Looking ahead to the remainder of fiscal 2008, management feels that Baxter is well-positioned for success in a shaky global economy. Due to its second-quarter results, Baxter raised its fiscal 2008 guidance from previous estimates. The company now anticipates sales growth of 5% to 6%, along with earnings per diluted share of $3.28 to $3.32. Previous earnings guidance was announced as $3.18 to $3.24 per diluted share. The company does show weak operating cash flow, but we believe that Baxter's strengths outweigh any weakness and that there is still good upside potential for this stock.
Charles Schwab
(SCHW) - Get Report
and its subsidiaries provide securities brokerage, banking and related financial services to individual and institutional investors. Based in San Francisco, the company's clients are primarily located in the United States, the United Kingdom and Hong Kong. Schwab employs approximately 13,400 people full-time, and it listed $1.4 trillion in client assets as of Aug. 31.
We have rated Schwab a buy since January 2005. The company has witnessed impressive growth in its top line, a sustainable bottom line and expanded operating margins despite a decline in short-term interest rates and equity market valuations.
All of the company's major segments have shown positive trends recently, such as strong revenue growth in its Investor Services, Institutional and Corporate, and Retirement Services segments during the second quarter. Net income rose 1% from $2.92 billion a year ago to $2.95 billion in the most recent quarter. Earnings per share also increased year-over-year from 20 cents to 27 cents. The company's operating margin expanded 869 basis points to 40.54%, which we see as a sign of operational efficiency.
The company undertook several strategic development initiatives recently, such as announcing the planned relocation of its Fishers service center to Indianapolis in 2010 and the intent to add 200 jobs by 2013. The company also increased its active brokerage accounts 5% from the prior year's quarter, while retirement plan participants increased 13% and banking accounts more than doubled. However, the company is exposed to credit risks associated with its loans to banking clients held at Schwab Bank, and this risk could affect its future financial performance.
Wal-Mart Stores
(WMT) - Get Report
operates retail stores worldwide.
Our buy rating for Wal-Mart has been in place since February 2008. This rating is based on a variety of strengths, including the company's solid stock price performance, growth in earnings per share, increases in net income and revenue, and notable return on equity. Over the past year, the company's stock price has risen 47.11% as investors recognized these strengths. For the second quarter of fiscal 2009, Wal-Mart improved its EPS by 14.7% year over year.
Revenue growth of 10.5% appears to have contributed to the EPS increase. Net income also increased when compared to the same quarter a year ago, rising 16.8% from $2.95 billion to $3.35 billion. A slight improvement in return on equity can also be viewed as a modest strength for the company.
Management attributed record quarterly earnings and nearly $5 billion in free cash flow to solid operating performance and improved capital efficiency. Wal-Mart reported that it improved customer traffic and ticket and overall sales growth in all markets, and feels that it is well-positioned for the current economic environment despite inflation and higher fuel costs.
Based on this, the company set its third-quarter guidance to be between 73 cents and 76 cents per share and raised its full fiscal year guidance to a range of $3.43 to $3.50 per share. While the company has had generally poor debt management on most measures we evaluated, we feel that Wal-Mart's strengths outweigh any weaknesses, and we believe that its stock price should continue to move higher despite having already enjoyed a nice gain in the past year.
Our quantitative rating is based on a variety of historical fundamental and pricing data and represents our opinion of a stock's risk-adjusted performance relative to other stocks.
However, the rating does not incorporate all of the factors that can alter a stock's performance. For example, it doesn't always factor in recent corporate or industry events that could affect the stock price, nor does it include recent technology developments and competitive dynamics that may affect the company.
For those reasons, we believe a rating alone cannot tell the whole story and should be part of an investor's overall research.
This article was written by a staff member of TheStreet.com Ratings.