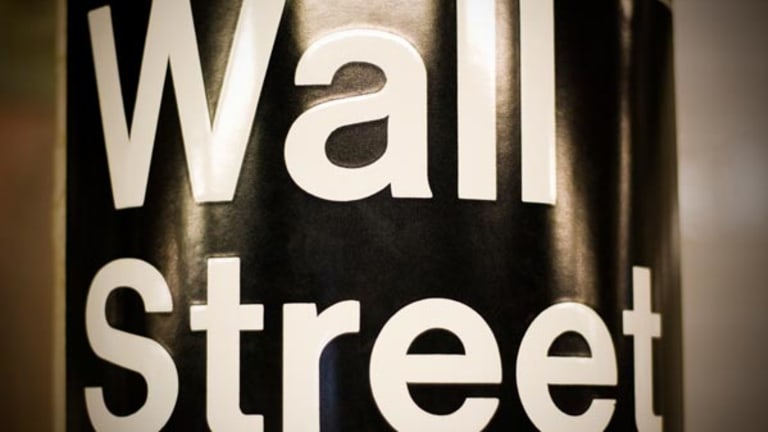 STOCK PICKS: Top 5 Fast-Growth for Sept. 8
Ameron International, Balchem, Flowserve, Airgas and Badger Meter.
Each business day,
TheStreet.com
Ratings compiles a list of the top five stocks in five categories -- fast-growth, all-around value, large-cap, mid-cap and small-cap -- and publishes these lists in the Ratings section of our Web site.
This list is based on data from the close of the previous trading session. Today, fast-growth stocks are in the spotlight. These are stocks of companies that are projected to increase revenue and profit by at least 12% in the coming year and rank near the top all stocks rated by our proprietary quantitative model, which looks at over 60 factors.
In addition, the stocks must be followed by at least one financial analyst who posts estimates on the Institutional Brokers' Estimate System. Please note that definitions of revenue vary by industry, and this screen does not make adjustments for acquisitions, which can materially affect posted results. Likewise, earnings-per-share growth may be affected by accounting charges, share repurchases and other one-time items.
Note that no provision is made for off-balance-sheet assets such as unrealized appreciation/depreciation of investments, market value of real estate or contingent liabilities that might affect book value. This could be material for some companies with large underfunded pension plans.
Ameron International
(AMN)
manufactures highly-engineered products and materials for the chemical, industrial, energy, transportation and infrastructure markets worldwide.
Ameron has been rated a buy since June 2005. Strong performances from the Fiberglass-Composite-Pipe Group and TAMCO, Ameron's 50%-owned steel mini-mill, led to higher results in the second quarter of fiscal 2008. The company reported a slight revenue increase of 1.9% year-over-year, which appears to have helped boost earnings per share (EPS) from $1.63 in the second quarter of fiscal 2007 to $1.78 in the most-recent quarter. Net income increased 3.4% when compared with the same quarter one year prior, rising from $15.80 million to $16.33 million. Return on equity also improved slightly and the company appears to be successfully managing its debt levels.
Management was overall pleased with the year-to-date results, as the company's performance for the first half of fiscal 2008 was positive. The company anticipates steady returns for the year from its various businesses, with TAMCO and the Fiberglass-Composite-Pipe Group expected to continue performing at record levels. However, weak market conditions will most likely continue to negatively affect the Infrastructure Products Group. Bear in mind that the building products industry's performance is cyclical, depending on the overall health of the U.S. economy. The state of the housing and auto markets in particular could impact this industry and, therefore, this stock.
Balchem
(BCPC)
develops, manufactures and markets specialty performance ingredients and products for the food, feed and mechanical sterilization industries. Balchem produces choline products for both human and animal consumption. Choline, a vitamin-B complex, plays a vital role in the metabolism of fat and the building and maintaining of cell structures.
Our buy rating for Balchem has not changed since June 2003. The company again reported record quarterly results in net sales for the second quarter of fiscal 2008, achieving a 41.8% increase year-over-year due to both organic and acquisition growth. Balchem also reported record net earnings, which increased 16.2% when compared with the second quarter of fiscal 2007. As a result, the company's net earnings per diluted common share increased 13.6% to 25 cents per share from 22 cents per share in the second quarter of fiscal 2007. Additionally, Balchem reported that its balance sheet ratios and cash flow continued to be strong in the second quarter.
Management was pleased with the company's record results in the second quarter despite a difficult business environment. The company has worked to increase its global presence, and overseas demand has helped offset the challenges of the U.S. market. Balchem expects rising raw material costs to continue affecting its financial results in the near term, but management stated that appropriate steps would be taken to minimize the impact on operating margins and cash flow. Bear in mind, however, that global economic issues could still affect the company's results.
Airgas
(ARG)
distributes industrial, medical and specialty gases (delivered in packaged or cylinder form) and welding, safety and related products (hardgoods). Airgas is the largest producer of nitrous oxide in the U.S., a producer and supplier of dry ice and a supplier of liquid carbon dioxide in the southeastern U.S.
We have rated Airgas a buy since May 2006 based on several positive investment measures, such as the company's robust revenue growth, solid stock price performance, impressive record of earnings per share growth, compelling growth in net income and reasonable valuation levels. On July 23, the company reported that its net earnings in the first quarter of fiscal year 2009 surged 33.2%, driven by acquisition and organic growth in its key end-markets. Net income rose to $68.88 million or 81 cents per share in the quarter from $51.72 million or 63 cents per share in the same quarter last year. During the first quarter, revenue ascended 22.0% to $1.12 billion from $915.10 million a year ago, helped by a 15.0% contribution from acquisitions, and 7.0% growth in same-store sales. Moreover, ARG's strategic product categories, which contribute 40.0% of total revenue, grew 10.0% organically. Segment-wise, revenue from gas and rent rose 21.1% to $656.91 million from $542.25 million; while revenue from hardgoods increased 23.3% to $459.79 million from $372.85 million in prior-year's quarter. During the quarter under review, Airgas completed the acquisition of the packaged gas operations of
Linde Gas USA
for $310.00 million. As per the deal, the acquisition involved 130 locations -- including branches, warehouses, packaged gas fill plants and other operations involved in distributing packaged industrial and specialty gases and related equipment.
Looking ahead to the second quarter of fiscal year 2009, Airgas anticipates its earnings per share to range from 83 cents to 84 cents per share. For the full fiscal year 2009, the company raised the lower end of its earnings per share forecast to a range of $3.30 to $3.40 per share from its previous guidance of $3.24 to $3.40 per share. While the company has a high leverage level, we feel its strengths outweigh the fact that it has had generally poor debt management on most measures that we evaluated.
Flowserve
(FLS)
engages in the development, manufacture and sale of precision-engineered flow equipments through 3 divisions: flowserve pump, flow control and flow solutions. The company operates worldwide in more than 56 countries, with 43% of its revenue coming from North America.
We have rated Flowserve a buy since January 2007 based on several positive investment measures, such as the company's increasing revenue and net income. On July 30, the company reported that its net earnings for the second quarter of fiscal year 2008 increased 94.4% year over year to $122.86 million from $63.21 million, attributable to increased sales in the flowserve pump, up 21.0% year over year; flow control, up 30%; and flow solutions, up 29%. Revenue in the quarter increased 24.4% to $1.16 billion from $930.68 million a year ago, driven by strong growth in the power and chemical markets, as well as continued strength in the oil and gas market. The revenue result for the latest quarter included currency benefits of about $85 million. Furthermore, earnings per share increased 91.9% to $2.13 per share from $1.11 per share a year ago.
For the full fiscal year 2008, the company again raised its earnings outlook to a range of $7.20 to $7.50 per share from its previous expectation of $5.90 to $6.20 per share announced at the end of the previous quarter. The company is encouraged by the results from the first half of fiscal year 2008 and its continued strength in key markets and remains confident in its ability to successfully carry out its operational excellence initiatives to increase its performance in the current global environment. Bear in mind, however, that the recent surge in commodity costs is a challenge to the machinery industry as a whole and could therefore affect Flowserve's results in the future.
Badger Meter
(BMI)
manufactures and markets flow measurement and control products. These products measure a variety of liquids, such as water, oil and lubricants. The company serves utilities, municipalities, and industrial customers worldwide.
Badger has been rated a buy since August 2003. The company's strengths include its revenue growth, net income growth and solid return on equity. For the second quarter of fiscal 2008, Badger's revenue rose by 20.1% year-over-year. This growth appears to have trickled down to the bottom line, boosting EPS by 23.1%. Net income increased by 28.8% over the same period, rising from $5.47 million a year ago to $7.04 million. Finally, return on equity also improved slightly in the quarter from 18.06% to 22.15%.
Investors have begun to recognize Badger's strengths, including earnings growth. As a result, the company's shares have risen by a sharp 62.75% over the past year. While this makes the stock somewhat expensive compared with the rest of its industry, we felt that the company's strengths justify the higher price levels at this time. Bear in mind, however, that Badger's future performance could be affected by any regulatory changes, especially those dealing with the use of lead, which is used in the manufacture of certain meters, or the use and/or licensing of radio frequencies necessary for the company's automatic meter reading and advanced metering infrastructure products. Badger's future results could also be affected by the overall health of the U.S. economy, including housing starts and overall industrial activity, and any changes in foreign economic conditions, including currency exchange rates.
Our quantitative rating is based on a variety of historical fundamental and pricing data and represents our opinion of a stock's risk-adjusted performance relative to other stocks.
However, the rating does not incorporate all of the factors that can alter a stock's performance. For example, it doesn't always factor in recent corporate or industry events that could affect the stock price, nor does it include recent technology developments and competitive dynamics that may affect the company.
For those reasons, we believe that a rating alone cannot tell the whole story and that it should be part of an investor's overall research.
This article was written by a staff member of TheStreet.com Ratings.