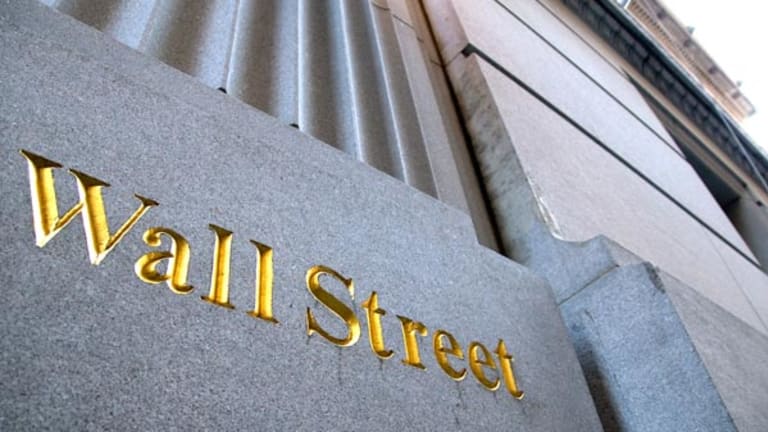 STOCK PICKS: Top 5 Fast-Growth for Sept. 22
Balchem, American Ecology, BlackRock, Ansys and Clean Harbors make the list.
Each business day, TheStreet.com Ratings compiles a list of the top five stocks in five categories -- fast-growth, all-around value, large-cap, mid-cap and small-cap.
This list is based on data from the close of the previous trading session. Today, fast-growth stocks are in the spotlight. These are stocks of companies that are projected to increase revenue and profit by at least 12% in the coming year and rank near the top all stocks rated by our proprietary quantitative model, which looks at over 60 factors.
In addition, the stocks must be followed by at least one financial analyst who posts estimates on the Institutional Brokers' Estimate System. Please note that definitions of revenue vary by industry, and this screen does not make adjustments for acquisitions, which can materially affect posted results. Likewise, earnings-per-share growth may be affected by accounting charges, share repurchases and other one-time items.
Note that no provision is made for off-balance-sheet assets such as unrealized appreciation/depreciation of investments, market value of real estate or contingent liabilities that might affect book value. This could be material for some companies with large underfunded pension plans.
Balchem
(BCPC) - Get Balchem Corporation Report
develops, manufactures and markets specialty performance ingredients and products for the food, feed and mechanical sterilization industries. Balchem produces choline products for both human and animal consumption. Choline, a vitamin-B complex, plays a vital role in the metabolism of fat and the building and maintaining of cell structures.
Our buy rating for Balchem has not changed since June 2003. The company again reported record quarterly results in net sales for the second quarter of fiscal 2008, achieving a 41.8% increase year-over-year due to both organic and acquisition growth. Balchem also reported record net earnings, which increased 16.2% when compared with the second quarter of fiscal 2007. As a result, the company's net earnings per diluted common share increased 13.6% to 25 cents per share from 22 cents per share in the second quarter of fiscal 2007. Additionally, Balchem reported that its balance sheet ratios and cash flow continued to be strong in the second quarter.
Management was pleased with the company's record results in the second quarter despite a difficult business environment. The company has worked to increase its global presence, and overseas demand has helped offset the challenges of the U.S. market. Balchem expects rising raw material costs to continue affecting its financial results in the near term, but management stated that appropriate steps would be taken to minimize the impact on operating margins and cash flow. Bear in mind, however, that global economic issues could still affect the company's results.
American Ecology
(ECOL) - Get US Ecology, Inc. Report
is one of the nation's oldest providers of radioactive, hazardous, and industrial waste management services. The company's customers are commercial and government entities, such as nuclear power plants, medical and academic institutions, steel mills, refineries and chemical production facilities.
We have rated American Ecology a buy since October 2005. The company reported record operating results for the second quarter of fiscal 2008, as operating income rose 20% year over year to $9.8 million. Net income also climbed 20%, reaching $6.1 million compared with $5.1 million in the same quarter one year prior, due to strong growth in disposal service revenue as the Idaho, Nevada, and Texas waste facilities increased the amount of waste disposed by 18% year over year. However, lower transportation revenue partially offset the increase in disposal service revenue. American Ecology also reported a 17% increase in gross profit for the second quarter, and the company had no debt at quarter end. In addition, the company declared a quarterly dividend of 18 cents per common share, which was a 20% increase from the prior quarterly dividend of 15 cents per common share.
Looking ahead, the company announced that it expects to reach or possibly surpass its previously announced fiscal 2008 earnings guidance of $1.17 to $1.23 per diluted share. Management cautioned that the company will require a strong second half contribution from the thermal desorption recycling service that was initiated in late June, along with solid even business results if it is to exceed its guidance range.
BlackRock
(BLK) - Get BlackRock, Inc. Report
is a publicly owned global investment management firm. Its products span a spectrum of fixed income, cash management, equity, and alternative investment separate accounts and mutual funds.
BlackRock has been rated a buy since December 2005. For the second quarter of fiscal 2008, the company reported that its earnings increased 23.3% year over year, propelled by strong organic growth in domestic and international assests under management (AUM). BlackRock's net income advanced to $274.06 million from $222.24 million in the same quarter of fiscal 2007. Revenue swelled 26.4%, driven by impressive AUM growth, a diversified client base, and the success of the BlackRock Solutions investment system. Additionally, earnings per share (EPS) rose 21.3% when compared with the prior-year quarter.
Management was pleased with its strong second quarter results, especially in the face of the difficulties facing the industry. BlackRock is working with its clients to pursue the investment opportunities that it sees despite highly unstable market conditions and believes that, while it will not be immune to the effects of the current economy, its strengths will help differentiate it from other firms. Our rating is subject to the risk of any unexpected downturn in the securities markets or the economy in general, any deterioration in relative investment performance, and any adverse regulatory developments. Furthermore, slowing trends in the US economy and fluctuations in interest rates could adversely affect the company's performance.
Ansys
(ANSS) - Get ANSYS, Inc. Report
develops and markets engineering simulation software and technologies used by engineers across a broad spectrum of industries. It works with customers in industries such as aerospace, automotive, manufacturing, electronics, biomedical, and defense and customers range in size from small consulting firms to some of the world's largest industrial companies.
Our buy rating for Ansys has been in place since November 2006. Our recommendation is based on the company's strong revenue growth, improving operating margin and widening net income. The company's strong cash position, notable returns and positive management outlook also enhance the rating. ANSYS's revenue surged 20.6% year over year in the second quarter of fiscal 2008, driven by higher software license and maintenance revenue. Foreign currency rates also aided revenue growth. Earnings per share (EPS) also increased, rising from 23 cents in the second quarter of fiscal 2007 to 34 cents in the most-recent quarter. Despite a declining gross profit margin, the company's operating and net income also increased during the quarter. Operating margin improved 646 basis points to 39.42% from 32.96% a year ago, while net income increased 54.1% to $28.13 million. During the second quarter, Ansys's cash and equivalents rose 46.4% to $202.04 million. Returns on assets and equity also improved as a result of the improved quarterly earnings.
Management reported that the second-quarter's results were the result of a variety of company strengths, including its diversified global reach and technical innovations. Looking ahead to the third quarter, Ansys expects its GAAP earnings to be in the range of 19 cents to 24 cents per share on revenue of $115.00 million to $121.00 million. For the full year, the company raised its revenue forecast to the range of $476.00 million to $486.00 million from its earlier guidance of $448.00 million to $452.00 million. However, integration challenges from the recent acquisition of Ansoft Corp. could affect future performance, as could a highly competitive software and license market and fluctuations in currency rates. The company also faces challenges from deteriorating gross profit margin and declining revenue from services.
Clean Harbors
( CLHB) provides environmental services and operates non-nuclear hazardous waste treatment facilities in North America.
Clean Harbors has been rated a buy since November 2005. The company's strengths include its revenue growth, largely solid financial position, and good cash flow from operations. For second quarter of fiscal 2008, Clean Harbors' revenue rose 11.1% year over year due to solid growth across nearly all operations. This increase appears to have helped boost earnings per share (EPS), which improved from 54 cents in the year-ago quarter to 70 cents in the most-recent quarter. Net income also increased, rising 42.9% from $11.19 million to $15.99 million. In addition, net operating cash flow increased 48.59% to $29.27 million when compared with the same quarter last year.
Looking ahead to the remainder of fiscal 2008, management is optimistic about future results and anticipates future growth across the company's operations. Revenue is expected to range between $270.00 million and $257.00 million for the third quarter, with full year revenue expected to increase at the high-end of the previously announced 8.0% to 10.0% range.
Our quantitative rating is based on a variety of historical fundamental and pricing data and represents our opinion of a stock's risk-adjusted performance relative to other stocks.
However, the rating does not incorporate all of the factors that can alter a stock's performance. For example, it doesn't always factor in recent corporate or industry events that could affect the stock price, nor does it include recent technology developments and competitive dynamics that may affect the company.
For those reasons, we believe that a rating alone cannot tell the whole story and that it should be part of an investor's overall research.
This article was written by a staff member of TheStreet.com Ratings.