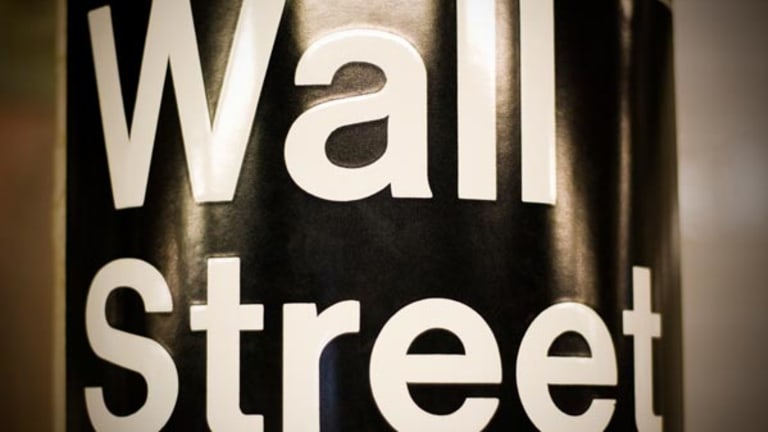 STOCK PICKS: Top 5 All-Around Value Stocks for Sept. 16
Kroger, General Dynamics, Chevron, Hess and Hewlett-Packard make the list.
Each business day, TheStreet.com Ratings compiles a list of the top five stocks in five categories -- fast-growth, all-around value, large-cap, mid-cap and small-cap.
This list is based on data from the close of the previous trading session. Today, all-around-value stocks are in the spotlight. These are stocks of companies that meet a number of criteria, including annual revenue of more than $500 million, lower-than-average valuations such as a price-to-sales ratio of less than 2, and leverage that is less than 49% of total capital.
In addition, they must rank near the top of all stocks rated by our proprietary quantitative model, which looks at more than 60 factors. The stocks must also be followed by at least one financial analyst who posts estimates on the Institutional Brokers' Estimate System. They are ordered by their potential to appreciate.
Note that no provision is made for off-balance-sheet assets such as unrealized appreciation/depreciation of investments, market value of real estate or contingent liabilities that might affect book value. This could be material for some companies with large, underfunded pension plans.
Kroger
(KR) - Get Free Report
is one of the nation's largest grocery retailers. The company also manufactures and processes some of the foods that it sells in its supermarkets, as well as operates a variety of additional store formats that include convenience stores, multi-department stores, and mall jewelry stores.
Our buy rating for Kroger has been in place since March 2006. Although the company has generally had poor debt management, we feel that the rating is justified due to strengths such as the company's return on equity, attractive valuation levels, and growth in revenue, net income, and earnings per share. For the first quarter of fiscal 2008, Kroger reported a revenue increase of 11.5% year over year, while net income grew 14.5%. Earnings per share also improved, rising 23.4% from 47 cents in the first quarter of fiscal 2007 to 58 cents in the most-recent quarter. The company's total sales increased 11.5%, while identical supermarket sales increased 9.2% with fuel and 5.8% without fuel. Return on equity also improved slightly in the first quarter, rising to 24.73% from 21.79% in the prior-year quarter.
On the basis of a strong start to fiscal 2008, Kroger raised its identical sales and earnings guidance for fiscal 2008. Management now anticipates identical sales growth of 4.0% to 5.5%, excluding fuel, while estimating earnings of $1.85 to $1.90 per diluted share. The company had previously released earnings guidance of $1.83 to $1.90 per diluted share. While management is confident in the underlying strength of the company's business model, bear in mind that future financial results could be negatively impacted by increased competition, weather and economic conditions, interest rates, and labor disputes, among other factors.
General Dynamics
(GD) - Get Free Report
designs, develops, manufactures, and supports technology, products, and services for use across the spectrum of military operations.
Our buy rating for General Dynamics has not changed since July 2003. This rating is based on strengths such as revenue growth, an impressive record of earnings per share growth, and compelling growth in net income. Sales, earnings and operating margins increased in all four General Dynamics business groups in the second quarter of fiscal 2008. The combat systems group experienced increased sales in its armored vehicle and tank programs compared with the year-ago period and significant margin growth. New aircraft volume in the aerospace group, increased shipbuilding activity in marine systems and continued strong demand for tactical communications and computing systems in the information systems and technology sector also contributed to the overall strong performance. Revenue for the second quarter rose 10.8% year over year. This growth appears to have boosted the company's net income and EPS, which improved by 25.0% and 26.0%, respectively.
While the stock is trading 12.7% higher than it was a year ago, it should go without saying that even the best stocks can fall in an overall down market. However, we believe that the company's strengths outweigh the risks inherent in this industry.
Chevron
(CVX) - Get Free Report
is one of the world's largest integrated energy companies. The company is engaged in every aspect of the oil and natural gas industry, with major operations in many important gas and oil producing regions worldwide.
We have rated Chevron a buy since October 2003. This rating is based in part on the company's strong growth in revenue and earnings, as well as its attractive valuation levels. For the second quarter of fiscal 2008, the company reported revenue growth of 49.0% year over year. This appears to have helped boost earnings per share, which improved 15.1% over the same quarter a year ago, thus continuing a trend of positive EPS growth over the past two years. Net income increased 11.1%, rising from $5.4 billion to $6.0 billion.
Chevron's future performance depends largely on the movements of crude oil and natural gas prices. Any adverse changes in these prices could negatively impact revenue. Furthermore, lower sales volumes and margins on the sale of refined products could also negatively affect the company's bottom line. However, we currently feel that the company's strengths outweigh the fact that its shows low profit margins and give the stock good upside potential under most economic market conditions.
Hess
(HES) - Get Free Report
is a global independent energy company that explores for, produces, purchases, transports, and sells crude oil and natural gas.
We have rated Hess a buy since August 2004 because of a variety of strengths. These include the company's strong revenue growth, strong cash position, solid performance across all segments in the second quarter of fiscal 2008, and higher natural gas production volumes.
Increased crude oil and natural gas prices and higher capacity utilization helped boost the company's revenue, which rose 57.9% year-over-year in the second quarter. The company reported that its earnings rose 61.6% when compared with the same quarter last year, while net income surged from $557.00 million to $900.00 million. Cash and cash equivalents increased from $482.00 million in the second quarter of fiscal 2008 to $1.48 billion in the most-recent quarter. In addition, the company's leverage levels improved, as its debt-to-equity ratio declined to 0.36 from 0.44.
It is important to remember that oil and gas prices are highly volatile and cyclical in nature. Because Hess generates a significant portion of its income from the production of oil and gas, any significant unexpected downturn in oil prices could negatively affect the company's earnings. In addition, the company's gross profit margin contracted during the second quarter despite solid revenue growth, and the rising cost of operation along with lower crude production volumes could impact the company's profitability in the future.
Hewlett-Packard
(HPQ) - Get Free Report
provides products, technologies, solutions and services to individual consumers and businesses worldwide. The company's offerings include enterprise storage and servers, personal computing, multi-vendor services, and imaging and printing.
Our buy rating for Hewlett-Packard has not changed since November 2004. This rating is based on the company's impressive record of earnings per share growth, increases in net income and revenue, attractive valuation levels and good cash flow from operations. Hewlett-Packard's total revenue for the third quarter of fiscal 2008 grew 10.5% year over year, which allowed EPS to improve by 21.2% when compared with a year ago. The company has, in fact, demonstrated a pattern of positive EPS growth over the past two years, and we feel that this trend should continue. Net income increased by 14.0%, rising from $1.8 billion in the third quarter of fiscal 2007 to $2.03 billion in the most-recent quarter.
Management attributed the company's third quarter results to the acceleration of its enterprise growth and good execution across its portfolio. Hewlett-Packard's global position, broad product and services offerings and incremental cost saving opportunities led management to state that it is confident in the company's ability to deliver expanded earnings in the future. For fiscal 2008, Hewlett-Packard expects revenue to range between $30.2 billion and $30.3 billion.
Hewlett-Packard on Monday said it plans to lay off more than 24,000 workers as it integrates recently acquired technology services firm EDS into its own operations.
Our quantitative rating is based on a variety of historical fundamental and pricing data and represents our opinion of a stock's risk-adjusted performance relative to other stocks.
However, the rating does not incorporate all of the factors that can alter a stock's performance. For example, it doesn't always factor in recent corporate or industry events that could impact the stock price, nor does it include recent technology developments and competitive dynamics that may affect the company.
For those reasons, we believe a rating alone cannot tell the whole story, and should be part of an investor's overall research.
This article was written by a staff member of TheStreet.com Ratings.