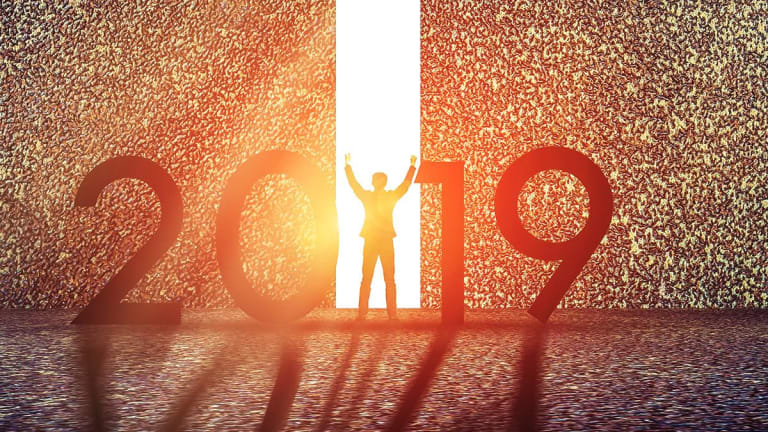 Here Are My 8 Top Stock Picks for 2019
There are several catalysts that could drive both the economy and the stock market higher in the coming months.
We've exited 2018, which ended on a very different note compared how the year began. During the last few months of 2018, investors were hit with a combination of factors -- U.S.-China trade, the slowing economy, a Fed that could boost rates twice in 2019 and continues to unwind its balance sheet, Brexit, political uncertainty in the Eurozone and more recently the government shutdown. These factors have led investors to question growth prospects for the global as well as the domestic economy and earnings in 2019.
There are several catalysts that could drive both the economy and the stock market higher in the coming months. These include a "good deal" resolution to the U.S.-China trade situation, and forward movement in Washington on infrastructure spending. More than likely ahead of those two items, we will have to navigate the upcoming December quarter earnings season. 
While expectations for growth in both the domestic economy and earnings for the S&P 500 have come in compared to forecasts from just a few months ago, the current view still calls for 2019 GDP near 2.4% (down from 3.0% in 2018) with the S&P 500 group of companies growing their collective EPS by 7.4%. That's a far cry from the 21.7% in 2018, which was in part fueled by a stronger economy as well as the benefits of tax reform that was passed in late 2017. With the market barometer that is the S&P 500 currently trading at 15.3x consensus 2018 EPS of $162.51, the factors listed above have investors questioning the market multiple on 2019's consensus EPS of $174.61.
One of the key principles to valuing stocks is that companies delivering stronger EPS growth warrant a premium valuation. In looking for several well-positioned companies to own heading into 2019, we therefore want to zero in on companies that are expected to grow their EPS faster than the S&P 500 in 2019, in other words, faster than 7.4%. We also want favorable tailwinds blowing on their respective businesses as well. One way to ascertain if that's the case is to look for companies that are growing their earnings faster than the S&P 500 in both 2019 and 2020. 
Here are 8 stocks that meet those criteria:
1. AMN Healthcare (AMN)
Consensus EPS
2018E: $3.26
2019E: $3.53
2020E: $3.92
According to the Bureau of Labor Statistics' Employment Projections 2014-2024, Registered Nursing (RN) is listed among the top occupations in terms of job growth through 2024. The RN workforce is expected to grow from 2.7 million in 2014 to 3.2 million in 2024, an increase of 439,300 or 16%. The Bureau also projects the need for 649,100 replacement nurses in the workforce bringing the total number of job openings for nurses due to growth and replacements to 1.09 million by 2024. Enter AMN Healthcare, a healthcare workforce and staffing solutions company with an emphasis on the nursing industry. As the nursing shortage pain point has intensified over the last several years, AMN shares have peaked at more than 21x earnings and bottomed out at an average P/E multiple at 14x. Applying these historic multiples implies upside from current levels to $72, with downside risk to $48. With more Baby Boomers turning 70 years old every day, odds are those historic PE multiples, particularly to the downside, will move higher in the coming years as the severity of the nursing and aging pain point is more fully recognized.
2. Costco Wholesale (COST)
Consensus EPS
2018E: $7.71
2019E: $8.38
2020E: $9.15
Following a double-digit climb for most of 2018, Costco shares pulled back hard in December following the company's most recent quarterly earnings report. 
That pressure reflected rising merchandizing costs, due in part to U.S.-China tariffs, as well as increasing preopening expenses. Underneath the report, the key metrics of traffic, membership renewals and membership growth all continued to be favorable. As Costco targets another 20-23 warehouse locations, which will drive high-margin membership fee income over the coming quarters, Costco remains  a best-in-class retailer for the increasingly debt-laden consumer that is poised to deliver almost 20% EPS growth over the coming 24 months. 
3. Nokia Corp. (NOK)
Consensus EPS
2018E: $0.26
2019E: $0.36
2020E: $0.46
Nokia share shrugged off the market's December pullback as mobile operators are spending to launch commercial 5G mobile networks beginning this year and spanning the next several. This is driving a pick-up in the company's cyclical mobile infrastructure business that should bring favorable operating leverage to the bottom line as well. Given the nature of 5G mobile technology that is slated to connect a wide array of devices, including autonomous cars, the internet of things as well as the connected home and other car applications, it expands the addressable market for Nokia's high margin licensing business. 
4. Skyworks Solutions (SWKS)
Consensus EPS
2018E: $7.35
2019E: $8.20
2020E: $9.60
Skyworks is an RF semiconductor company that has benefitting from both increasing dollar content per device as 3G and 4G technologies were deployed and a widening number of connected devices. That is set to repeat itself as the number of switches and RF bands associated with 5G grow to 70 and 30 from 40 and 15, respectively, with 4G mobile technology. As the number of 5G network deployments grow around the globe, so too will the number of 5G handsets. Paired with greater dollar content per 5G device, that's a powerful combination for Skyworks' top and bottom line. Much like Nokia, Skyworks will see the addressable market for its RF solutions grow from primarily smartphones, tablets and wearables to include autonomous vehicles, connected home and connected car as well as internet of things. 
5. Habit Restaurants  (HABT)
Consensus EPS
2018E: 0.13
2019E: 0.16
2020E: 0.24
Shares of California-based burger chain Habit Restaurant were a strong performer in the Stocks Under $10 portfolio in 2018 as it entered the shares at $8.84 in May and closed it out near $16 in August. Since early November, HABT shares pulled back 34%, far more than the 13% drop in the Russell 2000 over the same period. As we've seen in the past with shares of McDonald's (MCD) , Starbucks (SBUX) and Dunkin Brands (DNKN) , one of the keys to restaurant stocks is geographic expansion. In the case of Habit that means expanding west to east with its menu of burgers, fries and shakes as well as embracing mobile ordering. The company has partnered with Door Dash for its nationwide delivery program and was on track to open 30 new locations in 2018, including locations in Maryland, Virginia, Pennsylvania, North Carolina, Florida and New Jersey, with another 21-30 to follow in 2019. Next year, approximately 30% of those locations will be on the East Coast as well as locations in Illinois and Indiana, with over 50% of the new 2019 stores having drive-thrus. Those expected openings should bring Habit's total location count to 260-270 exiting 2019, up 33%-38% from 195 entering 2018. 
6. Amazon (AMZN)
Consensus EPS
2018E: $19.64
2019E: $26.61
2020E: $39.10
Amazon shares were my top pick for 2018, and even after the sharp pullback this past November and December, the shares finished 2018 up more than 25%, albeit well off their highs for the year. There are a number of reasons to remain bullish on AMZN shares as we head into 2019. First is the continued shift toward digital commerce both here in the US and abroad. Each month over the last few years we've seen digital commerce win consumer wallet share per the monthly Retail Sales report. For the all-important holiday shopping in 2018, MasterCard SpendingPulse reported digital sales growth rose 19% year over year, well ahead of expectations. Let's face it, whether it's for convenience or price comparison shopping, there is no putting the digital Jeannie back in the bottle. With its Prime service that bundles a number of services including Prime Video, online storage and free two-day shipping, Amazon has been a market share winner in the shift to digital shopping. In recent quarters it has expanded its private label brands into apparel, furniture and other home goods. While most rightly focus on Amazon Web Services, its higher margin cloud services business that drives the company's profits and cash flow, the two businesses to watch in 2019 will be its advertising business as well as its online pharmacy acquisition that is PillPack. These along with its burgeoning mobile payments service, Amazon Pay, are likely to be the latest disruptions put forth by Amazon, a company that has excelled at reducing consumer transaction friction 
7. Universal Display (OLED)
Consensus EPS
2018E: $1.14
2019E: $2.54
2020E: $3.95
Universal Display is one of the pure play companies behind the next transition in display technology to organic light emitting diode displays from liquid crystal displays. One of the key attractions of OLED technology is emissive when powered, which both saves battery life and allows for a thinner display format. In 2017, Apple (AAPL) began to adopt OLED technology in its smartphones with the iPhone X and in 2018 it expanded the technology into its two new high-end iPhones. The notion that Apple isn't the only driver of OLED demand is very true given other smartphone manufacturers, including Samsung, Huawei, and Xiaomi, are introducing new models that feature OLED displays, while new TV models incorporating the technology are also hitting shelves later this year. Longer-term, OLED technology is poised to  follow the roadmap laid out by light emitting diode (LEDs) technology that moved from mobile phones into automotive, specialty lighting and ultimately general illumination replacing traditional lighting and LEDs along the way. What this means is an expanding array of applications that will grow Universal's addressable market for the IP business while increasing demand for its chemical business. A very nice push-pull that drives revenue and profit growth over the coming 12-24 months.
8. Axon Enterprise Inc. (AAXN)
Consensus EPS
2018E: $0.80
2019E: $0.91
2020E: $1.35
At the local and state level, we are seeing shifts in spending by law enforcement to more disruptive innovator-led solutions such as body cameras and tasers to name a few. According to QY Market, the global market for body cameras is expected to reach about $1.5 billion by 2021 from $259.5 million in 2016. Forces driving the growth in the body camera market include the growing demand for monitoring police conduct as well as transparency in evidence collection and handling. The non-lethal weapons market comprised of military and law enforcement is estimated to reach $8.4 billion by 2020, a CAGR of 8.2 percent from 2015 to 2020. This market opportunity is being addressed by Axon Enterprises, the company formerly known as Taser, which is increasingly focused on digital body cameras and the cloud-based services that support them. Easing Axon's entrance into this market and the transformation in its business model is its existing relationship with more than 20,000 public safety agencies worldwide that span law enforcement, corrections, and military forces as well as private security personnel and in the case of its CEWs, private individuals. At the end of 2017, 38 of the top 50 metropolitan areas in the U.S. were on the Axon network.
This article is commentary by an independent contributor. At the time of publication, the author held no positions in the stocks mentioned.
Follow Chris Versace on Twitter and Facebook.
Jim Cramer and the AAP team hold positions in Amazon and Apple for their Action Alerts PLUS Charitable Trust Portfolio . Want to be alerted before Cramer buys or sells AMZN or AAPL? Learn more now.