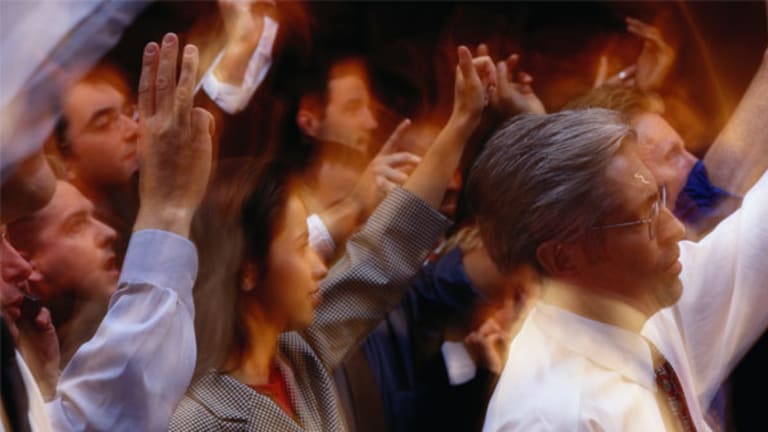 NEW YORK (TheStreet) -- U.S. futures are showing faint signs of life in premarket trading on Thursday as stocks look to build off of the rally that saw all three major indices close the day in positive territory on Wednesday.
It has been an up-and-down week for the market, as it followed up a strong Monday showing with a dismal Tuesday selloff precipitated by falling crude prices.
Crude prices are back in the red Thursday with West Texas crude down $0.17 to $31.98 per barrel on the Nymex. Industry benchmark Brent crude futures contracts for April delivery are also down $0.24 to $34.17 per barrel.
Internationally, Chinese markets had a rough outing with the Shanghai Composite Index dropping 6.4 points while the Hang Seng fell 1.7%. The Shanghai Composite's drop today erased the gains the index had experienced this week. China's struggles today come ahead of the Group of 20 meetings scheduled to begin in Beijing next week.
In Europe, the FTSE 100, DAX and CAC 40 were all climbing, with a little over three hours left in trading.
Wednesday night, Jim Cramer talked to Salesforce.com (CRM) CEO Marc Benioff whose stock had fallen 20% this year before rallying after-hours, yesterday. Salesforce.com was up over 10% premarket Thursday after the company provided upbeat full-year earnings and revenue guidance.
Benioff praised his company's latest quarterly results, which included a record $1.8 billion in revenue and earnings of $0.19 per share that were in line with analyst estimates for the period.
Earnings season continues today, with AB-InBev (BUD) falling premarket as declining sales of Bud Light contributed to the company's miss of analysts' top- and bottom-line expectations. The beer company reported earnings of $1.56 per share vs. analysts $1.61 per share expectations. Revenue for the period dropped 10% on the previous year, to $10.72 billion.
Best Buy (BBY) was also falling premarket after providing weak 2016 guidance, though the company did top analysts' fourth-quarter expectations.
Shares of Kohl's (KSS) are up premarket after the company topped analysts' fourth-quarter expectations and also announced that it will be closing 18 stores. However, despite the strong fourth quarter, the company provided weak full-year earnings guidance.
Wednesday, analysts at Citigroup wrote that the chances of the global economy falling into a recession are rising. "We are currently in a highly precarious environment for global growth and asset markets after two to three years of relative calm. The most recent deterioration in the global outlook is due to a moderate worsening in the prospects for the advanced economies, a large increase in the uncertainty about the advanced economies' outlook (notably for the U.S.) and a tightening in financial conditions everywhere," the analysts said.
Jim Cramer agreed with that assessment last night on his Mad Money program, telling his viewers that he is not bullish on the U.S. economy. He said that the Federal Reserve must be out of touch with reality for them to be considering another rate hike next month.