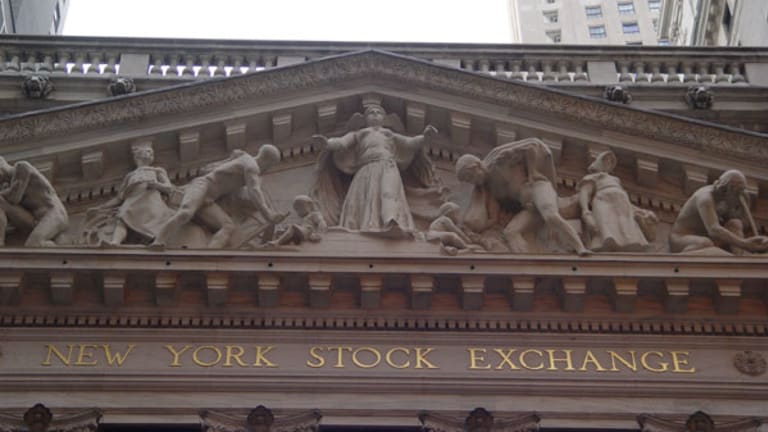 Stock Market Today - Oil Prices Rally to Lift Futures, World WatchesFederal Reserve Meeting Today
Also: Apple (AAPL) reports quarterly earnings this afternoon, Asian markets fall and Jim Cramer's Mad Money comments.
NEW YORK (TheStreet) -- U.S. stock futures are up slightly ahead of the opening bell on Tuesday, despite continuing volatility in world markets, as oil prices rally early today. S&P 500 futures were up 0.28%, Dow Jones Industrial Average futures added 0.18%, and Nasdaq futures gained 0.2%.
West Texas crude for March delivery is up $0.33 to $30.67 per barrel on the Nymex while international benchmark Brent crude for March delivery is up $0.37 to $30.87 per barrel. The rise in oil back above $30 per barrel reverses the commodity's earlier decline, which contributed to stock markets around the world falling today.
The Shanghai Composite dropped 6.42% today while Hong Kong's Hang Seng and Japan's Nikkei fell 2.48% and 2.35% respectively. The German DAX is down 0.11%, the U.K. FTSE 100 is down 0.18% and France's CAC 40 is up slightly at 0.08% with about three hours before those markets close.
Oil's rally today was sparked by comments from Iraq's oil minister on Tuesday saying that he could see room for negotiations between OPEC and non-OPEC oil producers about tackling the market oversupply that is currently putting negative pressure on crude prices.
Domestically, investors are watching for the U.S. Federal Reserve policy meeting that is scheduled for Tuesday afternoon. On Dec. 16, Federal Reserve Chair Janet Yellen raised interest rates to 0.25% from their historically low levels, the first hike since 2006. The S&P 500 has fallen 9.5% since that announcement with oil prices sliding more than 15% during the same period.
However, some analysts remain cautiously optimistic that the Fed won't raise rates further anytime soon. "With global equity markets down substantially over the last several weeks, the US dollar reaching new cyclical highs, and a clouded inflation outlook, the FOMC statement should strike a more cautious tone," Deutsche Bank analysts wrote in a note.
In U.S. stock news, Action Alerts PLUS holding Apple (AAPL) is scheduled to report earnings after the closing bell today. Apple has fallen over 11% since it last released its earnings results in October on concerns of weakening iPhone sales. Despite the fact that the company boosted overall sales by 28% last fiscal year, Apple has increasingly relied on iPhone sales to generate revenue. Last year, iPhone sales accounted for 66% of the company's revenue vs. 50% three years ago, according to Bloomberg.
Today, medical device and consumer product maker Johnson & Johnson (JNJ) reported fourth-quarter adjusted earnings per share of $1.44, topping analysts' expectations by $0.02 per share. Fellow consumer products manufacturer Procter & Gamble (PG) reported adjusted EPS of $1.04, also beating analysts' $0.98 per share expectations for the period.
Yesterday, TheStreet's Jim Cramer commented on a number of stocks on his Mad Money program on CNBC. Cramer says that McDonald's (MCD) turnaround is for real after the company reported a strong quarter that saw same-store sales rise 5% year over year. Columbia Sportswear (COLM) and other retailers could experience a bump thanks to the winter snow storm that pummeled the East Coast over the weekend, Cramer said, though any bump from this weekend's storm will not be reflected in the earnings the company releases next week.
Also, Chinese stocks fall to their lowest levels since 2014