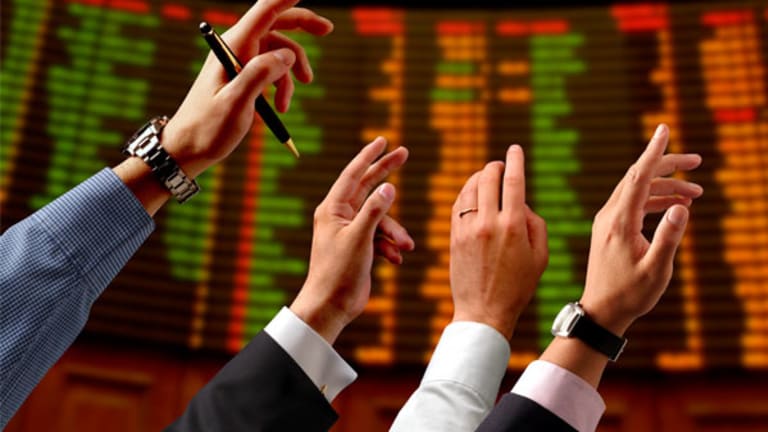 Stock Market Today - JPMorgan Takes On Apple Pay
Also: White House, congressional leaders reach tentative deal on budget. BP announced better than expected results. Wal-Mart applied to U.S. regulators to test drones for home delivery, pick-up.
NEW YORK (TheStreet) -- JPMorgan (JPM) said it would launch its own competitor to Action Alerts PLUS charity portfolio stock Apple Pay (AAPL) soon, allowing consumers to pay retailers via their smartphones, and that it has won the endorsement of major merchants for it.

The White House and congressional leaders reached a tentative deal on the budget that would also raise the debt limit, the Wall Street Journal reports. The deal would suspend the debt limit through mid-March 2017 and boost spending by $80 billion through September 2017. If the pact fails to win congressional approval, it could leave the U.S. government a week away from potentially being unable to pay all its bills.
BP (BP) announced better-than-expected results and a third round of cost cutting and asset sales to cope with prolonged low oil prices. BP said that its capital spending for this year would now come in at close to $19 billion, down from a previous estimate of under $20 billion, and it would fall to $17-$19 billion a year through to 2017. This is the third time the company has reduced its 2015 capex target from an original goal of $24-$26 billion. BP's underlying replacement cost profit, the company's definition of net income, was $1.8 billion in the third quarter, compared with analysts' expectations of $1.2 billion.
Wal-Mart (WMT) applied to U.S. regulators to test drones for home delivery and pick-up, Reuters reports. This is a sign that the world's largest retailer wants to take on Growth Seeker portfolio holding Amazon.com (AMZN) and boost its digital offering.
Germany's Volkswagen (VLKAY) is coming under scrutiny from another U.S. regulator, the Financial Times reports. The Federal Trade Commission said it was examining possible deceptive marketing by the carmaker.