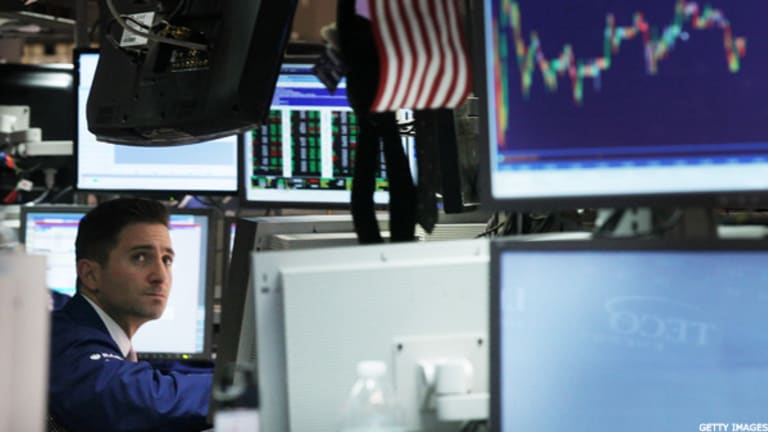 Publish date:
Stock Market Today - Global Markets Mixed, Oil Down, FOMC Decision Looms
Wall Street doesn't expect the Fed to raise rates, but it's expected to give firmer views about how it sees global markets as China's economy falters and crude prices fall.
Wall Street doesn't expect the Fed to raise rates, but it's expected to give firmer views about how it sees global markets as China's economy falters and crude prices fall.
NEW YORK (TheStreet) --  U.S. futures are pointed down on Wednesday ahead of the second day of Federal Reserve meetings. While Wall Street does not expect the Fed to raise interest rates today, just six weeks after it hiked rates from historic lows, the central bank is expected to give a firmer view about how it sees global markets amid a faltering Chinese economy and tanking crude prices.
S&P 500 futures are down 0.49%, the Dow Jones Industrial Average is off 0.33%, and Nasdaq futures are 0.76% lower before the market open today.
Internationally, the Shanghai Composite Index closed trading down 0.52%, but Hong Kong's Hang Seng and Japan's Nikkei closed trading up 1.02% and 2.72% respectively. Stocks in Europe aren't doing as well in midday trading, however, with the German DAX down 0.45%, France's CAC 40 off 0.59% and the U.K. FTSE 100 down 0.32% with about three hours left of trading across the Atlantic.
Oil prices are once again sinking today, erasing yesterday's gains as international benchmark Brent crude for March delivery is down $0.18 to $31.62 a barrel while West Texas crude for March delivery is down $0.62 to $30.83 a barrel. Crude prices in Houston are lower than in Abu Dhabi for the first time since 2008, according to Bloomberg.
Oil's rally yesterday was sparked by comments from Iraq's oil minister on Tuesday saying that he could see room for negotiations between OPEC and non-OPEC oil producers about tackling the market oversupply that is currently putting negative pressure on crude prices.
In U.S. stock news, Action Alerts PLUS holding Apple (AAPL) continues to fall in pre-market trading following the release of its latest quarterly report after the closing bell on Tuesday. Apple missed analysts' top-line expectations and also forecast that the current quarter could see the company's first drop in revenue since 2009.
TheStreet's Jim Cramer remains bullish on the stock, however. "My take? You own the stock, don't trade it," Cramer told Mad Money viewers yesterday. "We are going to get an iPhone 7 upgrade cycle later in the year, and those have been terrific catalysts for buying. In the meantime, Apple's ridiculous $216 billion cash pile, up 5% from last quarter and 21% from a year ago, gives them plenty of chances to buy back stock, boost their dividend, or even buy a new revenue stream."
Meanwhile, Trifecta Stocks holding Boeing (BA) earned an adjusted $1.60 per share in the fourth quarter, blowing analysts' expectations away by $0.32 per share, while also topping revenue guidance. However, the company also provided a full-year 2016 forecast that was below expectations.
In other earnings news, health insurer Anthem (ANTM) reported a 64% drop in EPS to $1.14, missing analyst expectations by $0.03. Telecom giant and Dividend Stock Advisor holding AT&T (T) earned a quarterly profit of $0.63 per share, matching analyst estimates. However, revenue for the period missed guidance. Finally, drug makerNovartis (NVS) reported a 57% decline in quarterly profit, mostly driven by the poor performance of its Alcon eye-care business -- which the company acquired for over $41 billion in 20011. The company also announced plans to cut more than $1 billion from annual costs by 2020.
Also:  China's Prime Minister Li Keqiang denied that China was the cause of global volatility, saying the country's growth for 2015 was within its goals and had been "hard won" because of the negative effect of slowing global economies on his country. He
in the Chinese economy in the future.