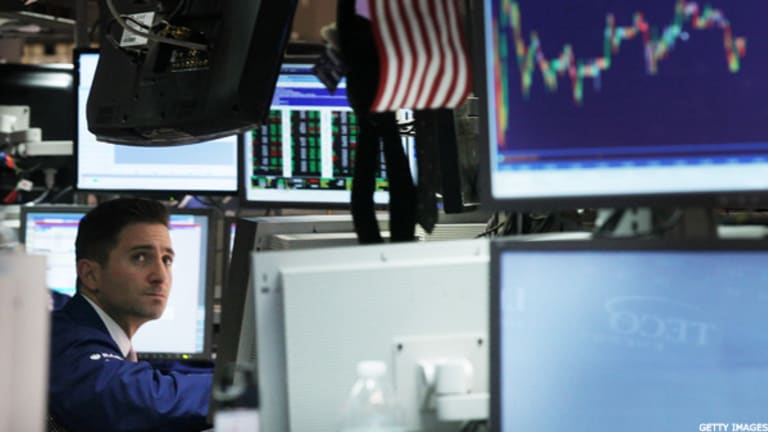 Stock Market Today - Futures Lower, Oil Falling, Apple (AAPL) Off the Hook
Also: Yahoo! shares were rising pre-market after the company reportedly set an April 11 deadline for preliminary bids for its web business and Asian assets.
NEW YORK (TheStreet) -- U.S. futures were all in the red Tuesday morning after a mixed day of trading Monday. The S&P 500 and Nasdaq were both down 0.2%, while the Dow Jones Industrial Average was off 0.3%.
Markets around the world were mixed, with the Nikkei falling 0.2% and the Shanghai Composite declining 1.3%. The Hang Seng was the lone major Asian index on the positive side, climbing 0.1% on the day.
European stocks were back open Tuesday following the Easter Monday holiday. The FTSE 100 was down 0.1%, the DAX 0.2% lower and the CAC 40 rising 0.3% with about three hours left in trading.
Falling crude prices are not helping the markets on Tuesday, with Brent crude futures contracts decreasing $0.96 to $39.31 per barrel and West Texas crude prices declining $0.80 to $38.60 per barrel.
Yahoo! (YHOO) shares were rising premarket after the company set an April 11 deadline for preliminary bids for its web business and Asian assets, according to the Wall Street Journal. Based on the April deadline, Yahoo! could finalize a deal by June or July, the Journal said.
Shares of SunEdison (SUNE) were tanking 40% premarket after a unit of the solar energy company said that there was substantial risk that SunEdison would seek bankruptcy protection soon due to liquidity issues. TerraForm Global also said that it would follow its parent company in delaying the release of its annual fiscal report.
Shares of Virgin America (VA) could rise again today following a Reuters report that the airline could see merger interest from various Asian airlines. The stock increased more than 10% Monday on reports that JetBlue Airways (JBLU) and Alaska Air Group (ALK) were both interested in buying the company.
Homebuilder Lennar (LEN) was rising after topping analysts' first-quarter top- and bottom-line estimates.
Investors will be watching Wells Fargo (WFC) -- a holding in the Action Alerts PLUS portfolio -- today after Warren Buffett's Berkshire Hathaway (BRK.A, BRK.B) increased its ownership stake to 10% from 9.8% at the end of last year.
Finally, Apple (AAPL) -- also an Action Alerts PLUS holding -- is off the hook for the time being after the Justice Department dropped its suit against the company as the FBI was successful in unlocking an iPhone that belonged to one of the terrorists in the San Bernardino shootings last year.