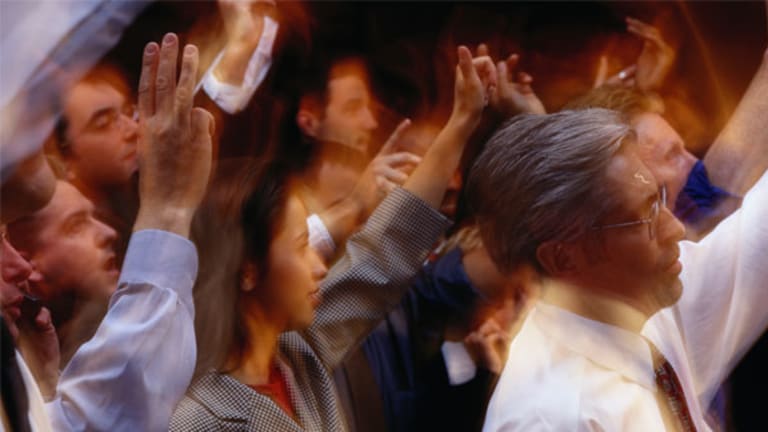 Stock Market Today - Cyber Security Stocks in Focus After Taxpayer Accounts Breached
German, British consumer confidence hit multi-year highs. Industrial profits in China reversed six-month falling trend in April. IMF no longer believes Chinese currency undervalued.
NEW YORK ( TheStreet) -- Thankfully, it feels like the markets are taking a breather as there are no major domestic or European economic reports today.
The European markets were recently trading higher on the day, with crude oil also up fractionally and the dollar weaker after its biggest rally in two years. Domestic equity futures are mostly flat so far.
In Britain, Queen Elizabeth addressed Parliament on, among other measures, the government's plans for a European Union membership referendum (as directed by David Cameron's government).
Cameron has said that everything is on the table as his conservative government evaluates reforms they demand from the EU. The government has not put forward a definitive set of reforms they request.
The sticking point is the freedom of movement of EU citizens, who under the Union's rules have the right to go and work in any of the EU's 28 countries. EU officials have said this right, which has been criticized by extremist nationalist party UKIP in the U.K., is not on the table.
Cyber security stocks are again in focus as we learned today that the IRS said nearly 100,000 taxpayers had their accounts accessed by cyber criminals. What is different in this case is that the there was no hacking done at the IRS. Rather, the criminals stole the information from individuals and pieced it together using it to access the IRS system as it was designed to be accessed.
Notable earnings calls today include: Tiffany & Co (TIF), Michael Kors (KORS), DSW (DSW), Chico's (CHS), EnerSys (ENS), Palo Alto Networks (PANW), Copart (CPRT) and Costco (COST).
Happy trading!

German consumer confidence was at its highest in 13 and a half years in May, data from research company GfK show. Looking ahead, GfK's headline household confidence index was forecast to rise to 10.2 points in June from 10.1 points in May. "That is the highest level since October 2001. The consumer climate in Germany remains in a moderate uptrend," the research firm said in a statement.
Consumer confidence in the U.K. hit a pre-crisis high of nine years due to low inflation and improving job prospects. The proportion of people feeling now was a good time to spend was up in the first quarter and, at 45%, it was the highest since comparable records began in late 2006.
Industrial profits in China reversed a six-month falling trend in April. Industrial sector profits rose 2.6% in April from a year earlier, according to the National Bureau of Statistics. But Chinese industrial sector profits were still down 1.3% for the year to date, reflecting the extreme weakness of growth in the first quarter.
The International Monetary Fund (IMF) no longer believes the Chinese currency is undervalued, marking a significant shift in the fund's decade-old position. China has been said to hope that the renminbi will be introduced in the Special Drawing Rights (SDR) basket, which is currently formed of the dollar, euro, yen and sterling, as early as this year.
Six officials from the soccer association FIFA were arrested in Switzerland and will be deported to the U.S. where they are to face corruption charges, under suspicion of accepting millions of dollars in bribes.