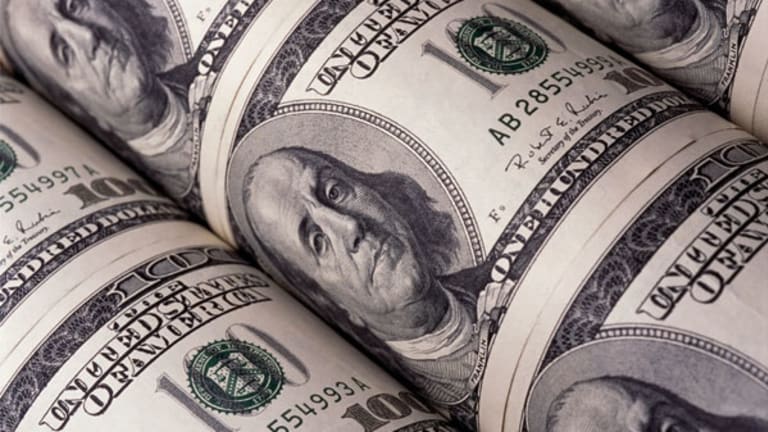 Stock Market Today - China Stocks Get Walloped, Markets Await Data, More Earnings Reports
China stocks retreated overnight and big U.S. domestic economic data is expected today. Notable earnings include Abercrombie & Fitch, Splunk and Avago, which announced it will acquire Broadcom.
NEW YORK ( TheStreet) -- China stocks were walloped overnight, with the Shanghai Composite ending 6.5% lower, marking its second-worst day of performance in 2015, taking the air out of a balloon that many felt was over-inflated, having swelled more than 50% since March. The selloff was sparked by brokers tightening margin-trading requirements for clients, causing positions to be unwound.
The U.S. dollar was giving back some of yesterday's gains, while commodities traded up on that weakness. Oil was also trading modestly higher this morning.
Meanwhile, the "Great Greek Debt Crisis" soap opera continued as Greece's optimism yesterday that a deal could be reached was quashed by officials from the European Commission, who still view the two parties as being very far away from any compromise.
The mergers rumors were running hot yesterday, with the market awaiting an Avago (AVGO) for Broadcom (BRCM) deal, which was officially announced this morning. Avago will buy chipmaker Broadcom in a cash and stock deal worth $37 billion ($17 billion of that in cash).
Notable earnings today include Tech Data (TECD), Flowers Foods (FLO), Abercrombie & Fitch (ANF), Pacific Sunwear (PSUN), Splunk (SPLK), Veeva Systems (VEEV),GameStop (GME), Trifecta Stocks holding Ulta Salon (ULTA), Infoblox (BLOX), Deckers Outdoor (DECK), Avago Technologies (AVGO) and OmniVision Technologies (OVTI).
Investors are looking forward to big domestic economic data releases today, including initial jobless claims for the week of May 23 at 8:30 a.m. ET, with consensus at 270,000; April pending home sales at 10 a.m., with consensus at 0.9%; EIA natural-gas storage change is released at 10:30 a.m.; and at 11 a.m. we'll see energy inventories from the Energy Department.
Happy trading!