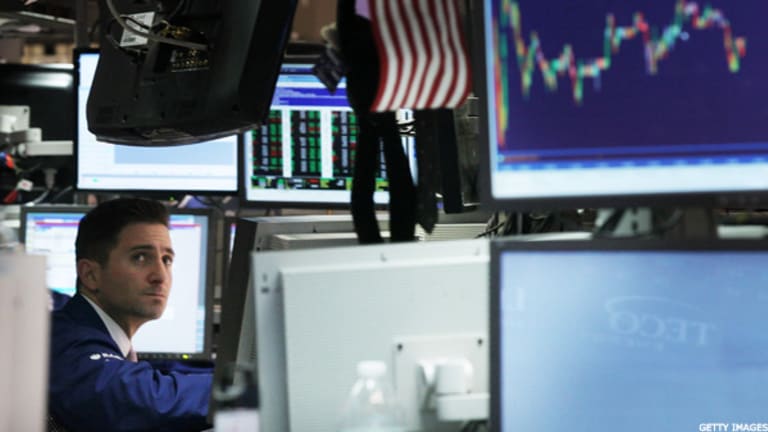 Stock Market Today - Charter Buys Time Warner Cable, Domestic Economic Data Dominates
The euro continues to fall, along with European stocks, pushing the dollar to a one-month high. U.S. stock index futures indicate a weaker market open.
NEW YORK ( TheStreet) -- Merger Monday was delayed due to the holiday weekend. But mergers would not wait for another week as Charter Communications (CHTR) announced that it would buy TimeWarner Cable (TWC) in a deal valued at $78.7 billion, as the second and third largest domestic cable operators attempt to combine to take on industry front runner Comcast (CMCSA).
Meanwhile, the euro continues to fall, along with European stocks, pushing the dollar to a one-month high, reversing its recent weakness. The euro sank due to continued consternation over the Greek debt crisis and because of jitters caused by strong inroads made over the weekend in Spanish elections by anti-austerity parties.
U.S. stock index futures indicate a weaker open as the market is set to be hit by a series of economic data this week. A speech on Friday by Federal Reserve chairman Janet Yellen left investors convinced a rate hike has been pushed out until at least September if not December based on wavering domestic economic health, as demonstrated in recent economic reports.
On Monday, Fed vice-chairman Stanley Fischer commented that there was too much emphasis being placed on the Fed' first interest rate hike as the process to return to normalized levels will take years.
Continued stimulus efforts announced over the weekend in China has a positive effect on the Shanghai composite which closed up 2% on the news.
Earnings reports of note today include AutoZone (AZO), Nimble Storage (NMBL), TiVo (TIVO), and Workday (WDAY).
All eyes will continue to be on domestic economic reports as investors try to game the next Fed interest rate hike.
On today's packed data calendar is the April Durable Goods Orders at 8:30 a.m. with consensus looking for a -0.5% report.
Also at 8:30 a.m. we'll get the Cap Goods Orders Nondef Ex Air with 0.5% expected.
We'll see the FHA House Price Index MoM at 9 a.m., with 0.7% expected, the Markit US Composite PMI at 9:45 a.m., the Markit US Services PMI also at 9:45 a.m. with 57.0 expected.
At 10 a.m. the New Home Sales are released with consensus calling for 505,000. Also at 10 a.m. is the Consumer Confidence Index with 95.0 expected, the Richmond Fed Manufacturing Index with 0 expected, and the Dallas Fed Manufacturing Activity report, with -12.5 expected.
Happy trading!
Charter Communications (CHTR) will buy Time Warner Cable (TWC) for $56 billion, or $78.7 billion including debt. The cash-and-stock deal values Time Warner Cable at $195.71 per share, according to a Reuters report, and comes just one month after Comcast (CMCSA) dropped its $45.2 billion merger agreement with Time Warner Cable, clinched in February 2014, due to antitrust concerns.
Contradictory statements out of Greece about its ability to pay upcoming debts sparked worries in the markets. A government spokesman said the country intended to keep to its payment schedule for June, after the country's Interior Minister said at the weekend that Greece is unlikely to pay the tranche to the International Monetary Fund that comes due next month.
Apple (AAPL) has promoted British designer Jony Ive to the position of chief design officer, according to various media reports. The newly created role would now expand beyond its devices and into designing the company's retail stores, new California campus and even office furniture.
Brazil's economy is expected to contract by nearly a quarter this year in dollar terms, due to a combination of the real's depreciation and the deepening recession. GDP is expected to fall by 23% to $1.8 trillion this year as President Dilma Rousseff is trying to unwind a multi-year stimulus program that left the country's finances deep in the red.
Profit at Irish low-cost airline Ryanair increased by 66% to around $948 million, beating analyst expectations.