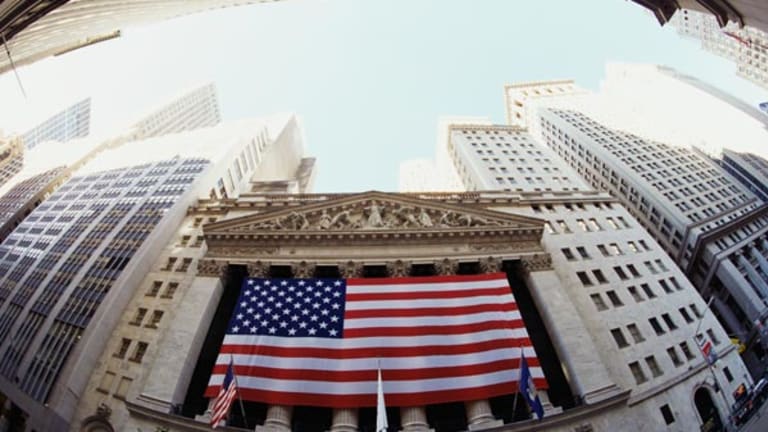 Stock, Bond Yields Suggest Equities Are a 'Buy'
Dividend-paying companies in good financial shape are worth considering over costly Treasuries.
Dividend-paying companies in good financial shape are worth considering over costly Treasuries.
BOSTON (The Street Ratings) -- With 10-year Treasury yields near historic lows, it might be time for investors to get back into stocks. The current yield on the S&P 500 Index (2.05%) is hovering around that of 10-year government bonds. Historically, there has been a difference of a few hundred basis points.

Over the past 40 years (see chart above), the difference has been an average of 4% in favor of the Treasury yield. Under more normal circumstances, when there is optimism surrounding equities, yields tend to be much higher for Treasuries. Which makes sense -- if I'm going to tie up my money for 10 years, I should be paid a higher return than with stocks, which also offer share-price appreciation.
But now, with stock yields at roughly the same level as Treasuries (see chart below), it's a no-brainer to be looking at equities. The last time the S&P yield exceeded the 10-year was in late 2008. If you bought into the market at the beginning of 2009, despite all of the volatility, you would be up over 27% today.
Let's think about it in simple terms. Would you rather put $100 of your money into a (virtually) risk-free asset over the next 10 years and earn $2 a year, or would you rather purchase equity in a blue-chip company such as
McDonald's
or
Coca-Cola
or
Nordstrom
and earn the same $2 a year but also benefit from capital appreciation?
Another metric, called the Fed Model (created by economist Ed Yardeni) says that stocks are extremely cheap. The model looks at the earnings yield (or earnings/price) for the S&P 500 Index and compares it to the 10-year Treasury. If the earnings yield for stocks is greater than the Treasury rate, then stocks are undervalued. The Fed Model states that "the bond and stock market are in equilibrium, and fairly valued, when the one-year forward-looking earnings yield equals the 10-year Treasury note yield." Today, the forward earnings yield for stocks exceeds the Treasury rate by roughly 7.5%, levels that we haven't seen since 2008. (See chart below.)
Of course, there are concerns in the market, but I still recommend looking at some of the dividend-yielding stocks with a solid competitive position, strong balance sheet and competent management. I've created a screen based on stocks rated "buy" by TheStreet Ratings' quantitative equity model. For this screen, I've looked for companies with a yield equal to or higher than the S&P that have grown dividends paid over the past year, with a dividend payout ratio of less than 60% (meaning they have capital to reinvest in the business), with better than average returns on capital, and on solid financial ground.
Above are the top 20 names that bubbled to the top of the list. Most are stable, blue-chip-type names, so if you're looking for something more exciting, you may want to avoid these. Feel free to leave any comments.
>>To see these stocks in action, visit the
20 Top-Yielding, Top-Rated Stocks to Buy
portfolio on Stockpickr.
Equity research manager Chris Stuart, CFA, joined TheStreet Ratings after working as a senior investment analyst with Merrill Lynch covering small-cap equity and alternative investment strategies. Prior to that, Stuart worked for One Beacon Insurance as an actuarial analyst and at H&R Block as a financial adviser. Stuart earned his bachelor's degree in finance from the University of Massachusetts, Amherst. He holds a Chartered Financial Analyst (CFA) designation and is a member of the Boston Security Analysts Society (BSAS) and the CFA Institute.