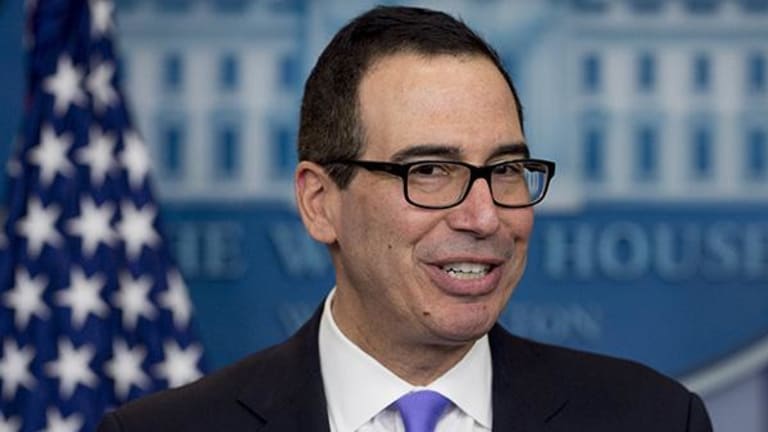 Tax Reform Will Happen by the End of the Year, Treasury Secretary Mnuchin Says
Healthcare caused a delay.
Healthcare caused a delay.
Tax reform has become a "pass/fail" exercise under which any legislation would signal a win for the Trump administration, but a bill will come by the end of the year, Treasury Secretary Steven Mnuchin said at CNBC and Institutional Investor's Delivering Alpha conference Tuesday, Sept. 12.
"We need to make this system competitive," the former Goldman Sachs (GS) - Get Report executive said. But Mnuchin added that tax reform isn't the issue at the top of most voters' minds across the country. Healthcare became the first issue Washington was tasked with handling, but with the August recess and partisan head butting took a great deal of time and resources. 
"Healthcare took longer than we expected," Mnuchin said. "We're going to get [tax reform] done by the end of the year."
President Trump had widely advertised his goal of a 15% corporate tax rate throughout his campaign and in the months since he was elected -- a goal that Mnuchin isn't sure will be possible.
"I don't know if we'll be able to achieve that," Mnuchin said. But since tax reform hasn't been passed in some 30 years, any legislation would be a win for the Trump administration, regardless of specific rates.
Mnuchin added that the government had the opportunity to extend government funding through a full year before passing the recent funding bill tied to Hurricane Harvey relief, but that would have kept President Trump from achieving other spending legislation goals in the near-term.
"The President wants to increase military spending and that's something he's going to demand in December," when the government's most recent funding legislation expires, Mnuchin said. 
Mnuchin praised President Trump for reaching out across the aisle on the most recent spending bill, but said a little bipartisan cooperation does not signal the end of the two-party system.
"The President is absolutely a Republican," Mnuchin said. "As am I."
Along the same lines, Mnuchin commented on the recent disbanding of the President's CEO councils. He clarified that the members of those councils weren't expected to agree with the President on all aspects considered.
"I think it was a mistake that the councils were disbanded," Mnuchin said. 
When asked about recent geopolitical turmoil surrounding North Korea, Mnuchin was steadfast in supporting economic sanctions against countries involved with North Korean trade.
"On North Korea, economic warfare works," Mnuchin said. "These sanctions worked. They worked with Iran ... We had Iran on the five yard line and we could have cut a better deal," Mnuchin added. The Treasury Secretary also noted that he is more than prepared to add more sanctions against China should the country trade with North Korea. 
"Let me be clear. The President's number one concern is North Korea and security," Mnuchin said. 
As for recent devastation at the hands of Hurricane Harvey and Irma, "The president has been incredibly engaged," Mnuchin said. The two met at Camp David on Sunday to address emergency management, and Mnuchin said Trump "will make sure that whatever the government needs to contribute to this, [it] will do so."
Mnuchin was optimistic on the economic speed bumps the storms might pose.
"There clearly is going to be an impact on GDP in the short run. We will make it up in the long run as we rebuild," Mnuchin said.
Moody's Corp. (MCO) - Get Report Analytics said preliminary figures suggest total damage from the two storms could be between $150 billion and $200 billion on Monday.
Moody's also lowered its third quarter GDP estimate to 2.5% from 3%, citing a loss in economic output following the storms that could reach as much as $30 billion. The fourth quarter could see a boom in growth as rebuilding efforts hit their stride, Moody's added in line with Mnuchin's comments, but the increase in economic activity depends on how much insurance money and government funding is sent to the affected areas.
More of What's Trending on TheStreet:
Hooters Has a Big $1 Million Problem in One of Its Key Overseas Markets