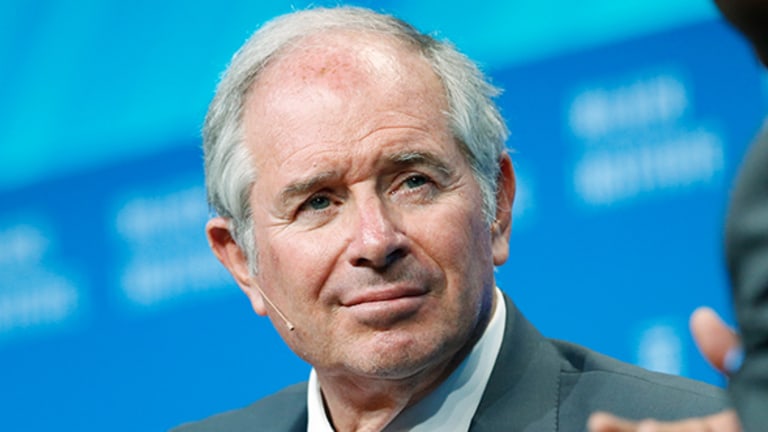 Yes, Blackstone Billionaire CEO Schwarzman Still Whispers Things to Trump
Schwarzman goes into detail about how a key presidential council disbanded and his relationship with Trump.
CEOs on President Trump's business councils were pressured by both customers of their firms and shareholders to back out of the council following Trump's comments -- or lack thereof -- following events that rocked Charlottesville, Virginia, last month, said Blackstone Group (BX) - Get Report CEO Stephen Schwarzman at CNBC and Institutional Investor's Delivering Alpha conference in New York on Tuesday, Sept. 12.
Schwarzman, who led one of President Trump's CEO leadership councils, was said to have worked to hold the group together during the time it disbanded, along with former General Electric (GE) - Get Report CEO Jack Welch. But Schwarzman made it clear there was really never an option to hold onto the group, regardless of whether he supported it or not.
"Virtually anyone running a public company in that group could not deal with the pressure from their constituents," Schwarzman said. "They were under astonishing pressure. I was accused by people for being a Nazi. I'm Jewish," Schwarzman said.
"We [voted] alphabetically. By the time you got to W, it didn't much matter," Schwarzman said of rumors he and Welch were two strongholds in Trump's camp.
Schwarzman said he wasn't outraged with the President, as some media outlets had reported. He still does speak with the President, but declined to say how frequently. Some social circles in Manhattan call Schwarzman the "Trump Whisperer," as he tends to have both the President's ear and respect given Schwarzman's vast real estate portfolio.
Speaking shortly after Treasury Secretary Steven Mnuchin told investors that tax reform would happen by the end of the year, Schwarzman offered his insight.
Schwarzman said he sees the worst case scenario for initial corporate tax reform bringing the rate to between 25% and 28%, but anything deeper requires more detailed legislation that's "harder." That's because someone always perceives a loss in a deal of that nature.
"The probability that something gets done is high," Schwarzman added. 
But Schwarzman made it clear he doesn't always agree with Washington's moves.
Forcing young immigrant DACA recipients referred to as "dreamers" to leave the U.S. "would be against our own self interest as a country," Schwarzman said. He added that he strongly supports dreamers' ability to live in and contribute to the country. 
The businessman said there are certain issues that are clearly either good or bad for America and carry a moral dimension atop just a political one. Having dreamers in this country, Schwarzman said, is good.
As for North Korea, Schwarzman played coy. 
"I wouldn't be buying office buildings in Seoul right now," he quipped.
But Schwarzman got more serious. He said China doesn't want to enter into any kind of war with Pyongyang, partly because China would see an influx of thousands of North Korean citizens fleeing a shooting war. But Schwarzman clarified that this isn't just a China-North Korea issue, rather one that includes Japan, the U.S., Russia and others. 
More of What's Trending on TheStreet:
Hooters Has a Big $1 Million Problem in One of Its Key Overseas Markets