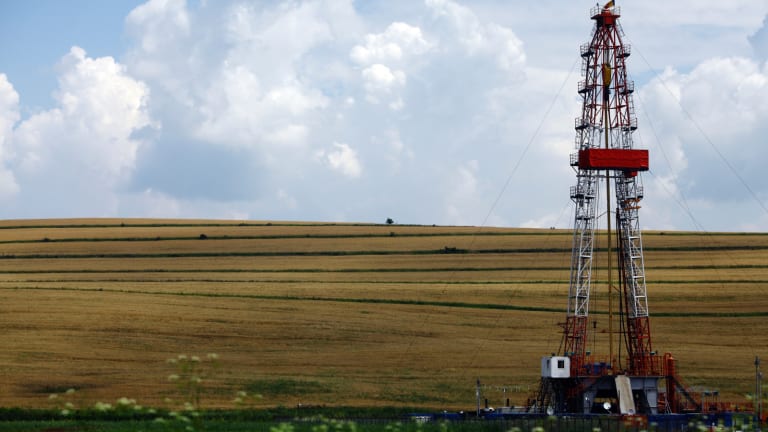 Statoil Falls as EagleFord Charges Result in Losses and Revenues Disappoint
Norway's Statoil posted a loss despite a sharp production increase after disappointing results from its U.S. onshore asset led to a $900 million charge.
Norway's Statoil ASA (STO) got the third-quarter oil reporting season underway in disappointing fashion, posting a third-quarter loss of $500 million on underwhelming revenues of $13.6 billion and following a write-down at its onshore North American operations.
Statoil, which is controlled by the Norwegian state, said Thursday, Oct. 26, that revenues for the quarter were $23.6 billion, up 12% year-on-year due to higher oil prices but below consensus expectations of just over $14 billion. Operating income came in at $2.3 billion, below the company compiled consensus of $2.42 billion.
The weak results pushed shares in the Oslo-listed company down 3.3% to 160.20 kroner ($19.93), leaving their year to date performance in negative territory, down 1.1%.
"Statoil generated weaker cash flow in 3Q vs 2Q at $2.56 billion (pre-working capital), not enough to cover both capex ($2.6 billion) and dividend (assuming 100% cash) this quarter," noted Goldman Sachs analysts.
The company maintained its dividend at $0.2201 per share cash, and offered a 5% discounted scrip dividend option, noting that it planned to end the scrip option from the next quarter.
Statoil's overall operating income, or adjusted earnings, of $2.3 billion was up from $600 million in the same quarter last year, due largely to a rebound in oil and gas prices and a 15% increase in production year-on-year to 2.045 billion barrels of oil equivalent. The figure was the highest quarterly production since 2009 and prompted Statoil to increase its 2017 production guidance by about 6%.
Statoil also cut its capital expenditure guidance by $1 billion to $10 billion.
Profits were wiped out by $800 million in charges headlined by a $900 million charge on Statoil's Eagleford shale assets that was "triggered by lower than expected production." Statoil said it was working on a plan to improve output at the site and that its other onshore U.S. operations were not impacted.
CFO Hans Jakob Hegge had more bad news for investors in a presentation to analysts, announcing that his company had cut its medium-term oil price expectations. Statoil had been tipping oil to hit $75 by 2020, but said that it now didn't expect that mark to be hit until 2022. "Our fundamental oil price review remains the same, we see increasing demand...and believe in an uptick in prices going forward," said Hegge.
Total SA (TOT) , Chevron Corp (CVX) and ExxonMobil Corp. (XOM) are all due to release their third quarter results on Friday, Oct. 27. That flurry of results will be followed on Oct. 31 by BP PLC (BP) and then Royal Dutch Shell PLC undefined Nov. 2.
More of What's Trending on TheStreet: