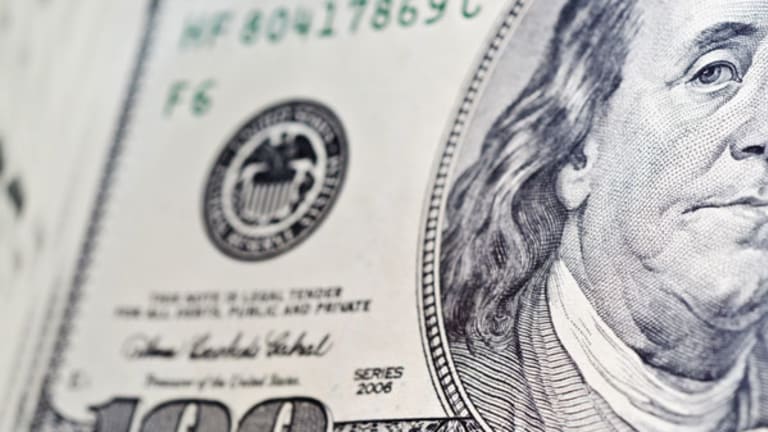 Starbucks' Valuation More Vulnerable Than Its Brand
Starbucks earnings will serve as a referendum on CEO Howard Schultz's growth strategy.
NEW YORK (
) -- For
Starbucks
(SBUX) - Get Starbucks Corporation Report
investors, the company's growth profile represents both the biggest driver of its high valuation -- which presently stands at roughly 29 times trailing earnings -- and a key risk.
After raising prices in key markets in late 2011 and early 2012, Starbucks proved that its high-priced coffee drinks are still providing loyal java customers with their daily fix. However, after Starbucks shares surged to a record high above $60 earlier in 2012, it's less clear whether investors can stay jazzed up about the Seattle-based brewer's premium priced valuation.
Certainty over Starbucks' brand strength and uncertainty over its valuation will likely color the company's fiscal third quarter earnings on July 26, which should reveal key data points on its earnings growth, the impact of commodity costs --Deutsche Bank analysts expect an easing -- and weakened foreign exchange due to the European crisis and a global GDP slowdown. Concerns of a softening global economy already have shaved over 15% from Starbucks share price since hitting a record high in late April and shares have recently been trading in the low $50s.
Analysts estimate that in the third quarter the company's revenue will grow nearly 14% to $3.3 billion, while earnings per share will grow 25% to 45 cents in the quarter, according to
Bloomberg
data.
Starbucks earnings may be most notable, though, as a referendum on investor confidence in the company's future prospects. On one hand, Starbucks is poised to report a double-digit rise in revenue and profit as it harvests past strategic initiatives like the launch of single serve coffee drinks.
At the same time, Schultz is likely to plug his new initiative to expand the company's offerings, pushing headlong into new markets like bakery products and health juices. Long-term investors may want to use earnings to decide whether they believe in Starbucks' ability to execute long-term initiatives that will grow earnings, or whether recent highs are as good as it gets for CEO Schultz, who was recently named "businessperson of the year" by
Fortune Magazine
.
The Monday buyout of specialty roaster
Peets Coffee & Tea
(PEET)
for nearly $1 billion is a deal seen by some analysts as an affirmation of Starbucks' valuation. However, it has been a disappointing earnings season so far for some of the top-performing food and beverage brands.
Chipotle Mexican Grill
(CMG) - Get Chipotle Mexican Grill, Inc. Report
and
McDonalds
(MCD) - Get McDonald's Corporation (MCD) Report
delivered weaker than expected earnings.
Morningstar analyst R.J. Hottovy notes that all eyes will likely be on comparative store sales figures and whether Starbucks joins a list of the food retailers that have underperformed earnings expectations, however, the broader economic story could influence sentiment to the greatest extent. "Macroeconomic concerns are probably going to take the center stage," he says.
Since the financial crisis, the Starbucks story has been marked by strong execution and industry-leading earnings growth, as the company invested in the high-margin packaged goods businesses and single serve Via and K-Cup coffee drinks, which are now a lever of top and bottom line growth.
Now, in talking boldly about relatively small recent deals -- a $100 million June acquisition of bakery
La Boulange
and the $30 million purchase of juices specialist
Evolution Fresh
in late 2011 -- Schultz is dismissing past struggles to grow the nation's largest coffee company, banking on the consumer packaged goods (CPG) venture as a new model to grow shares and store offerings.
Schultz appears to be making two points: he wants to reinforce that Starbucks sells a core differentiated product -- the best coffee that can organically grow in profitability over the years. Second, the company can expand from that core to grow sales without diluting existing offerings or profit margins. In the past, Starbucks has seen diminishing returns from store-led growth initiatives.
With this year's La Boulange bakery deal, Starbucks said it will sell breads in existing stores and expand the California-based chain nationally, at once adding to its in-store food proposition, while growing non-Starbucks branded stores.
The bakery deal is just the latest example of Schultz's comment from November, "
We've cracked the code on growth plans." When buying specialty juice chain Evolution Fresh last year, Schultz said Starbucks will sell new juices in its coffee-selling chains outlets, and by the end of 2012, it will use the deal to introduce a new health and wellness line of stores.
According to
Bloomberg
data, Starbucks trades at an enterprise value that is the third highest premium to one-year trailing and estimated forward earnings figures within the restaurants sector. Only
Dunkin Brands
(DNKN) - Get Dunkin' Brands Group, Inc. Report
and Chipotle trade at higher valuations, the data show.
Investors may be worried that Starbucks is deviating too much from its core competency with simultaneous La Boulange and Evolution Fresh initiatives, notes Hottovy. However, investors have previously predicted that a pullback for Starbucks' valuation and earnings was inevitable, based on disappointment with the CPG model and other initiatives, when in fact Starbucks has remained a growth stock for far-longer than many expected.
"A few years ago, I would have said they are pretty far along in their growth," says Hottovy. "They've really dialed back the clock on that and how big the business can grow," he adds.
Since returning to Starbucks for a second stint as CEO in 2008, Schultz has more than doubled the roasters' shares, while halting its store growth. In the past four years, Starbucks has only added 323 stores as net income has grown to $1.25 billion from $315 million, and revenue has risen over 12%.
"As Starbucks embarks on its new era of growth, we remain cautiously optimistic that SBUX can continue to simultaneously execute its strategy to drive strong
same-store-sales in the U.S., expand internationally, and build a consumer packaged goods business with a critical level of scale," wrote Wells Fargo analyst Bonnie Herzog in a July 20 note to clients.
Herzog calls 2012 "a transitional year" for Starbucks, but says the company is fairly valued given that some growth initiates may cannibalize sales and create more complex operations.
Even those with a critical eye cast on Schultz's growth optimism see reason for his bullishness.
"We believe Starbucks has limited earnings upside potential in its fiscal third quarter given softness in Europe and the impact of the acquisition of La Boulange,"wrote William Blair analyst Sharon Zackfia in a July 16 note to clients. "
We continue to see value in Starbucks shares at 22 times our calendar 2013 estimate," Zackfia wrote in reiterating an outperform rating and expectations of 20%-plus EPS growth. The analyst cautions that Starbucks' 2013 guidance could fall short of expectations for 26% earnings per share growth, but operating margins in the U.S. and Asia may increase 21% and 38.7%, respectively.
Here's another take on Starbucks in a
See
for more on Starbucks.
-- Written by Antoine Gara in New York