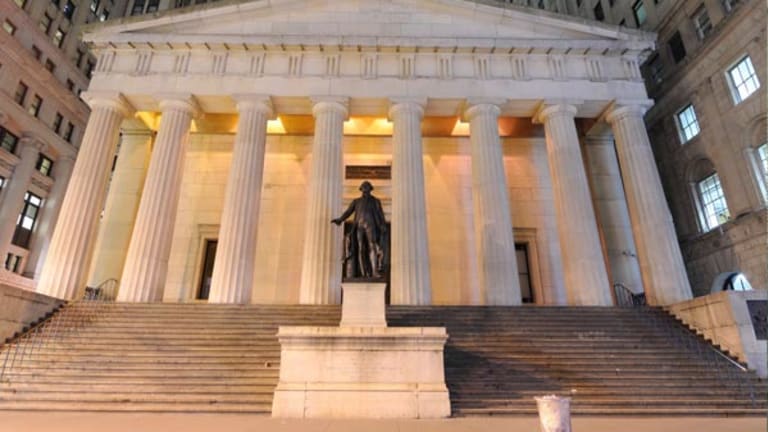 Starbucks Turnaround Surprises -- Now What?
Starbucks' restructuring is over. Now analysts are waiting to see if growth will justify the lofty stock price.
BOSTON (TheStreet) -- Starbucks (SBUX) , left for dead by analysts during the recession, has surprised even its own investors. Starbucks shares have gained 34% so far this year.
The Seattle-based company's fiscal fourth-quarter profit surged 86% to $279 million, or 37 cents a share, as sales grew 17%. The operating margin widened from 9.3% to nearly 13%. Comparable-store sales, the critical metric for restaurant operators, climbed an impressive 8%, boosted by a 5% increase in traffic and a 2% rise in average bill. The company repurchased 4.5 million shares during the quarter and announced a dividend of 15 cents, converting to a 1.7% annual yield and a 41% payout ratio.
Not long ago, Starbucks was being panned by researchers for its overexpansion and strategic mismanagement as java-juniors
Peet's Coffee & Tea
(PEET)
and
Green Mountain Coffee Roasters
(GMCR)
were being hyped on Wall Street.
Now, with its restructuring phase complete -- Starbucks took its final $6.4 million charge for lease-exit and other closure-related costs during the quarter -- the company is back in vogue. The name of the game for Starbucks and many other consumer-oriented brands is international expansion. The middle class is stagnating in the U.S., but newly wealthy citizens in burgeoning overseas economies are transforming into a dominant class of consumers. Starbucks' quarterly international revenue stretched 21%. U.S. sales rose 15%.
Starbucks plans to open 500 net new stores -- net new is equal to openings minus closures -- in fiscal 2011, with 100 net new stores in the U.S. and 400 net new stores abroad, the majority of which will be licensed, not company-operated. Licensing comprised 13% of quarterly revenue, equal to the percentage in the year-earlier quarter. However, international licensing revenue increased 30% from the year-earlier period. The cost and benefit of licensing for Starbucks is fairly obvious: less brand control, but fast sales expansion with high margins.
In accordance with its restructuring, Starbucks has strengthened its balance sheet. Cash and equivalents surged 118% from the year-earlier tally to $1.4 billion. Debt stagnated at $549 million. Starbucks has an ample quick ratio, a measure of liquidity, of one and a conservative debt-to-equity ratio of 0.1. Starbucks shares trade at a forward earnings multiple of 18, 36% less than the hotel, restaurant and leisure industry average. However, a book value multiple of 6.2 and cash flow multiple of 13 are on par with the ratios of comparable investments. So, if you look past the commonly cited earnings multiple, Starbucks shares are pricey.
Nevertheless, sell-side analysts are bullish. Of the 20 covering Starbucks, 11 rate its stock "buy" and the remainder rate it "hold." A median target of $33.62 suggests a 12-month return of 9%. Bullish forecaster
Credit Suisse
expects Starbucks shares to gain 24% to $38.
Sanford Bernstein
predicts that they will appreciate 14% to $35.
Jefferies
, on the other hand, values Starbucks at $30, suggesting its stock is past fair value. Sobering researcher
Barclays
, ranked as the best equity researcher by
Institutional Investor
for seven consecutive years, rates the industry "neutral" and Starbucks "equal weight" with a $30 target.
Barclays lauded Starbucks for its quarterly performance. The company exceeded Wall Street's consensus earnings expectation by 16% and beat its top-line consensus by 2.8%. The stock rallied 3.8% around the earnings announcement.
Still, Barclays cites valuation as a deterrent for investors. Starbucks is trading above its three-year average earnings multiple. Further, the end of a distribution agreement with
Kraft
undefined
and higher commodity prices represent potential headwinds. Still, Barclays believes recent price adjustments should offset elevated commodity costs. It aptly views Starbucks' U.S. business as "maturing," but expects international retail growth as well as opportunities in the single-serve market and in the VIA product to catalyze a re-acceleration of earnings growth in the long-term.
Its "equal weight" ranking stems from near-term concern regarding valuation and longer-term skepticism about the earnings growth rate. Barclays expects long-term EPS growth of 15% in a normalized environment, whereas management, with founder Howard Schultz back at the helm, likely still believes that 20% is an achievable annual target. Interestingly, the dissolution of the partnership with Kraft may, in fact, benefit Starbucks' stock in the intermediate term.
Management hasn't disclosed the terms of termination, but acknowledged that it is required to pay a break-up fee, perhaps at a premium. Barclays notes that it split an estimated $150 million of profit with Kraft, annually, as a result of the agreement. If an internal distribution network is developed, it could be accretive to fiscal 2011 earnings. Also, the board just expanded its share buyback by 10 million shares, nearly doubling the program.
-- Written by Jake Lynch in Boston.
RELATED STORIES:
10 Bargain Dividend Stocks in Cheapest Sector
10 Cheapest Energy Stocks as Oil Spikes
Become a fan of TheStreet on Facebook.
Disclosure: TheStreet's editorial policy prohibits staff editors, reporters and analysts from holding positions in any individual stocks.