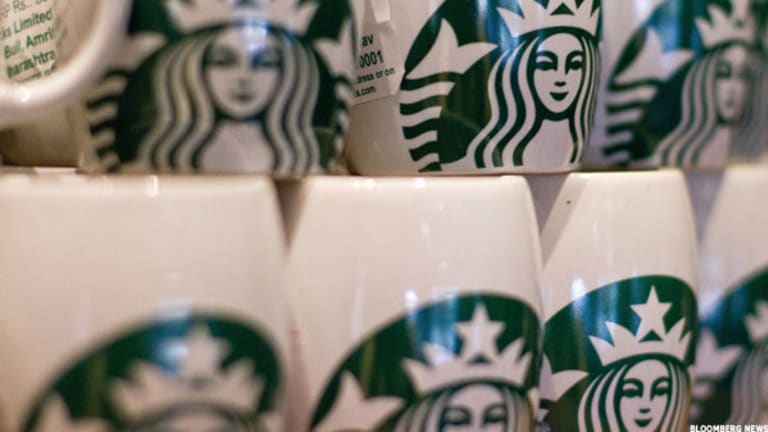 Starbucks, Stick to Coffee and Stay Out of Race Relations
Starbucks trying to force its views on race on customers is too much, too soon and bad for business.
NEW YORK (Real Money) -- Howard Schultz has always viewed Starbucks (SBUX) - Get Free Report as more than just a purveyor of bold, expensive coffee. 
In the founder and CEO's eyes, Starbucks stores are places for people to congregate and grow on a human level; hence, the company led the way by offering free Wi-Fi. It's a place where employees are known as "green aprons," and are offered company-sponsored health care and the ability to get tuition reimbursement.
But the failure of the #RaceTogether combined marketing and social experiment sheds light on the limitations of a publicly traded entity that should simply be focusing on what it does best -- selling overpriced coffee, somewhat tasty fresh food and pre-packaged goods in supermarkets. Oh, and also solve the dilemma of wasteful food packaging.
The company has too much of its shareholder capital tied up in big projects to try and become change agents such as Joel Osteen or Gandhi. Shareholders pay a premium to hold Starbucks shares in part because of the trust Schultz and his stable of smart execs have earned for well over 20 years. Even when not everything is working at Starbucks, or coffee inflation stands to wallop margins, there has always been the sense that Schultz & Co. will triumph and surprise the masses with its quarterly financial statements.
However, I think Starbucks trying to force its views on race on customers is too much, too soon and bad for business. Every negative outcry on Twitter, Snapchat, Facebook or Instagram raises the risk of a lost sale for Starbucks, and a gained sale at Dunkin' Donuts (DNKN) - Get Free Report, Tim Horton's (THI) or the local boutique coffee shop that hates Starbucks. Starbucks employees can't even spell my name on a coffee cup, and now I want a hashtag on the cup so I get made fun of or looked at differently?
What's more, Starbucks can't have any lost sales as it invests materially in expanding the capabilities of its mobile platform, launching a delivery service, adding dinner items and opening fancy new "Reserve" stores around the globe. Starbucks stores shouldn't be a soapbox for its founder. It has to be run through a lens of protecting the brand equity the business has built up through the years. Investors have put their trust in Schultz and Starbucks to do that, but if current-quarter sales in the U.S. take a hit from #RaceTogether some of that trust will be eroded, and the stock could fall.
Sidenotes
I don't see Chipotle Mexican Grill  , which is a very vocal fast-food business, trying to change race relations in America. It serves burritos, rails against McDonald's  and genetically modified organisms (GMOs), and does all of that quite well. That said, I think Chipotle is working on a few things that may make headlines in the not-too-distant future. There is more going on at the company besides profiting from tasty burritos and salad bowls.
The power, and ins and outs, of social media continues to be misinterpreted by major brands such as Starbucks that tend to see their own views in only a positive light. The people spoke loudly in this case and told Starbucks to shut up and just serve them coffee.
What to Watch Today: Retail
The Telsey Advisory Group conference in retail (a pretty big one) kicks off today, with all sorts of company presentations, from Macy's (M) - Get Free Report to Domino's Pizza (DPZ) - Get Free Report. I will be listening specifically to the webcasts from Macy's and Domino's, which begin around 8:00 a.m. EDT.
Here are some things I am listening for, besides comments on Apple Watch availability (possibly at Macy's Herald Square) and how companies are going to target the watch's early adopters:
Is Nike under attack from Under Armour and Adidas? Something got lost in Nike's  (NKE) - Get Free Reportearnings release last week -- sales in its core running shoes, the non-flashy stuff, were weak in the quarter. Under Armour (UA) - Get Free Report and Adidas are making some nice inroads into running sneakers, with a host of cool-looking, affordable versions hitting this spring. I think Macy's could/should provide some insight into the footwear business -- rumor has it that it is starting to roll out snazzy Nike shops inside of its stores.
Invest in retailers that are reinventing themselves. I talked at length with Foot Locker's (FL) - Get Free Report new CEO Dick Johnson last week. This company is about to completely overhaul the look of its stores -- Foot Locker, Champs, Footaction. More apparel, cool-looking fixtures. More shops inside from Puma and Nike. Also, Lady Foot Locker is being phased out, replaced by a new concept called SIX:02, which is more upscale and takes on Lululemon Athletica (LULU) - Get Free Report, which reports earnings this Thursday. I am using the insight I learned from Foot Locker as a benchmark for what other great retailers should now be doing: reinventing themselves to thrive in a digital shopping era.
Editor's Note: This article was originally published at 11 a.m. EDT on Real Money on March 24.
This article is commentary by an independent contributor. At the time of publication, the author held no positions in the stocks mentioned.