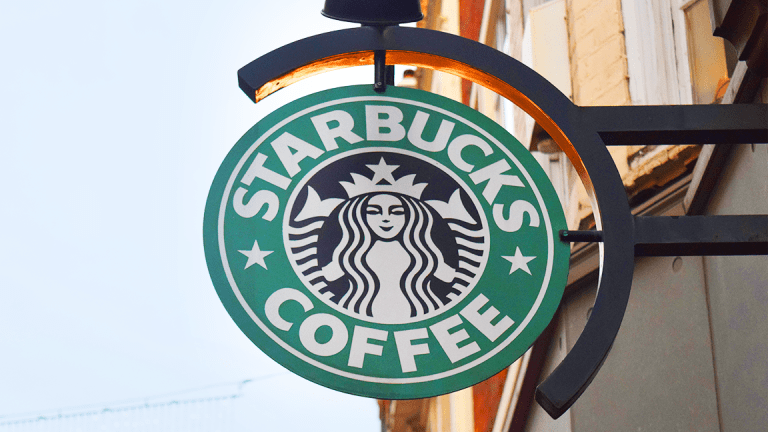 Starbucks Sets Latest Plan to Recaffeinate Shares
CEO Kevin Johnson cited slowing growth and the its crisis stemming from a store in Philadelphia as recent problems.
CEO Kevin Johnson cited slowing growth and the its crisis stemming from a store in Philadelphia as recent problems.
Starbucks Corp. (SBUX) - Get Report is aiming for a growth spurt after a dicey quarter. Can it deliver?
The coffee giant says global same-store sales slowed during the most recent quarter to growth of 1%, from a 2% growth rate in the previous quarter. Sales may have dipped after an episode last month in which two black men were arrested at a Philadelphia store, which led to a backlash from customers, apologies from the company and a half-day of anti-bias training at the company's 8,000 Starbucks-owned stores in the U.S.
In an apparent attempt to reset the company after sluggish growth and the publicity crisis, the coffee chain announced on Tuesday, June 19, what it characterized as an attempt to regain revenue and earnings momentum including pushing for growth both in the U.S. and China, which the company has cited as its long-term growth markets; growing the global reach of the brand through the Global Coffee Alliance; and upping shareholder returns.
That team, though, has its work cut out for it. Shares are down about 5% year to date, and the company has missed consensus expectations for revenue in seven of the past 10 quarters. Shares on Tuesday closed up slightly at $57.43.
The company said it will begin going into "unpenetrated" markets in 2019, such as in the southern U.S.,  slow license store growth and shut down some 150 company-owned stores that are performing poorly.
Starbucks is working on completing its Global Coffee Alliance transaction with Swiss-based Nestlé SA, the world's largest food and beverage company, in which Nestle will pay Starbucks $7.15 billion in cash for exclusive rights to sell the U.S. chain's packaged coffees and teas around the world. The deal was announced last month.
Next year, Starbucks will also increase its program of what are called "stars" making it available to all customers who use their debit or credit cards to buy at the stores. Through the system, all customers can earn credits toward other purchases, and Starbucks Rewards members earn greater benefits. Since April, the company said it has added 5 million new digitally registered customers.
The company also plans to return some $25 billion in cash to shareholders in  share buybacks and dividends through 2020, a $10 billion increase from the cash return target announced on November 2, 2017. In addition, the board approved a 20% increase in the regular dividend and declared a cash dividend of $0.36 per share payable on August 24, 2018, to shareholders of record as of August 9, 2018.
"While certain demand headwinds are transitory, and some of our cost increases are appropriate investments for the future, our recent performance does not reflect the potential of our exceptional brand and is not acceptable," said Kevin Johnson, Starbucks president and CEO in a press release.