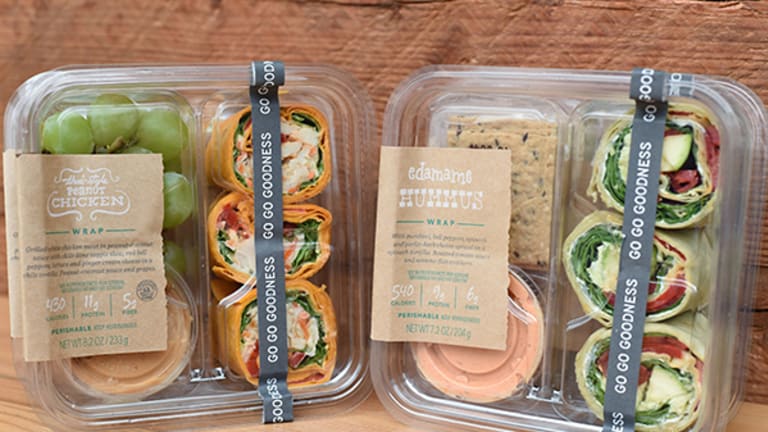 Starbucks' Latest Push Has Nothing to Do With Coffee
Food is becoming increasingly important to coffee giant Starbucks. On Tuesday, the company introduced two new wraps, and may have more food on the way.
NEW YORK (TheStreet) -- Starbucks (SBUX) - Get Report may be best known for its strong coffee and sugary iced frappucinos, but it also wants to become a go-to destination for a waistline-friendly lunch. The company has set a target of doubling its food sales over the next five years. 
As part of that goal, on Tuesday, Seattle-based Starbucks will start selling two new wraps in some 6,000 U.S. stores that have fresh deliveries. In development for roughly six to nine months and tested in certain markets in January, the new edamame hummus wrap and thai-style peanut chicken wrap play into Starbucks' focus of offering unique food with a healthy, and sometimes indulgent, bent.
"We thought we would do something that was a little bit different, a little bit less carbs, trying to lean into different dietary needs that people have," said Clarice Turner, Starbucks senior vice president of food. Starbucks will mostly rely on its enthusiastic baristas to get the word out to customers about the new wraps, but it is also planning a couple of promotions that will pop up on its popular mobile app to drive awareness.
As for why the coffee giant is choosing to sell cold wraps with Middle Eastern flavors as opposed to simply ones with deli meat or more hot panninis, Turner said, "we usually start with feedback from our customers, [and] the message came through loud and clear that they are looking for delicious, convenient options that have a range from healthy to indulgent."
The new lunch-friendly offerings come about a month after Starbucks started selling a double-smoked bacon, cheddar and egg breakfast sandwich. But the company hasn't forgotten it's best-known for its drinks. According to Reuters, Starbucks will debut a smoothie line at more than 4,300 U.S. stores as part of a Greek yogurt partnership with Danone (DANOY) . 
Starbucks' foray into Greek yogurt smoothies puts it further in direct competition with Dunkin' Donuts (DNKN) - Get Report. Ahead of the start to summer, Dunkin plans to introduce blender-made fruit smoothies with yogurt, in two flavors -- strawberry banana and tropical mango. 
Starbucks doesn't disclose how much of its total sales food now represents, but it's clearly becoming an important growth driver for the company.
For the fourth consecutive quarter, food sales contributed a significant 2 percentage points to Starbucks' same-store sales growth in its Americas division. Overall same-store sales rose 5% in the Americas in the first quarter. Sales of breakfast sandwiches increased 29%, supported by holiday limited-time food offers, while sales of lunch offerings rose 15% in the quarter, driven by new warm sandwiches.
Turner noted Starbucks' food sales are growing by 15% annually, also spurred by the introduction of its evening menu several years ago. Starbucks shares have risen 16% this year, easily outpacing the Dow Jones Industrial Average I:DJI and S&P 500 I:GSPC, as investors value the business as a company that can now attract customers all day long.
And those hungry investors should expect no let up by Starbucks in its food ambitions. "We are on quite a journey ... across all dayparts," said Turner. "So every time you come into Starbucks there will be something very tempting and satiating for you no matter the time of the day it is."
This article is commentary by an independent contributor. At the time of publication, the author held no positions in the stocks mentioned.