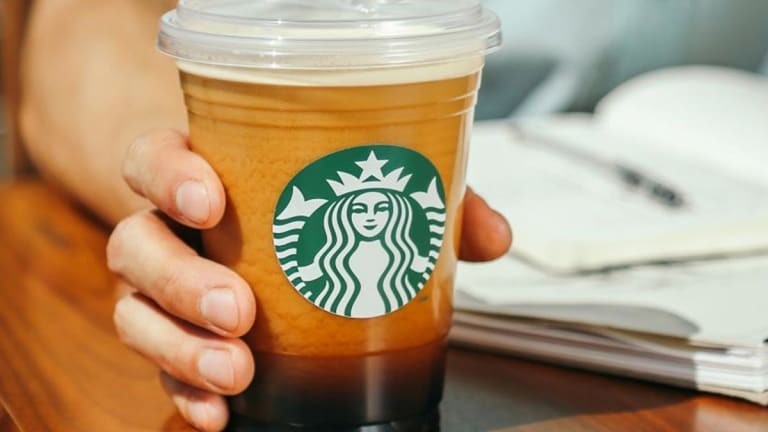 Starbucks Earnings Reveal a Company in Transition
Same-store sales in China, a coveted region for the company, were down 2% in the latest period.
Tough quarter.
Shares of Starbucks Corp. (SBUX) - Get Starbucks Corporation Report   were up slightly in after-hours trading following the company's second-quarter 2018 earnings release on Thursday, July 26.
Revenue rose 11.5% to $6.3 billion vs. $5.6 billion, beating the Street's expectation of $6.25 billion; operating income was down 0.6%, $1.03 billion vs. $1.04 billion last year; earnings adjusted for one-time items were 62 cents a share, slightly ahead of estimates of 61 cents.
The company also lowered its guidance for global same-store sales growth for the year to 3% to 5%. For the fourth quarter, it lowered global same store sales to 3% to 5%. Also lowered is GAAP earnings per share in the range of $3.26 to $3.28 and non-GAAP EPS from $2.40 to $2.42.
The coffee maker showed modest comparable store sales globally of 1%, (0.9% expected) and a 1% decrease in China Asia-Pacific and a 2% decrease in China, which is one of the company's key markets.
Starbucks said in a press release that it had added 1.9 million active members to Starbucks Rewards, its loyalty program, in the U.S. this year, a 14% increase year over year.
In a note on Tuesday, July 24, BMO Capital Markets analyst Andrew Strelzik, lowered its price target for the company to $51, due to the "cannibalization" of sales by stores located too close to each other, suggesting a continued risk to its growth targets.
In June the company announced plans to close 150 stores.
Year over year, the shares have ranged from $47.37 to $61.94.
Starbucks sales may have suffered after an episode in May in which two customers who were black were arrested at a Philadelphia store. The backlash forced the company to offer apologies and close all of its 8,000  company-owned stores in the U.S. for a half-day of anti-bias training. 
Another possible knock was the retirement of Howard Schultz, the face of Starbucks and its biggest cheerleader, who stepped down from his executive chair role earlier this year. 
And on Thursday, a setback for the company. The Supreme Court of California ruled against the company in Douglas Troester v. Starbucks Corp. The court ruled that small time periods worked by employees must be compensated by their employers, a divergence from federal law. Troester, an ex-employer, claimed he wasn't compensated by Starbucks for all the work he did.