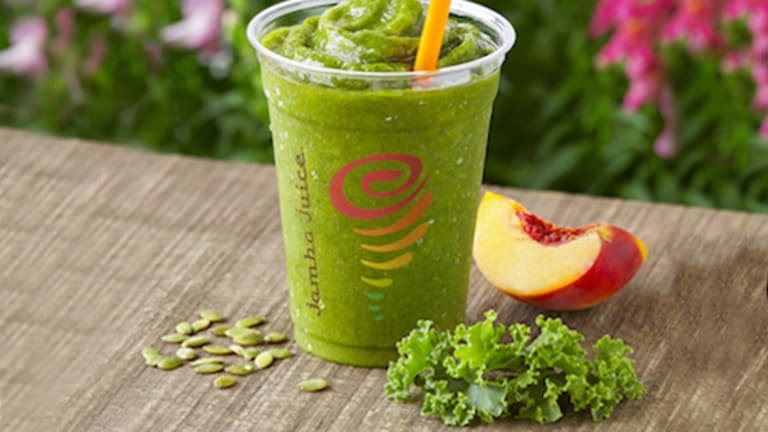 Starbucks, Dunkin' Donuts, and Jamba Juice All Want to Sell You This Pricey Drink
This spring, some of the world's largest fast-food companies are taking aim at the red-hot smoothie market. But their success is far from guaranteed.
This spring, some of the world's largest fast-food companies are taking aim at the red-hot smoothie market. But their success is far from guaranteed.
NEW YORK (TheStreet) -- Fast-food giants offering healthier menu options are all the rage, and one item that many of the biggest names in the industry are now targeting to juice sales is the ice-cold, yogurt-based real fruit smoothie.
Dealing with price competition on their mainstay hot and iced-coffee beverages, Starbucks (SBUX) - Get Report and Dunkin' Brands' (DNKN) - Get ReportDunkin' Donuts unit are trying to attract people this spring that want their fruity, nutrient-packed breakfast in a plastic cup and are willing to pay for that delectable delight.
On March 31, Starbucks launched three new smoothie flavor options at 4,300 stores along the West Coast and at select Target (TGT) - Get Report, Albertson's, Safeway (SWY) and Kroger (KR) - Get Report stores. The smoothies are made with thick and tangy Greek yogurt and real fruit (kale is optional) and are in partnership with yogurt giant Dannon and Starbucks' Evolution Fresh juice brand.
According to Starbucks, in tests of the smoothies a year before to their broader rollout in March, customers asked baristas to load the cups up with a scoop of whey protein or additional fruits such as blueberries, enhancing the final sales price and likely the locations' same-store sales.
JimCramer's charitable trustAction Alerts PLUS owns Starbucks and recently reaffirmed his faith in the stock. Read his analysishere.
Dunkin' Donuts one-upped Starbucks by announcing the rollout of blender-made, low-fat yogurt smoothies in February. The company, with its vast array of glazed donuts and sugary Coolatta iced coffee drinks, began selling two types of smoothies -- strawberry banana and tropical mango -- at certain stores in the Northeast. The smoothies will be available at more locations as the year progresses.
Both Starbucks and Dunkin' Donuts are seeking a portion of a smoothie market valued at some $2.2 billion annually and growing by about 3% per year, according to the latest data by research firm IBISWorld. But the heavyweights in the coffee and pastry industry will have to confront several smaller yet prominent names in the smoothie business whose sole focus is selling concoctions that feature avocado and kale, cold-pressed juices using actual whole veggies and, increasingly, eclectic food items.
Based on the diverse menus at some of the smoothie industry's all-stars, Starbucks and Dunkin' Donuts may have difficulties carving out a significant market share early on.
One of the companies preparing to take on the smoothie onslaught from fast food giants is Georgia-based Tropical Smoothie, which finished 2014 with 400 stores nationwide. In 2014, the company notched a healthy 11.4% same-store sales increase. The smoothie chain will exceed 500 locations this year, and has plans to reach 800 total by 2018, predominantly through franchising.
On Monday, Tropical Smoothie will begin implementing a refreshed menu at its restaurants, one where artisan tacos and a smoothie with berries and granola become permanent options to consumers after successful responses to limited-time offers. Furthermore, the company will debut two new smoothies in the next few weeks that Starbucks or Dunkin' Donuts are unlikely to be able to make anytime soon: cucumber mojito and watermelon mojito. Both are made real fruit as opposed to artificially-flavored syrups.
"When people come into the smoothie world, what you'll see is the best they can do are basic flavors like strawberry banana", said Tropical Smoothie CEO Mike Rotondo, adding that such basic flavors are "from five years ago; strawberry banana just doesn't do it for people anymore."
Rotundo's comments have some validity.
Since McDonald's (MCD) - Get Report launched its McCafe line of smoothies in July 2010, the struggling burger giant has failed to add any new flavors to capitalize on consumer demand for the product. The Golden Arches continues to offer only three flavors: blueberry pomegranate, strawberry banana and mango pineapple. And all three smoothies are not made from real blended fruit as they are at Tropical Smoothie, Starbucks and Dunkin' Donuts. Instead, they are made from "smoothie bases" that include blueberry puree, pineapple juice concentrate, apple juice concentrate and artificial flavors.
Representatives at McDonald's could not be reached for comment on the company's plans for the smoothie category going forward.
Meanwhile, Tropical Smoothie's larger rival, Jamba Juice (JMBA) - Get Report, has come off a strong year for new product releases and sales growth. Shares of Jamba Juice have surged 46% in the past year, as same-store sales increased by a healthy 4.9% in the fourth quarter.
Jamba Juice has spent the past year trying to protect its core business by introducing "energy bowls," which are Greek yogurt-based bowls with granola and fresh fruit. It has also brought cold-pressed juices, featuring the use of kale bunches to whole carrots, to more than 300 stores in California and New York City.
Cold pressing juice via new machines has allowed Jamba Juice to start selling pre-packaged juice in refrigerated coolers. Cold-pressed juice sales alone rose 7% in the fourth quarter, and now represent about 13.7% of total sales. In addition to unlocking a new revenue stream, prepackaged juice has helped to alleviate operational bottlenecks caused by strong demand of more complicated beverages.
Jamba Juice could not be reached for comment on this story.
With spring just about in full swing, TheStreet takes a look at the newest smoothie flavors from the main publicly traded companies in the business.
1. Starbucks
Flavors: Sweet greens, strawberry and mango carrot (kale and protein added by request)
Price: $3 to $7 depending on size and store location
Calories: 170-230 calories for a 16 oz. serving
Launch date: March 31, 2015
Availability: Starbucks stores in Washington, Oregon, Alaska, and northern California
2. Dunkin' Donuts
Flavors: Strawberry banana; tropical mango
Price: $3 to $4.99 depending on store location
Calories: 260 calories for a 16 oz. serving
Launch date: Beginning of February 2015
Availability: Dunkin' Donuts stores in the Northeast initially, gradual rollout nationwide thereafter
3. Jamba Juice
Flavors: Amazing greens (kale, lemon, peach juice, peaches, bananas and pumpkin seeds); greens and ginger (mangos, peaches, kale, lemon, and ginger puree)
Price: $4 to $6
Calories: 330 to 430 calories for a 16 oz. serving
Launch date: Jan. 22, 2015
Availability: Participating Jamba Juice locations nationwide
This article is commentary by an independent contributor. At the time of publication, the author held no positions in the stocks mentioned.