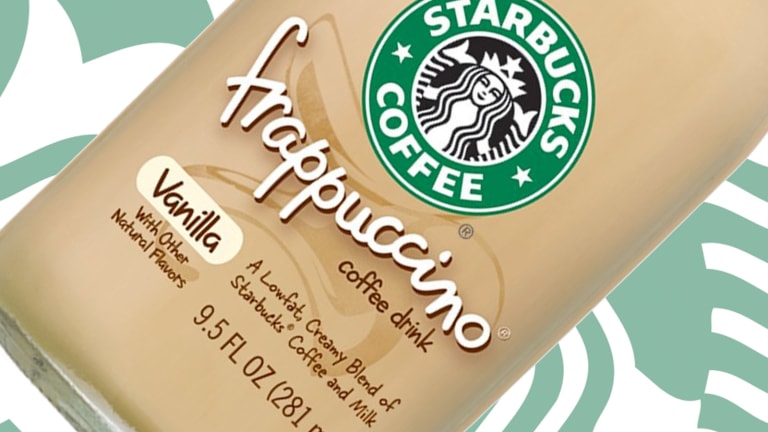 Starbucks Doesn't Want You to Just Spend Money at Its Stores
The coffee giant wants to sell more products in grocery stores in the U.S. around the globe. Here is how it's hoping to achieve that goal.
NEW YORK (The Street) -- There's more to the success of Starbucks (SBUX) - Get Starbucks Corporation Report than just the extra-large iced frappucinosbaristas make at its spiffy stores.
Although arguably a less sexy business, selling Starbucks bagged coffee, bottled fraps and K-Cups at grocery stores is a huge opportunity ripe for the coffee king to exploit even more.
Starbucks' channel development segment, which houses its growing consumer's products businesses, represents about 8% of the company's total revenue. In the 2014 fiscal year ended in September, the segment's sales rose 11%, matching the company's overall revenue growth. But the group's operating profits surged 34.5% compared to an 18.9% increase for the company as a whole.
At an investor day in December, execs stated some lofty five-year financial goals for the business, headlined by revenue growth of 60% and a near doubling of operating income. Reaching those targets will depend on executing several efforts in the U.S. and abroad. 
"Part of it is us trying to make coffee more exciting and interesting to explore," acknowledged Michael Conway, president of Starbucks Global Channel Development, in an interview with TheStreet.
Luckily for Starbucks, it already has a captive audience of daily caffeine junkies. According to the company's research, people spend about 67 seconds standing in front of the coffee section at their grocery deciding what flavor or roast to buy. Starbucks wants to make sure consumers choose its products over bagged ground coffee from the likes of Dunkin Donuts (DNKN) - Get Dunkin' Brands Group, Inc. Report or McDonald's (MCD) - Get McDonald's Corporation (MCD) Report.
In 2013, Starbucks unveiled what it refers to as its "signature aisle," pictured below.

The aisle, which takes design cues from Starbucks retail stores, is now present in 500 grocery stores at early adopting grocery chains Safeway (SWY) and Kroger (KR) - Get Kroger Co. (KR) Report, up from 250 a year ago. More partnerships for the jazzed-up aisles are likely to arrive soon. "Now that we've proven that it works, as fast as Safeway and Kroger are remodeling stores, they are putting in a signature aisle as a real anchor," Conway says, adding that "we are in conversations with a lot of other retailers on how we can bring it to them."
Eventually, the signature aisle may even feature some form of virtual barista that guides customers on what products to buy.
"We did play around with an interactive display to help you understand the roast spectrum and educate you, but it wasn't the best execution out of the gate," acknowledged Conway.
Starbucks could also experiment with technology that would identify when a person is standing in front of its signature aisle trying to figure out whether to buy ground or whole bean coffee, or perhaps instant Via. An alert could be triggered using Apple's (AAPL) - Get Apple Inc. (AAPL) Report iBeacon technology, perhaps offering a customer a deal at a Starbucks retail store for buying a bag of bagged Starbucks coffee. Starbucks could even make the deal available for a limited period of time to create a sense of urgency on the part of the shopper.
And flash sales for bagged coffee? Sure, why not?
But these snazzy-looking aisles first need to be stocked with interesting products that tempt consumers and make them part with their dollars.
Although Starbucks' is unlikely to take its baked goods brand La Boulange and start selling egg white, turkey bacon sandwiches at Wal-Mart (WMT) - Get Walmart Inc. Report stores anytime soon, Conway is confident in the product pipeline for the consumer products division. "Part of the opportunity for us in channel development is to take advantage of what's in our cafes and bring it down the aisle -- our focus to date has been around coffee, (but) now we have Evolution Fresh (juices), and we've got Teavana where we're trying to figure out what it may mean to us," said Conway.
Starbucks acquired Teavana for $620 million in 2012, and one thing it could start to sell is bottled teas similar to Starbucks frappucino drinks sold at grocery stores. The early flavors could be based on top-selling loose leaf teas found at Teavana's mall stores, or popular drinks sold at the brand's more recent tea bar format.  
Then there are the K-Cups that have overtaken grocery store coffee aisles in recent years. With sales of home brewing equipment slowing, Starbucks has introduced multiple new K-Cup variations to maintain its sales strength in the category, such as hot cocoa and lightly sweetened iced coffee. In fiscal year 2014, sales of Starbucks K-Cups comprised about 76% of the channel development segment's total sales increase of $147 million . Starbucks shipped a whopping 750 million K-Cups during 2014, and expects to reach the 1 billion mark this year.
Going forward, Starbucks is likely to "premiumize" K-Cups in two ways. 
The first is by creating more exotic, single origin blends. "People are looking for more premium experiences, and are starting to understand that not all coffee is the same," said Conway. Another is by introducing unique flavors found in Starbucks retail stores -- for instance the s'mores option that recently became available. Continuing to innovate in K-Cups is critical for Starbucks as nemesis Dunkin Donuts enters the category in grocery stores for the first time this spring.
After striking a deal in February, Dunkin Donuts estimated that K-Cups could eventually be found in 67,000 U.S. retail outlets, as well on retailers' web stores.
Conway also hinted products sold internationally could appear in the U.S. For example, there is a frappucino-like drink in Japan called Sakura (cherry blossom) that is "doing very well" and could potentially be sold in a glass bottle at retail. "Everyone that has tasted it here thinks it's fabulous," mentioned Conway.
And the opportunity exists to sell more packaged products in grocery stores abroad, though this may take a little longer to develop as buying Starbucks products remains a luxury for many consumers in emerging markets such as China and India. Furthermore, in many international markets the appetite for bagged coffee is less developed, as instant coffee is preferred by many.
"We're really going to start with the ready-to-drink products you see here in the U.S. -- the bottled frap does well for us in international markets," noted Conway. In March, Starbucks inked a deal with Chinese food and beverage producer Tingyi Holding Corp. to manufacture and expand the distribution of ready to drink products throughout mainland China. Today, Chinese consumers can purchase Starbucks' bottled frappucinos in nearly 6,000 mainland locations; in 2016, the companies plan to work together to bring new products to market.
Starbucks is also seeing success overseas with its canned doubleshot espresso product, which according to Conway is a "good seller."
This article is commentary by an independent contributor. At the time of publication, the author held no positions in the stocks mentioned.