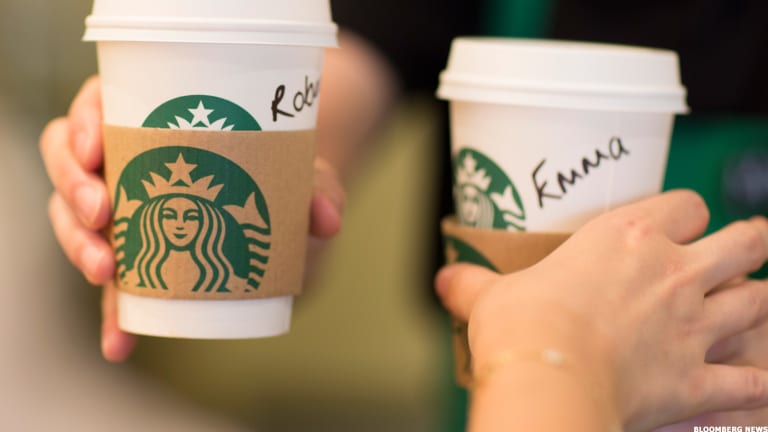 Updated to include information from a McDonald's franchisee and spokesperson.
NEW YORK (TheStreet) -- U.S. consumers will have to dig a little deeper into their pockets to pay for their regular latte, burger or burrito. 
Burdened by higher minimum wages that went into effect nationwide in January, rising health care costs and nagging food inflation, major restaurant chains are opting to pass along some of those costs to their diners.
On Monday, Starbucks (SBUX) - Get Starbucks Corporation Report said it will lift prices nationwide by about 1%. The coffee brewer faces rising costs to open new stores globally, provide employee health care and fund its new tuition reimbursement program.
The cost of most affected drinks will increase somewhere between a nickel and 20 cents, according to the company. A large brewed coffee would increase 10 cents to about $2.45 in most U.S. stores, and the company's new "mini" iced frappucino, which is a mere 10 ounces, will go from about $3.40 to about $3.60.
The Seattle-based coffee chain's price increase comes in spite of Arabica coffee bean prices plunging roughly 43% since hitting a five-year high in October last year, per Bloomberg data. Pricier drinks also arrive several weeks before the end of Starbucks' quarter, a maneuver that could help to pad second-quarter profits and bolster a stock price that has surged 33% year to date.
In the first quarter, McDonald's (MCD) - Get McDonald's Corporation (MCD) Report implemented a price increase to counter beef inflation and higher minimum wages, especially the lofty hikes imposed in California. The Golden Arches' pricing in the U.S. rose 2% year over year in the first quarter, which was still less than the Consumer Price Index's overall "food away from home" inflation measure of 3%. McDonald's uses this CPI measure to benchmark its menu prices.
According to one McDonald's franchisee that owns several locations in New York City, the cost of a Big Mac and medium fries at his stores has increased about 5% from $5.98 a year ago to $6.28 currently. A spokeswoman for McDonald's said there have been no national pricing initiatives of late, and that menu pricing is determined by individual franchisees.
TheStreet takes a look at three other big restaurant chains preparing to boost prices.
1. Chipotle
The popular burrito chain is preparing a nationwide price increase of 4% to 6% to go into effect by the end of the third quarter. Chipotle's (CMG) - Get Chipotle Mexican Grill, Inc. Report price increase will mostly be targeted to steak and barbacoa items on the menu. Chipotle has said the increase will offset price inflation for its responsibly raised beef, as well as for avocados from California that become more in demand during the warm summer months.
"We're just not charging the going rate -- we actually lose money anytime somebody comes in thinking about getting chicken and instead gets steak, for example -- so we'd like to fix that," said Chipotle CFO Jeff Hartung on the company's first-quarter earnings call on April 21.
Meanwhile, food isn't the only thing taking a bite out of Chipotle's bottom line. In January, the company began to offer medical coverage to its full-time hourly employees. Over 10,000 hourly employees were eligible for medical coverage based on service length and actual hours worked.As of February, 1,000 of those employees had enrolled for coverage, and Chipotle expects more workers will be added each month as employees reach the required service time.
The company estimates that the added medical coverage will cost the company $4 million to $8 million this year.
2. Buffalo Wild Wings
At wing and beer destination Buffalo Wild Wings (BWLD) , the signature wings have been under siege from skyrocketing costs, in part due to decreased supply as more restaurants add wings to their menus. Buffalo Wild Wings expects the price of wings to rise 25% in the second quarter, following a 41% spike in the first quarter.
Wing price inflation stands to abate later in the year, as the company's new supply arrangement for its wings moderates price volatility. But increases are still looming.
Buffalo Wild Wings pushed through a 3.8% menu price increase in the second quarter and plans to raise prices 3.5% in the third quarter and another 2% in the fourth quarter.
However, prices in the fourth quarter could end up jumping more than 2%, because the company is implementing a "refreshed" menu in October. The refresh consists of efforts to keep the design of the menu visually appealing, and to introduce some new products. The cost to develop the new items and market them to customers will likely trigger price increases north of 2%.
3. Olive Garden
As it tries to win over customers with a new menu at Olive Garden, Darden (DRI) - Get Darden Restaurants, Inc. Report will ask its diners to fork over a little more to compensate for higher costs for wages and ingredients like beef. Darden expects overall inflation of 1.5% to 2% this year, with commodity price inflation of 0.5% to 1%. Wage inflation for the company is pegged in the range of 2% to 3%.   
On the company's June 23 earnings call, the company projected that it will price its food at the "low end of the overall inflation range," which suggests a price increase this year of at least 1.5%.