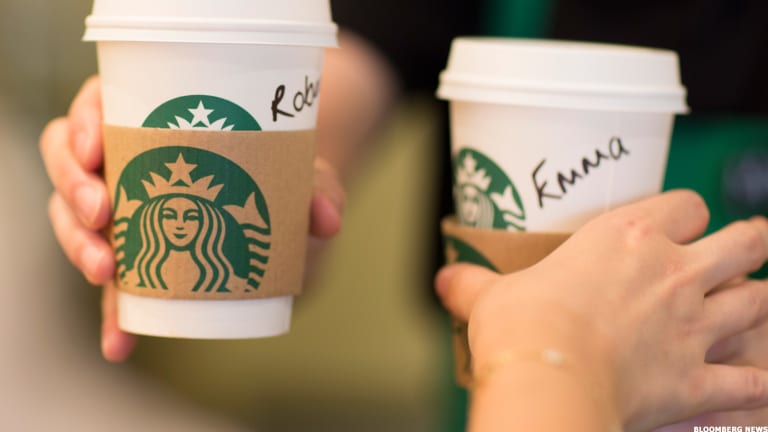 Starbucks Aims to Create a Valuable New 'Currency' for Customers
For the first time, customers of other companies will be able to earn free drinks and food via Starbucks' rewards program.
NEW YORK ( TheStreet) -- It may not be as sexy as bitcoin, but Starbucks (SBUX)  is trying to create a valuable new currency for its customers and potential customers.
The coffee giant has been giving a big push lately to its "My Starbucks Rewards" program in which customers earn "stars" for purchases that can be redeemed for drinks and food. It recently announced a deal with Spotify in which users of the popular music-streaming service can also earn stars.
"'Stars as Currency' came to life because we wanted to create a loyalty program that has real relevancy to customers," said Starbucks chairman and CEO Howard Schultz Wednesday at the Bernstein Strategic Decisions Conference, referring to the initiative to open up the rewards program to other companies. "Over the next 12 to 18 months, I suspect we will be announcing a number of partnerships that will be emblematic of the deal struck with Spotify."
Exclusive Look Inside:
You see Jim Cramer on TV. Now, see where he invests his money and why Starbucks is a core holding of his multi-million dollar portfolio. Want to be alerted before Jim Cramer buys or sells SBUX? Learn more now.
Starbucks first introduced My Starbucks Rewards back in December 2009, but increased adoption of smartphones and usage of Starbucks' mobile app has made the program easier to use. Customers earn stars when they pay for items at a store with the company's mobile app or a registered Starbucks, Teavana or La Boulange card, or purchase specially marked products, such as bagged coffee, at grocery stores.
The rewards program currently has 10 million members, having added 1.3 million new members in the second quarter. About 6 million of those members make enough purchases to qualify for "Gold" status, which entitles them to additional rewards.
Starbucks' multi-year deal with Spotify marks the first time customers of an outside company will be able to earn Starbucks rewards. As part of the deal, Starbucks' 150,000 employees in the U.S. will receive Spotify Premium subscriptions and be able to shape the music being played at their stores. My Starbucks Rewards members will also have the opportunity to influence in-store music choices.
For Starbucks, the deal will help it to tap into loyal subscribers to the music service, who are likely a more affluent group that sees real value in amassing rewards points for drinks and food. The same could be true of similar deals Starbucks may ink in the future, allowing rewards to be earned for, say, rides in an Uber car or rentals of eco-friendly Zipcars.
As for Spotify and other future partners, Starbucks could help them retain customers based on the allure of collecting reward points for free drinks and food at Starbucks. Schultz said Spotify will be paying wholesale prices for stars it issues to its users, but the real value will come from getting Spotify users to sign up for the rewards program and become frequent Starbucks customers.  
The "Stars as Currency" program is part of Schultz' larger goal of staying one step ahead of its competitors. "We as business people have to see around corners, and be aggressive as hell," said Schultz.
As for what else Schultz is seeing around those corners besides more uses for a new currency? Try more locations of the high-end "Reserve Roastery & Tasting Rooms", such as the 15,000 square-foot space opened last year in Seattle. In addition to selling food, the location roasts using huge machines its own premium blend called "Reserve," which is then shipped to other Starbucks locations. 
No dates were provided on the timing of additional sites, but the performance of the original location was described by Schultz as being "on fire."
This article is commentary by an independent contributor. At the time of publication, the author held no positions in the stocks mentioned.