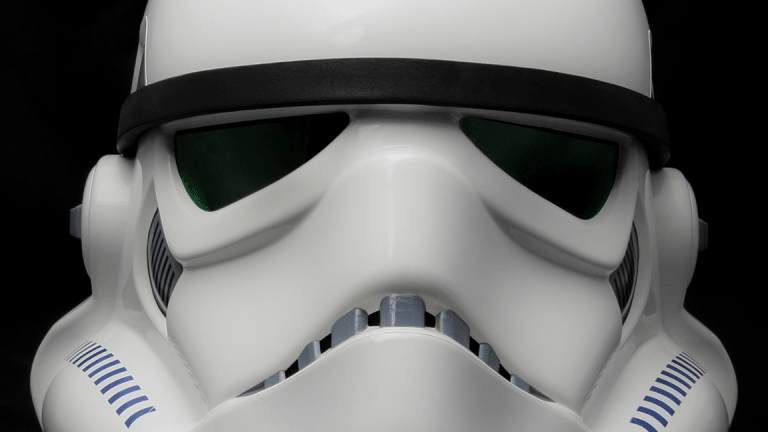 Star Wars 'The Last Jedi': 5 Ways to Invest in This Movie Blockbuster
"Star Wars: The Last Jedi" will probably lift some stocks. TheStreet runs down which names to trade off the blockbuster movie release from Disney.
"Star Wars: The Last Jedi" will probably lift some stocks. TheStreet runs down which names to trade off the blockbuster movie release from Disney.
In what's become an annual holiday tradition, Disney's (DIS) - Get Report released the latest installment from the Stars Wars franchise. No doubt "Star Wars: The Last Jedi" will be playing to packed houses throughout the world for weeks to come, and will continue to generate revenue for months as it races toward becoming another billion-dollar box office draw. Possibly the biggest draw of any movie in history. The question becomes: will box office success from Star Wars translate to stock market success for Disney? And if not for Disney, then for whom?
While we don't have a ton of data to draw from in terms of recent Star Wars movies, we do have one, released this same time each of the past two years. What I've graphed is the one, three, and six-month performance, for not only Disney but other stocks possibly impacted as well. They include Netflix (NFLX) - Get Report , Hasbro (HAS) - Get Report , Mattel (MAT) - Get Report , Time Warner (TWX) , Cinemark (CNK) - Get Report , and IMAX (IMAX) - Get Report . I've also included the S&P 500 (SPY) - Get Report , Nasdaq 100 (QQQ) - Get Report and Russell 2000 (IWM) - Get Report . The reason is simply to rule out major market moves, or, at least, consider them. If a stock jumped 10%, but all three big indexes were up 12%, it would be difficult to conclude the movie had any impact.
Based on the 2015 release "The Force Awakens", a blockbuster hit, Disney experienced no noticeable benefit from the film. In fact, it was one of the bottom three performers on all three scales. The one-month could be due to overall market weakness, but if the movie is going to help, then one would expect it might do so initially. Hasbro and Time Warner were the early winners and continued for six months, while Mattel and Cinemark did well after the first month. Still, this is only a single sample.
Moving on to "Rogue One", released last year, and another colossal hit, again Disney saw little benefit in the first month. The stock did outperform a bit, returning 3.5%, larger than everything except Netflix and IMAX; however, by the third month, it had fallen to the middle of the pack. Again, Hasbro led the way and Cinemark rallied strong. Netflix doubled its one-month return and basically came in the polar opposite of the previous year. Still, the three-month point wasn't bad for Disney. Then, we get to the six-month point, where the movie is on video and merchandise sales should be cranking, but Disney gives us nothing. A paltry (Rogue) ONE percentage gain after six months. I guess that's fitting.
What investors need to be focused on isn't so much this single movie, but what comes next. Disney has already signed the director from the Last Jedi to do another Star Wars trilogy and the company is taking a live-action Star Wars show on television via streaming. As struggles with ESPN continue, this type of new content in a new format (the television series) is necessary, but will be scrutinized. Netflix has turned original content to gold, and Disney is going to need to do the same if it wants to recapture its dwindling cable base.
I, like many others, believe this is the driving force behind the company's proposed acquisition of assets from Fox (FOXA) - Get Report . Disney is looking to acquire 21th Century Fox movie, cable, and international operations. This will include Fox's Star Business in India, which pulls in $1.0 billion in earnings currently. The real jewel here may be the acquisition of Fox's share of HULU and its 46 million subscribers. Disney can parlay its huge movie library, ever-growing base of cable content plus new original programming into a powerhouse to compete with Netflix. The combined library of Fox and Disney has the potential to be massive. If Disney opts to keep all that content away from Netflix and Amazon (AMZN) - Get Report when able, while adding in shows currently available only on cable, they should see those HULU subscription numbers swell.
Unfortunately, none of these questions will be answered when "The Last Jedi" is released. Given the action of the stock over the past two years, I'm not a buyer of Disney based on the movie release. The driving force that would put me into the stock is the Fox asset acquisitions, specifically Star Business and Hulu. The long-side play here appears to be Hasbro yet again. The stock posted a strong move on Wednesday and could easily push to $100 before the year is over.
Historically, Time Warner has been a decent play, but it's embroiled in the AT&T (T) - Get Report buyout controversy, so there's only one driver at the moment, and it's not Star Wars. Netflix is likely too random, and if anything of Disney's will have an impact on Netflix's stock price, it would be the acquisition stake in Hulu. If Cinemark broke above $37, I'd be looking at a buy. The company has announced plans for its own subscription model and, given the $250 million in income along with the $2+ per share in earnings, this is where I'd want my money if interested in the Netflix of cinemas concept.
Overall, I put Hasbro in the buy category, Cinemark in the buy over $37 category, Disney as a hold (sell covered calls against stock if you own), and Imax and Netflix in the avoid category in terms of the impact of Star Wars over the next few weeks.
This article originally appeared at 12:00 ET on Dec. 14 on Real Money, our premium site for active traders. Click here to get great columns like this from Jim Cramer and other writers even earlier in the trading day.
More of What's Trending on TheStreet:
At the time of publication, Tim Collins had no positions in the stocks mentioned.