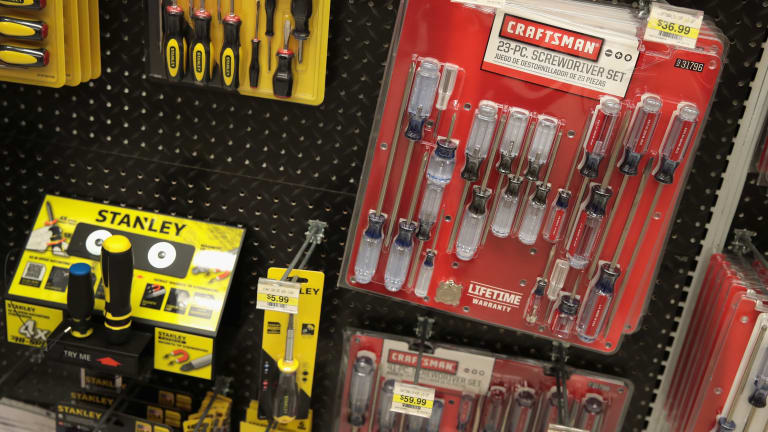 Stanley Black & Decker CEO: Taking Craftsman From Sad Shape to Made in America
Stanley Black & Decker celebrates a milestone Thursday in re-launching the historic Craftsman tools brand. TheStreet talks about the reboot with Stanley Black & Decker CEO James Loree.
For savvy tool industry deal-maker James Loree, Sears' (SHLD) years of neglect with the once storied Craftsman tools line is now his opportunity. 
"We ended up simply buying the [Craftsman] brand because the products had been left to de-volve over time to the point where they weren't the high quality, respectable products they once were -- they had migrated from made in America to virtually everything being made in China and Mexico," Loree, the CEO of tool giant Stanley Black & Decker (SWK) - Get Free Report , told TheStreet in an exclusive interview. 
He added, "They were in sad shape." 
Stanley Black & Decker said in Jan. 2017 it would acquire Craftsman from cash-strapped Sears for a total consideration of $900 million. Stanley Black & Decker paid Sears $525 million in cash when the deal closed in Mar. 2017. It will pay $250 million three years after the deal's closure, and annual payments on new Stanley Black & Decker Craftsman sales through year 15.
Thursday marks the start of Loree and his team bringing the Craftsman brand -- at one time seen as offering high quality sockets and mowers at attainable prices -- back to life.
At an event in Maryland, Stanley Black & Decker will showcase 1,200 redesigned tools from its Craftsman brand. The products, of which 40% will be made from Stanley's 30 some odd U.S. factories, will begin to hit shelves at home improvement chain Lowe's (LOW) - Get Free Report and other major retailers by year end. Loree's goal is to have 70% of the Craftsman line made in the U.S. over time, and market that key selling point to consumers accordingly.  
Success with Craftsman out of the gate will go a long way to reviving Stanley's stock. Shares have dropped 19% year to date amid tariff fears and cooling momentum in the U.S. housing recovery.
The selloff could be overdone.  
"We rate Stanley Black & Decker overweight, based on our outlook for continued solid execution through mid single-digit organic growth, continued integration synergies from its 2017 acquisitions and upside potential from future breakthrough innovation projects as well as accreative free cash flow deployment via M&A and share repurchases," says JPMorgan Chase analyst Michael Rehaut. 
TheStreet talked with Loree about his plans for Craftsman, potential M&A (he has worked on 100 acquisitions since joining the company in 1999) and the health in the U.S. housing market. What follows is an edited and condensed version of the interview.
TheStreet: How do you identify these deals? Stanley has such a history of doing big, splashy deals.
James Loree:
We end of up constantly trying to improve the franchises we own. And if we can't find them, we will buyback our own stock. But we have pretty good luck finding deals. We have literally become the consolidator of choice in the tool industry, people just come to use with tool deals. We can afford to pay the highest price because we have the highest amount of synergy opportunities. 
We have a strong ecosystem internally and bankers, etc. Then we have financial screens that we apply and if they meet the needs and we can negotiate a deal then we do it. We just keep doing it year in and year out, we have done it for 14 years. 
It has been a good story. 
TheStreet: What's in the DNA of Stanley that makes all of these deals happen consistently?
Loree:
It goes beyond the people. This company is 175 years old this year and when you think about the longevity of the company and how it has been able to thrive for almost two centuries, there is something about the culture of Stanley Black & Decker that is very, very special. We spent time trying to figure out what that is. We have identified it as those who make the world. It resonates with people. 
It starts with this conviction we need to deliver top quartile shareholder value creation. In order to do that we have a formula. A second thing is what I have brought to the table as CEO is this whole notion we want to be known as one of the world's most innovative companies. So we have created an enormous wave of innovation at this point, it has embedded in the culture of Stanley and Black & Decker. 
We have stepped up and we are doing breakthrough innovation activities. We are doing venture investing. We are doing accelerators for entrepreneurs externally and internally.
TheStreet: Venture capital investing, that's interesting. 
Loree:
We are heavily into 3D printing. We are heavily into battery technology and electrification, going up the power curve on lawn and garden for example. We think lawn and garden will be not only electrified but also autonomous lawnmowers.
TheStreet: Autonomous lawnmowers?
Loree:
Yes. It's already happening in Europe. The lots are smaller so it's easier to do there. There will be a day where they exist, and I think we will be involved with it. 
TheStreet: What are you working on in the battery front?
Loree:
We came up with an innovation in 2014, which hit the market in 2016, it's a 60 volt battery than can be a 20 volt battery. The battery recognizes if you put it in a 20 volt tool and it will last three times longer than a 20 volt battery. But it also goes into 60 volt tools, which creates new applications that you couldn't do with cordless tools before. You can put two 60 volt batteries together, and cover all sorts of power tools. 
Why Coca-Cola's CEO Is Bullish on the Company's Future
All power tools will be able to be cordless in the coming years, which means job sites can be cordless. You can only imagine the safety benefits from that. 
This business did $100 million in sales for us in half a year. In 2017, the business did $300 million. 
We just recently came up with a significant innovation that I think will be equally big. It will come out in the market in the next 12-18 months. It takes it to the next level. 
TheStreet: What's your sense of the demand environment right now? Some housing companies have said things are cooling off. 
Loree:
I think the home centers are doing really well. New housing starts might be cooling off a little bit, but there is a lot of pent up demand in the millennial population for homes and there is a lot of home upgrading and remodeling. So those businesses, and tools generally, we are out-performing the demand but the demand is good. 
It's not only good here in the U.S., but it's also good in Europe and in emerging markets. We have a very positive backdrop to work with.
TheStreet: Who is executing better in the home improvement space, Home Depot or Lowe's?
Loree:
Home Depot (HD) - Get Free Report and Stanley Black & Decker have worked together to be the go to place for the professional. They have done a really nice job in that under CEO Craig Menear and his team. At the same time, Lowe's (LOW) - Get Free Report gravitated to more of a do-it-yourself location and home improvement location for the non professional. 
TheStreet Goes Around the Horn With Walmart CEO Doug McMillon
Marvin Ellison, former J.C. Penney (JCP) - Get Free Report CEO and former Home Depot stores leader before then, has come to Lowe's as CEO. I suspect he will do a great job because he is really a great guy. I have met him and think he will make some effective changes there. Also, Lowe's has e-commerce as an opportunity that they haven't fully ceased it. Home Depot is a little bit ahead in that race. 
TheStreet: What is it like for a U.S. manufacturer operating in this contentious environment?
Loree:
In terms of the trade noise, it's really quite favorable. The advent industry 2.0, meaning technologly that unlocks factory productivity and helps build high quality product, works really well in the United States because we have a lot of technical talent that could implement those. American consumers and trade profrssionals love made in America. 
TheStreet: Are you finding it hard to get skilled workers?
Loree:
We are not up against a critical shortage of skilled workers, but the writing is on the wall particularly as it relates to the software skills that young people bring to the market. It's a lot sexier for them to go to Google (GOOGL) - Get Free Report , Apple (AAPL) - Get Free Report or Amazon (AMZN) - Get Free Report than into manufacturing. But we have ways of attracting millennials. 
We have created an environment where millennials can thrive in. But we definately feel the pressure around the edges. 
TheStreet: With the aluminum tariffs in full effect, are you taking price increases?
Loree:
Yes. We are passing them onto the end user. We have no choice other than to let our profit margins collapse, and we aren't going to do that. 
TheStreet: When will those price increases take hold?
Loree:
Inflation started last October or so. This year we will have just slightly over $200 million in inflation. That translates to about $1.00 a share, that's like 15% of our earnings. It's a big deal. So we started to pass along the prices probably in the first half of this year and they will hit their maximum right around the fourth quarter. 
TheStreet: How bad a shape was Craftsman in when you picked it off Sears?
Loree:
We ended up simply buying the brand because the products had been left to de-volve over time to the point where they weren't high quality, respectable products they once were. They had migrated from made in America to virtually everything being made in China and Mexico. 
They were in sad shape. 
We have redesigned just under 1,500 Craftsman products and we have taken the best price/value attributes from our products from around the world and incorporated it into these new products. We have created as a result products that could be made in America at a cost similar to what they would have been if they had been imported from China. 
One of the strategies behind re-booting Craftsman is to revitalize the products and make as many as them in America as possible. I think 40% of the products out of the gate will be made in America and we will reach about 70% over the next couple years. 
TheStreet: These tools will be available on Amazon, how big will that be?
Loree:
I think it will be enormous. The single most unfulfilled search on Amazon in the tools category was for Craftsman tools. 
TheStreet: What's your handyman life like?
Loree:
I have a very nice tool room. I do love tools, I grew up like many of us helping my father with projects and watching football games in the basement. So it's in my blood, but I haven't found enough time to really make a big hobby out of it in this stage of my life. 
TheStreet: Done doing big deals this year?
Loree:
We announced the $690 million acquisition of IES Attachments this year. We have bought back $500 million in stock this year. So we have spent a fair amount of money. But, I want to get into the lawn and garden market in a very clever way that avoids some of the downside of the lawn and garden space. The lawn and garden retail market is a market that is pretty competitive and seasonal, so it has those negative aspects. But, it's also 40% of the Craftsman brand. 
I think we are getting close to a partnership that won't be a full acquisition at first. It will enable us to get into the lawn and garden market in a big way, but help us avoid the industry's downside. 
Read more executive interviews on TheStreet.