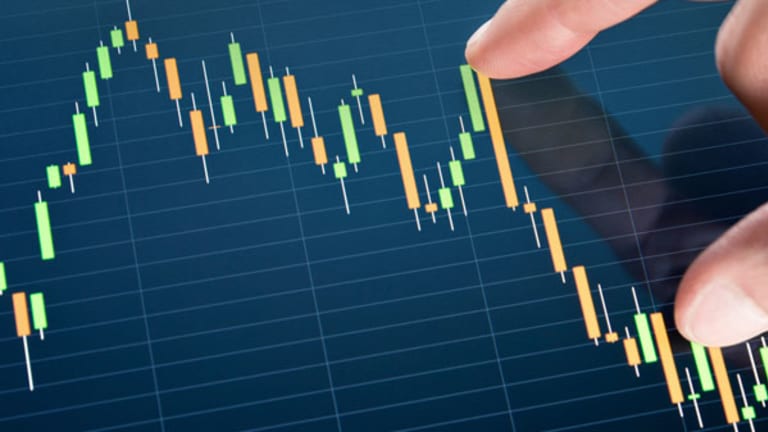 Squeezing the Shorts: Small-Cap Stocks
These heavily shorted small-cap stocks could surge higher on any positive catalyst.
Not a Stockpickr member? Join the community today -- for free.
By Jonas Elmerraji
BALTIMORE (
) -- Don't discount the power of the small stocks. While most investors spend their time focusing on big blue chips, small- and micro-cap investors are reaping the benefits of bigger price swings and a lack of analyst coverage. And when it comes to short squeezes, small-cap stocks (those with market capitalizations of $2 billion or less) provide some of the most serious gain potential.
Price swings and little analyst attention don't typically sound like good things for a stock that you're thinking about investing in. But when you're talking about a potential short-squeeze play, they can be.
A short squeeze is the buying frenzy that ensues when a heavily shorted stock starts to look attractive again to investors. As more and more of the short investors buy shares to cover their positions, share prices skyrocket. Almost anything can trigger a short squeeze, including trumping earnings expectations, winning a lawsuit, unveiling a new product and even announcing a management change.
With lower trading volumes than more high-profile stocks, bigger price swings are inherent in the small-cap world. But that also means that fewer shares can push a small-cap up much higher during a short squeeze. And a lack of analyst coverage means that investors who are short the stock could easily miss some of the company's more qualitative benefits.
One of the best indicators of just how high a short-squeezed stock could go is the short interest ratio, which divides shares short by average daily trading volume in order to get a ballpark estimate of the number of days it would take for short-sellers to cover their positions. The higher the short ratio, the higher the potential profits when the shorts get squeezed.
And with earnings season still pushing hard, the likelihood for a news-driven small-cap squeeze is fairly high.
With this in mind, Stockpickr has created a portfolio of small-cap stocks this week with high short interest ratios and the catalysts to trigger a squeeze. Here's a look at
.
Conn's
(CONN) - Get Conn's, Inc. Report
is a small-cap electronics and appliance retailer with a market cap of $154 million. Investors crushed Conn's shares after the company posted writeoff-driven losses last quarter, pushing its short interest ratio all the way up above 42, meaning it would take more than 42 days for short-sellers to cover their positions.
One of the biggest concerns for the company has been its outstanding financing with customers. Customers have financed more than 60% of Conn's sales in the last few years, and now, with delinquencies flirting above the 8% mark, the company has had to make the difficult move of writing off large chunks that could become uncollectible. To be sure, Conn's writeoffs were unexpected, but because of their nature, and the fact that they were one-time charges to the company's balance sheet, it's unlikely that they will affect Conn's profitability in future quarters.
One investor that's still holding strong with Conn's is the
Pacific Advisors Small-Cap Fund
(PASMX), which owns 350,000 shares of the retailer. The fund, which holds a three-star rating from Morningstar, also owns stakes in
Commercial Metals
(CMC) - Get Commercial Metals Company Report
, with a short interest ratio of 3, and
Apogee Enterprises
(APOG) - Get Apogee Enterprises, Inc. Report
, with a short interest ratio of 15.4.
Snowmobile maker
Arctic Cat
(ACAT)
may be gearing up for winter right now, but its stock has been seeing a cold spell of its own as investors pushed the company's short interest ratio up to 40.64. That downward pressure comes despite the fact that Arctic Cat's shares are up more than 74% in the last six months. An Oct. 29 earnings call could prove to be a strong catalyst for a squeeze.
For the rest of this week's small-cap short-squeeze opportunities, check out
the Small-Cap Short Squeezes portfolio
at Stockpickr.And to find short-squeeze plays of your own, be sure to check out the
community for insights and investment ideas.
-- Written by Jonas Elmerraji in Baltimore.
Register for Stockpickr today!
Stockpickr is a wholly owned subsidiary of TheStreet.com.
At the time of publication, author had no positions in any stocks mentioned.
Jonas Elmerraji, based out of Baltimore, is the editor and portfolio manager of the Rhino Stock Report, a free investment advisory that returned 15% in 2008. He is a contributor to numerous financial outlets, including Forbes and Investopedia, and has been featured in Investor's Business Daily, in Consumer's Digest and on MSNBC.com.