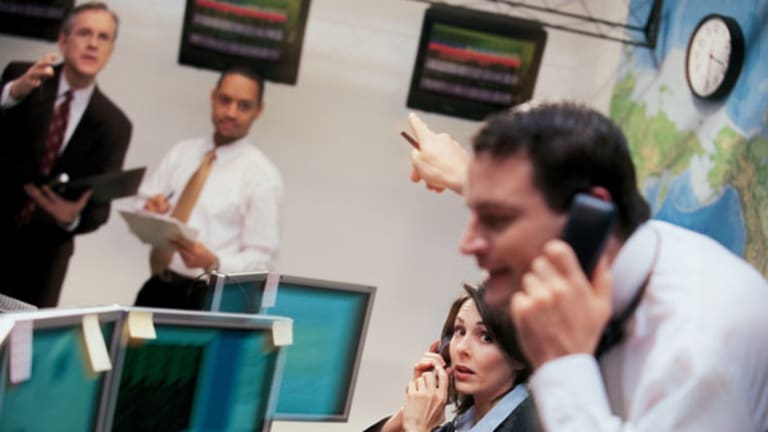 Squeezing the Shorts: Large-Cap Stocks
These heavily shorted large-cap stocks could be squeezed higher on any positive catalyst.
Not a Stockpickr member? Join the community today -- for free.
By Jonas Elmerraji
BALTIMORE (
) -- Recently we put our short-squeeze focus on
smaller stocks
; this week we're going large-cap. With higher trading volumes, more analyst coverage and, frequently, less risk, going long a large-cap short-squeeze play can be a pretty attractive move.
That's because even though it takes more money to move the big names, the risks of getting caught when a trade doesn't go your way are significantly diminished for stocks over the $5 billion threshold.
But what's a short squeeze anyway?
A short squeeze is the buying frenzy that ensues when a heavily shorted stock starts to look attractive again to investors. As more and more of the short investors buy shares to cover their positions, share prices skyrocket. Almost anything can trigger a short squeeze, including trumping earnings expectations, winning a lawsuit, unveiling a new product and even announcing a management change.
One of the best indicators of just how high a short-squeezed stock could go is the short-interest ratio, which divides shares short by average daily trading volume in order to get a ballpark estimate of the number of days it would take for short-sellers to cover their positions. The higher the short ratio, the higher the potential profits when the shorts get squeezed.
With this in mind, Stockpickr has created a portfolio of stocks this week with high short interest ratios and the catalysts to trigger a squeeze.
Here's a look at this week's potential plays
.
On Nov. 9, shares of
Priceline.com
undefined
rocketed after the company guided earnings above estimates. With a short ratio above 10, the stock was a textbook short squeeze that trimmed the number of shares short by half by the end of trading yesterday.
So why even talk about a stock that's already been squeezed?
It's simple: There are a lot more shorts yet to be scared away from this stock. With broad market indexes set to continue their gains in Wednesday's premarket, traders who are short this stock are working against the momentum of the market. That's not a good place to be. And after taking more than a 20% loss on their bet against this travel stock, overleveraged short sellers are likely agonizing over their positions right now.With Credit Suisse's downgrade of the stock to neutral this morning, investors who want to get in on a dip should have their chance until the stock's prognosticators push shares back in the black.
Hedge fund company
owns 5.62% of Priceline.com's share, a stake worth about $485 million at the recent price of the stock. The institution focuses primarily on large-cap stocks, and IT firms such as Priceline currently make up more than 27% of its holdings. Other IT stocks owned by Lone Pine include
Qualcomm
(QCOM) - Get Free Report
, with a short ratio of 1.2, and
Google
(GOOG) - Get Free Report
, with a short ratio of 1.5.
One large-cap that hasn't squeezed yet is garbage stock
Waste Management
(WM) - Get Free Report
, the nation's largest waste disposal provider. Concerns about lower trash volumes have helped to push the stock's short ratio to 14.6 in recent weeks.
Despite the shorts, Waste Management offers investors phenomenal cash flow, the biggest market share in the industry and terrific service integration -- enough to make a very strong case for the trash-for-cash play. An upcoming investor conference in early December could prove to be an adequate catalyst to show WM's true colors to nervous short sellers, particularly if the market manages to maintain its rally until then.
One fund that certainly hopes so is the $62.5 billion
American Funds Fund of America
. The fund owns large stakes in Waste Management, as well as
Verizon
(VZ) - Get Free Report
, with a short ratio of 3.1, and
United Technologies
(UTX) - Get Free Report
, with a short ratio of 1.9.
For the rest of this week's short-squeeze opportunities, including
Merck
(MRK) - Get Free Report
and
Wipro
(WIT) - Get Free Report
, check out the
Large-Cap Short Squeeze portfolio
at Stockpickr.
And to find short-squeeze plays of your own, be sure to check out the
community for insights and investment ideas.
-- Written by Jonas Elmerraji in Baltimore.
Register for Stockpickr today!
Stockpickr is a wholly owned subsidiary of TheStreet.com.
At the time of publication, author had no positions in stocks mentioned.
Jonas Elmerraji, based out of Baltimore, is the editor and portfolio manager of the Rhino Stock Report, a free investment advisory that returned 15% in 2008. He is a contributor to numerous financial outlets, including Forbes and Investopedia, and has been featured in Investor's Business Daily, in Consumer's Digest and on MSNBC.com.