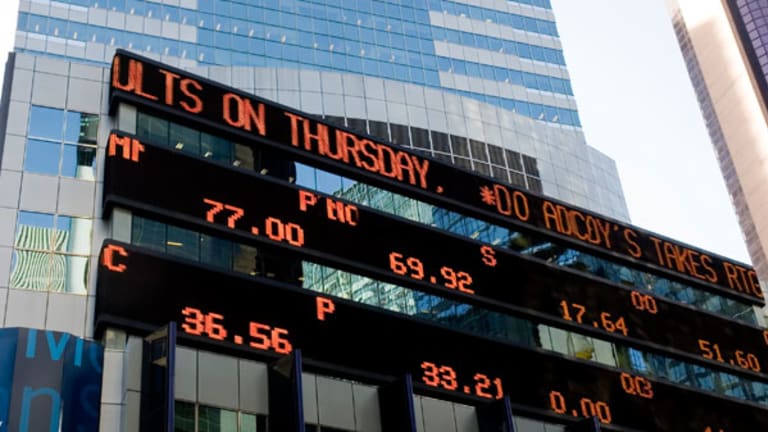 Squeezing the Shorts: Health Care Stocks
These heavily shorted health care stocks could be squeezed higher on any positive catalyst.
Not a Stockpickr member? Join the community today -- for free.
By Jonas Elmerraji
BALTIMORE (
) -- While health care has been the hot topic on the news for the past few months, the industry certainly hasn't been an attractive industry for investors. The health care sector's valuation has jumped only 21.6% between the first and second quarters, compared with a 40% average jump across all industries.
The biggest reason for that underperformance is health care reform. Investors are nervous -- and rightfully so -- that new governmental regulations on the health care industry could make health stocks a tough sell. And while that makes health care stocks a scary place for investors hanging on until sentiment swings, it also makes select stocks excellent short-squeeze candidates.
A short squeeze is the buying frenzy that ensues when a heavily shorted stock starts to look attractive again to investors. As more and more of the short investors buy shares to cover their positions, share prices skyrocket. Almost anything can trigger a short squeeze, including trumping earnings expectations, winning a lawsuit, unveiling a new product and even announcing a management change.
One of the best indicators of just how high a short-squeezed stock could go is the short interest ratio, which divides shares short by average daily trading volume in order to get a ballpark estimate of the number of days it would take for short-sellers to cover their positions. The higher the short ratio, the higher the potential profits when the shorts get squeezed.
With this in mind, Stockpickr has created a portfolio of health care stocks this week with high short interest ratios and the catalysts to trigger a squeeze. Here's a look at
.
HLTH
(HLTH)
is an online services company that owns a number of health-related companies, most notably a majority interest in
WebMD
(WBMD)
ealth information and tools as well as private portals for insurers and employers for electronic medical records. One of the company's key selling points is lowered medical costs -- and through consumer education and low-cost electronic record-keeping, that's exactly what WebMD delivers.
But HLTH, which currently has a short interest ratio of 36.6, has its detractors as well. For the past year, to the chagrin of many investors, the company has focused on selling some of its primary subsidiaries, including Porex and Emdeon Business Services. But once this divestiture-happy management team has sold off nonkey elements of HLTH's business, the company should have the capital and the intellectual resources to focus on growing share prices once again.
One fund that's on board is the
(FBALX), a four-star Morningstar-rated fund that also holds big stakes in
Micron Technology
(MU) - Get Free Report
and
Verizon
(VZ) - Get Free Report
.
The pharmaceutical industry is no stranger to short squeezes; FDA news and drug-licensing deals can swing a pharma stock in the blink of an eye. But not all pharmaceutical plays are worth the added risk of going long against a sea of shorts. That's not the case with
Alnylam Pharmaceuticals
(ALNY) - Get Free Report
, a mature biotherapeutics company that has rights to incredible, Nobel Prize-winning intellectual property and alliances with some of the biggest names in big pharma. The company also has a short interest ratio of 30.17.
And with shares down 12% thus far in 2009, short-sellers have been piling into this play, setting the stage for a potentially profitable short squeeze with a number of medical conferences schedules for the rest of the year. Big owners in this stock include the
Morgan Stanley Institutional Small Company Growth Fund
(MSSGX), which owns shares of interesting small-caps such as
Techne
(TECH) - Get Free Report
and
Grupo Aeroportuario del Pacifico
(PAC) - Get Free Report
.
For the rest of this week's short-squeeze opportunities in the health sector, check out the
Health Care Short Squeezes for the Week portfolio
at Stockpickr.
And to find short-squeeze plays of your own, be sure to check out the
community for insights and investment ideas.
-- Written by Jonas Elmerraji in Baltimore.
Register for Stockpickr today!
Stockpickr is a wholly owned subsidiary of TheStreet.com.
At the time of publication, author had no positions in any stocks mentioned.
Jonas Elmerraji, based out of Baltimore, is the editor and portfolio manager of the Rhino Stock Report, a free investment advisory that returned 15% in 2008. He is a contributor to numerous financial outlets, including Forbes and Investopedia, and has been featured in Investor's Business Daily, in Consumer's Digest and on MSNBC.com.