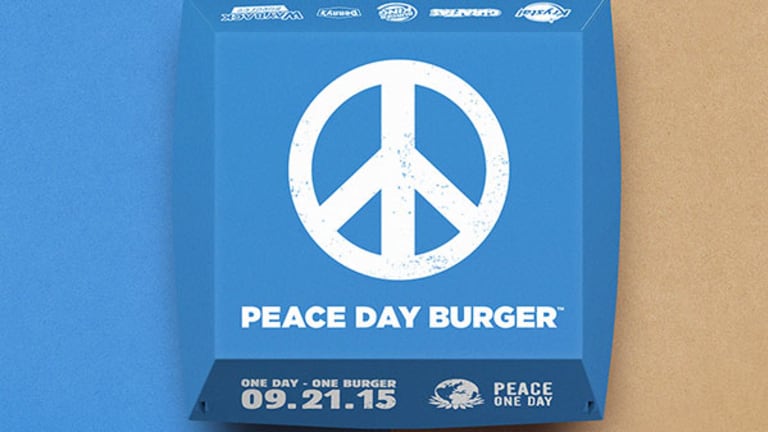 Burger King Prepared to Kick McDonald's to the Curb with New Peace Burger Partners
McDonald's rebuffed Burger King's overture to work together for a fun new burger, but several others have stepped right up at the unique opportunity.
Updated from Aug. 26 with news about Burger King's 'Peace Burger' partners. 

NEW YORK (TheStreet) -- Spurned by struggling McDonald's (MCD) - Get Report to join forces to create a fun new burger to support National Peace Day, Restaurant Brands' (QSR) - Get Report Burger King looks to have found friends to help drive home its mission.
"As you're aware, we recently reached out to our fellow restauranteurs at McDonald's, proposing we join forces to raise awareness of Peace Day, Sept. 21," wrote Burger King in an open letter on its social channels Tuesday evening. The company continued, "Although they haven't yet agreed to come on-board, our original proposal still stands -- McDonald's, please take your time -- we're totally at peace with that."
Burger King said that since its latest marketing stunt went viral on Aug. 26, it has received a significant number of unexpected responses from other restaurants expressing interest in working together to make a "peace burger."
Some of the companies listed include Denny's (DENN) - Get Report, Wayback Burgers, Krystal, and Giraffas. The most prominent, Denny's, has proposed making a burger with its signature eggs and hash brown atop a Burger King Whopper. Burger King said it would like to "build" on the offers from its new foodie friends, which would launch at a pop up location the company is constructing to showcase the food mashups.
The announcement by Burger King comes at an important time for the Golden Arches, which is preparing to launch a significant milestone on Oct. 6 -- all day breakfast availability.
McDonald's did have the opportunity to get a little creative for once. Burger King initially proposed that the two burger titans set aside their differences to create the "McWhopper" in an open letter to its rival published in full-page ads in the New York Times and Chicago Tribune on Aug. 26.
Burger King proposed the item would combine the best ingredients from each chain's signature hamburgers and be offered at one pop-up location in Atlanta on National Peace Day, Sept. 21, with the proceeds benefiting Peace One Day. Burger King did not list the ingredients it wanted to use for the McWhopper, but did go as far as to create an image of what the creation and its packaging might look like.
Burger King's marketing stunt prompted a rather unfriendly response from Easterbrook on McDonald's Facebook page. "We love the intention, but think our two brands could do something bigger to make a difference," said Easterbrook, adding "let's acknowledge that between us there is simply a friendly business competition and certainly not the unequaled circumstances of the real pain and suffering of war."
Easterbrook closed his message with a bit of stern fatherly-type advice for its rival: "A simple phone call will do next time." Burger King chose to ignore that bit of advice with its retort on social media Tuesday night.
In rebuffing Burger King's playfulness, McDonald's neglected a chance to drum up some positive buzz on social media and begin to alter its tarnished reputation among consumers.
Mashing together two of the most iconic fast foods of all-time for a single day would likely be a big-time social media spectacle that could lure in curious customers for both chains across the country. Furthermore, fast-food mash-ups have been all the rage this year, receiving generally warm receptions by consumers.
Clever, bold marketing like this has worked wonders for hard-charging Burger King, which has come at the expense of McDonald's sales.
Burger King's adjusted second quarter earnings per share came in at 30 cents compared to the 25 cents analysts were estimating. Same-restaurant sales at Burger King U.S. surged 7.9% in the second quarter, quicker than the 6.9% gain grilled up in the first quarter.
Burger King's CEO Daniel Schwartz attributed part of the strength in the quarter to the return of Burger King's notorious King mascot, who made high-profile TV appearances at the Kentucky Derby in June and the Mayweather-Pacquaio fight in May to much social media fanfare.
More recently, Burger King aggressively took to social media to generate interest in new spicy chicken fries. Name of the marketing campaign: "Offensively Spicy."
"We wanted to create something as spicy as sh**, that it was so spicy that it may even offend you," said Eric Hirschhorn, Burger King's chief marketing officer for North America to TheStreet.
Meantime, the Golden Arches is mired in a serious sales slump due to the poor perception of its food quality and fewer exciting new products compared to Burger King and other competitors. Despite new menu items such as the Sirloin Third Pound Burger and various regional items such as the McLobster in Boston, McDonald's reported a 2% same-store sales decline in the U.S. for the second quarter, the seventh consecutive quarter of declining U.S. same-store sales.