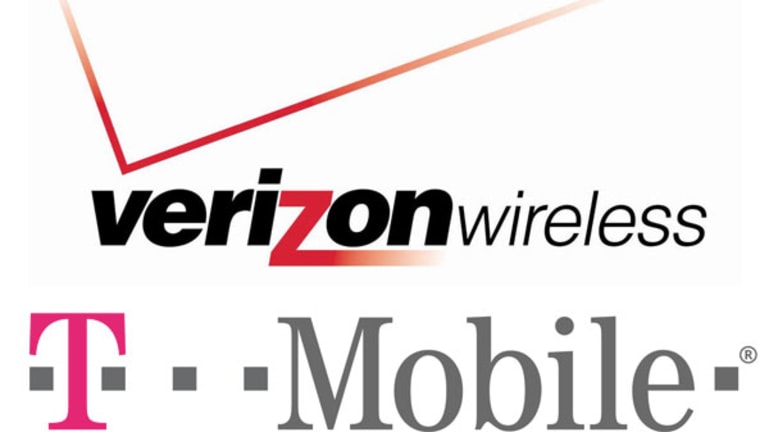 Sprint Will Sit Out Airwaves Auction; Stock Falls: Telecom Winners and Losers
Sprint doesn't plan to bid in next year's U.S. auction of wireless airwaves, a move some consider short-sighted and a blow to its competitiveness.
NEW YORK (TheStreet) -- Sprint (S) - Get Report dropped after the telecommunications company said it doesn't plan to bid in next year's U.S. auction of wireless airwaves, a move that some considered shortsighted and a blow to its competitiveness.
Sitting out of the auction will save Sprint billions of dollars, but it could deprive its network of future upgrades, the Wall Street Journal wrote Sunday.
Sprint said on Saturday it already "has the spectrum it needs to deploy its network architecture of the future," Ars Technica reported Monday.
The Federal Communications Commission plans to auction off low-frequency airwaves in March. Those travel farther and penetrate buildings better than higher frequency airwaves, which enables carriers to cover larger areas with fewer cell towers, according to the Wall Street Journal. The low-frequency airwaves are expected to help meet increased consumer demand for streaming videos and surfing the Web on smartphones.
Sprint shares fell 7.3% to $3.98.
T-Mobile (TMUS) - Get Report fell 5.2% to $40.53, while AT&T (T) - Get Report weakened by 1.3% to close at $31.90 and Verizon (VZ) - Get Report declined 1.1% to $43.75. Those three Sprint rivals are all expected to participate in the auction, according to reports, which indicated that Sprint's decision may make it easier for T-Mobile to win at the auction.
Vodafone (VOD) - Get Report and Liberty Global (LBTYA) - Get Report fell after the companies said Monday they had failed to agree on valuations and had abandoned talks about a swap of business assets in Europe's converging mobile phone, broadband and TV markets.
The companies had denied rumors that they were contemplating an outright merger to enable them to better compete, Reuters reported. But bankers said a tie-up would still make sense and didn't rule out the prospect of Vodafone buying all of Liberty, according to the news agency.
Investors have been watching for Vodafone's next move after it sold a 45% stake in Verizon in 2013, the BBC reported.
Vodafone declined 5.2% to $31.12, while Liberty Global's Class A shares dropped more than 10% to close at $43.09.
Frontier (FTR) - Get Report fell 5.4% to $4.73, its lowest close since the end of July, after the company issued $6.6 billion in debt to help fund its purchase of some Verizon assets, Seeking Alpha reported.
Investors are pulling back from junk bonds like Frontier's, which lost about 3% of their value within the first week of trading earlier this month, according to the Wall Street Journal. Frontier told the newspaper demand for the bonds had been strong, and prices rose before falling amid concerns about telecoms after Moody's cut the rating of Sprint.
This article is commentary by an independent contributor. At the time of publication, the author held no positions in the stocks mentioned.