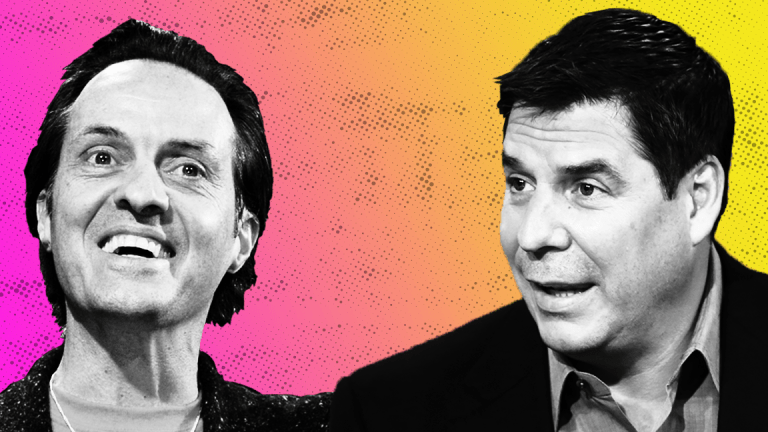 Sprint and T-Mobile Boards Agree on Blockbuster Merger
Softbank CEO Masayoshi Son has pushed for a merger with T-Mobile since his company acquired a controlling stake in Sprint in 2013. Now he finally has a deal in place--though regulatory approvals will be challenging.
After years of on-again, off-again talks, Sprint (S) - Get SentinelOne, Inc. Class A Report and T-Mobile (TMUS) - Get T-Mobile US, Inc. Report  finally announced a merger Sunday.
Sprint investors will receive 0.10256 shares of T-Mobile for each share of Sprint. Based on T-Mobile's close at $64.52 on Friday, the deal values Sprint at $6.62 per share. Including assumed debt, the deal values Sprint at about $59 billion.
T-Mobile CEO John Legere, who will lead the post-merger company, called the deal "one of the worst-kept secrets out there" in a call with investors on Sunday afternoon. 
"These companies just make sense together," Legere said, predicting that the merged companies will disrupt 5G wireless services as video broadband and wireless industries converge. 
Deutsche Telekom will hold 42% of the equity, with Softbank (SFTBY) owning 27% and the remaining 31% to be held by public investors. The new company will take on the T-Mobile name.
While neither parent will have a majority stake, Deutsche Telekom will have a proxy to vote SoftBank's shares and thus, majority voting power. Further, Deutsche Telekom CEO Tim Höttges will be Chairman and the German carrier will nominate 9 of the company's 14 directors. Softbank will nominate 4, which will include Son and Claure. Legere will also be a director.
On the call, Legere quickly addressed the 800-pound gorilla in the room -- regulatory approval. The Department of Justice rejected T-Mobile's sale to AT&T (T) - Get AT&T Inc. Report in 2011 and is suing to block AT&T's purchase of Time Warner (TWX) .
Perhaps alluding to Qualcomm's (QCOM) - Get Qualcomm Inc Report recent takeover battle with Broadcom (AVGO) - Get Broadcom Inc. Report , Legere said the merger would help ensure that the U.S. would maintain the leadership that it has developed in 4G wireless technologies. The Committee on Foreign Investment in the U.S. shut down Broadcom's hostile bid in March, citing concerns that U.S. wireless leadership could suffer in a Qualcomm takeover. Earlier in the day, Legere had tweeted that the new company would be able to invest around $40 billion over the next three years.
The company's new website promoting the deal and its benefits for U.S. consumers is at allfor5g.com. It argues that "global tech leadership for the next decade is at stake and ONLY the New T-Mobile will have the network and spectrum capacity to quickly create a broad and deep 5G network in the first few years of the 5G innovation cycle."
On the call, T-Mobile's CEO said the deal would be "a major job creator," and would produce new positions in rural America. Legere previously tweeted that the new T-Mobile will "always have more employees on payroll than both standalone companies."
On the call, Legere noted some major changes in the last half decade in the U.S. telecommunications landscape. AT&T became the country's largest pay TV company through its purchase of DirecTV. Meanwhile, Comcast (CMCSA) - Get Comcast Corporation Class A Report  provides wireless services through Verizon (VZ) - Get Verizon Communications Inc. Report  and Alphabet's (GOOGL) - Get Alphabet Inc. Class A Report YouTube is offering live TV.
The companies said they expect $6 billion in sales and other benefits per year, and put the net present value of the deal benefits at $43 billion.
Sprint Chairman Masayoshi Son has coveted a merger with T-Mobile for half a decade.
T-Mobile CEO John Legere and Sprint CEO Marcelo Claure have had talks since last year. Optimism about a deal picked up this spring. Legere will lead the combined company. Claure will join the company's board. And current T-Mobile COO will become the combined companies' President and COO, wrote Legere in one of many tweets about the deal on Sunday.
Son's desire for Softbank to control the post-merger company had been a stumbling block to getting a deal done. T-Mobile parent Deutsche Telekom AG had little incentive to cede control, since it owns the stronger company.
Reports earlier in April suggested that the parties were making progress towards a resolution. "...our first reaction is 'we will believe it when we see it,'" Wells Fargo Securities LLC analyst Marci Ryvicker noted in a recent report. 
Regulatory approval will present another challenge. The Department of Justice is suing to block AT&T's purchase of Time Warner because of the potential for higher cable bills. A merger of Sprint and T-Mobile would remove a competitor from the market place, and would create a greater risk of consumer price increases.
Justice opposed T-Mobile's proposed sale to AT&T in 2011, forcing the companies to abandon their deal.
When Softbank invested $21.6 billion for a controlling stake in Sprint in 2013, Son envisioned a merger with T-Mobile that could shake up a wireless industry dominated by AT&T and Verizon.
The Obama administration pushed back against the deal, however, effectively ending talks. 
President Trump's election seemed to open the door for a merger. Son was one of the first to congratulate the president-elect, pledging to invest $50 billion and create 5,000 new jobs in the U.S. during a December 2016 meeting with Trump.
Talks between Sprint and T-Mobile picked up in the spring and summer of 2017, and executives openly discussed the possibility of a deal. 
At a May 2017 conference, Sprint CEO Marcelo Claure said a merger would create a "turbocharged maverick."
A month later, T-Mobile CFO Braxston Carter described Sprint's portfolio of spectrum as a "treasure trove" at a conference. Estimates that a merger could produce benefits with a net present value of $30 billion might be too low, he added.
In an August media call, Claure hinted that Sprint would announce a very large transaction "in the near future."
By September, the tone had changed. Carter said talks were at "the point of fatigue" at a New York conference. At the same event, Claure would say only that he had been "heavily, heavily advised by my attorneys to actually say absolutely no comment on M&A."
Son has since acknowledged that he was unwilling to give up control of Sprint, presenting a significant impediment.
Sprint and T-Mobile have ample incentive to figure out if they can reach a deal, however.  
The Federal Communications Commission is planning in November to auction wireless spectrum that is geared towards 5G wireless service. To prevent collusion, companies cannot hold talks about mergers or other strategic matters during auctions. The companies would have to put talks on hold.
Sprint also plans investments in its network that would eat away at the merger benefits that T-Mobile CFO Carter gushed about last year. 
Editor's note: This article was first published by The Deal, a sister publication of TheStreet that offers sophisticated insight and analysis on all types of deals, from inception to integration. Click here for a free trial.