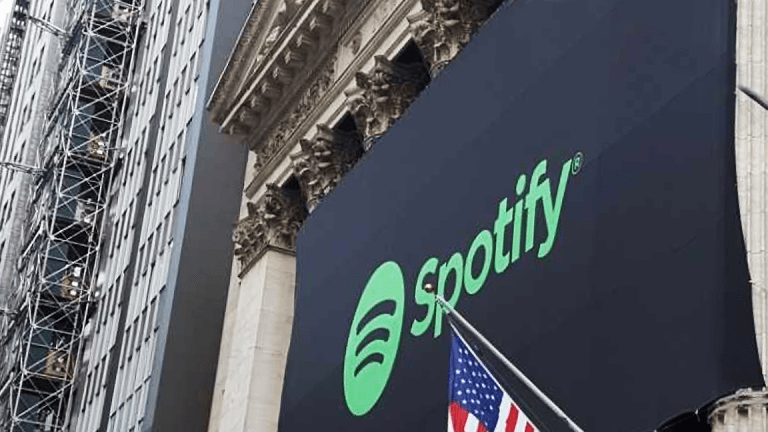 Spotify Finally Starts Trading on NYSE, Closes at $149.60
Spotify's unusual direct listing could serve as a model for other tech unicorns looking to go public.
The Swedish streaming music giant Spotify Technologies SA  (SPOT) - Get Report went public through an unprecedented direct listing Tuesday afternoon, opening trading at $165.90. 
It closed the day at $149.60, giving the company a valuation of roughly $27.5 billion.
Unlike a traditional IPO, Spotify's direct listing meant the company did not raise any additional money, with the offering allowing existing shareholders to sell shares to the public. With no traditional underwriters, there were also no hefty fees for Spotify to pay. Recent trades on private markets had given the company a valuation as high as $26.5 billion, after accounting for outstanding stock options, warrants and restricted stock units.
Goldman Sachs, Morgan Stanley and Allen & Co. served as the company's advisers, and while there was no initial offering price, the NYSE set a "reference price" for the stock on Monday of $132 per share. Analysts say the stock price is likely to be volatile, given that it is being listed directly and won't have underwriters helping to support its price.
Spotify's stock price was relatively stable after the opening trade, but started to decline in the early afternoon.
"If Spotify is able to pull this off, this could serve as a template for existing tech unicorns," SharesPost, Inc. managing director Rohit Kulkarni previously told TheStreet.
Spotify's founder and CEO Daniel Ek published a post on the company's website on Monday in advance of the IPO, saying that the move "doesn't change who we are, what we are about, or how we operate" and that it furthers "the democratization of capital markets by providing equal access of its shares to all market participants." 
The value of Ek's stake in the company rose to roughly $2.5 billion following the stock's debut.
Subscribe to our Youtube Channel for extended interviews, Cramer Replays, feature content, and more!